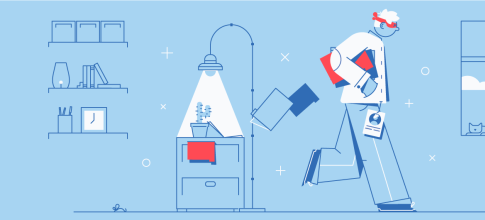 How much do you trust your employees? According to the U.S. Chamber of Commerce, three out of four employees admit to stealing from their employers at least once. The statistics around employee theft are distressing.
Every year companies lose millions and the numbers keep climbing. To figure out how to prevent and respond to this type of fraud, it's important to educate yourself on the problem. To help, we've outlined 36 of the most shocking employee theft statistics below.
Overall Impact of Employee Theft

  The scope of employee theft cannot be understated and it can happen in all forms. Whether that be financial statement fraud, asset misappropriation, or time theft when staff are on their phones at work all day. Understanding the impact of the problem can help business owners be proactive and hopefully prevent theft in the future.
The Cost of Employee Theft

  Every year businesses lose millions of dollars to employee theft. The financial loss this causes can reach up to billions—with some cases resulting in business bankruptcy.
Employee theft is responsible for 42.7% of total inventory loss in US stores. (Statistic Brain)
33% of all business bankruptcies in the US are a result of employee theft. This equals $50 billion annually. (Statistic Brain)
7% of annual revenues are lost to theft and fraud. (Statistic Brain)
U.S. businesses affected by employee theft lost an average of $1.13 million in 2016. (Hiscox)
Organizations lose $1,509,000 on average per fraud case. (Association of Certified Fraud Examiners)
Employee theft costs businesses $50 billion annually. (Statistic Brain)
In 2020, there was a $125,000 global median loss per case due to occupational fraud. (Association of Certified Fraud Examiners)
21% of occupational fraud cases resulted in $1 million+ in losses. (Association of Certified Fraud Examiners)
Industry-Specific Employee Theft Stats

  Smaller companies of 100 employees or less are at greater risk of employee theft. As a new business, it's critical to spend proper money on recruitment so you can filter out any suspect candidates.
37% of all embezzlers work in finance or accounting. (Hiscox)
Larger companies (500 employees or more) experience only 24% of embezzlement cases. (Hiscox)
Small businesses with less than 100 employees had the highest median loss at $150,000. (Association of Certified Fraud Examiners)
Financial services experience the highest number of employee theft cases (18%). (Hiscox)
68% of all employee theft cases came from organizations with fewer than 500 employees. (Hiscox)
Financial services also experienced the highest total loss—more than $120 million in 2017. (Hiscox)
70% of check fraud theft occurred at smaller companies of 100 employees or less. (Hiscox)
21% of tech employees steal from work. (GetVoip)
28% of retail inventory losses are due to employee theft. (Fortune)
Managers committed 65% of all employee fraud cases in healthcare, 60% in construction and real estate, 58% in non-profits, and 60% in labor unions in 2017. (Hiscox)
Dollars recovered from dishonest retail employees totaled over $38 million in 2018, up 13.49% from 2017. (Jack L. Hayes International, Inc)
Financial services firms had the highest total losses across industries. They collectively lost more than $120 million in 2016. (Hiscox)
Stats on the Demographic of Employee Theft

  Research shows that those most likely to commit occupational fraud are those that you would never suspect—with only 4% of perpetrators having a prior fraud conviction. However, there are a couple of commonalities among perpetrators listed below.
The average age of a perpetrator is 48 years old. (Hiscox)
59.1% of men and 40.9% of women commit employee theft. (Statistic Brain)
Losses caused by men were 72% larger than losses caused by women in 2020. (Association of Certified Fraud Examiners)
Fraudsters who had been with their company more for at least 10 years stole a median of $200,000. (Association of Certified Fraud Examiners)
56% of funds theft is perpetrated by women. (Hiscox)
Only 4% of perpetrators had a prior fraud conviction. (Association of Certified Fraud Examiners)
In 2018, owners and executives accounted for only 20% of cases but resulted in a median loss of $600,000. (Association of Certified Fraud Examiners)
Tips for Preventing Theft from Employees
While the statistics above may have you locking every door in your office, the best defense against employee theft is proactiveness. There are plenty of measures you can put in place to prevent fraud.
Verify past employment: In the recruitment process, make sure to conduct a thorough background check for all potential hires. When doing so, contact all references, ask why the candidate left past jobs, and conduct a criminal search.
Provide clear policies: Make sure all employees know that there will be strict consequences for anyone who commits a crime. Write it on paper and have employees sign so they know exactly what will happen if they choose to steal from the company.
Get a fidelity bond: In the event that an employee steals from you, make sure you have a fidelity bond. Fidelity bonds protect your business and your customers against dishonest employees.
Conduct random audits: Carry out impromptu audits where you verify bank statements, ledgers for accounts payable and accounts receivable, any checks issued or received and any data you've collected from approved employee monitoring. Consider hiring an outside party who can do the work for you and bring any unbiased suspicious activity to your attention.
Set up a system of checks and balances: For employees that manage financial accounts, establish a checks and balances system so no one person is in charge of all financial records. At least two employees should be working together at all times when dealing with sensitive information.
While these employee embezzlement statistics are concerning, it does not mean you should be monitoring employee behavior through a microscope. You should understand the scope of the problem and take preventative measures when possible. To further understand the impact of employee theft and what your business can do, check out the infographic below.

---

---