What is a Performance Bond?
A performance bond is a guarantee from a bonding company that jobs will be completed per the specifications of the contract.
Why is a Performance Bond Necessary?
A performance bond guarantees that the contractor will complete all of the agreed-upon work. Otherwise, those contractors will have to pay for losses in a breach of contract. In large construction projects, such bonds are often a requirement.
A performance bond ensures the contractor completes the project as promised in the contract. 
Performance bonds also assure that the contractor will be compensated for their work if the owner defaults on any payments. In short, performance bonds ensure that all parties are protected in a contract.
How Does a Performance Bond Work?
Performance bond requirements are set in place by the Miller Act for all public work contracts $100,000 and above. Bonds may also be required for private work or by a general contractor requiring it of their sub-contractors.
A bond is different than insurance, as the bonding company will not simply write a check if you default on the job. If you're unable to complete the job, the bonding company may put the job out to bid with select contractors or even complete the work themselves.
If claims are filed on your performance surety bond, you are responsible to pay back the bonding company. Learn more about how surety bonds work and why having a full understanding of them can mitigate your risk.
Who Benefits From a Performance Bond?
Generally, it is the obligee who benefits from a performance bond. The obligee is assured that the contractor will complete the project, even when the principal fails to meet deadlines or misses performance obligations.
The bond guarantees that someone will complete the work. The obligee will not be out any additional funds with a performance bond. The surety bond company is responsible for completing the work.
How to Get a Performance Bond
If you need payment and performance bonds for a job, you'll need to apply to see if you qualify for bonding. Keep in mind there are items that are required if you want to get approved for construction performance bonds.
When you're applying for bonding, you'll want to ensure your financial statements include what's needed to give yourself the best chance of getting approved. Although not required, it's strongly recommended you work with a CPA well versed in construction, as they know how to present your business properly to get bonded.
Lastly, it's possible to a get get approved for a performance bond using your tax returns or in-house financial statements assuming your personal credit is acceptable, but you will be limited to smaller contracts (around $350K). Contractors who want to use their tax returns or in-house financial statements to get their performance bond often don't want to use CPA prepared business financials, as they can cost thousands to complete.
Keep in mind, CPA prepared financial statements are always preferred by the surety company when you're applying for performance bonds because they give the surety company a better idea as to whether you can handle the job in question, and demonstrate a certain level professionalism and whether you will be able to pay potential bond claims.
Where Do You Get a Performance Bond Form?
For your convenience, our company has all of the most common bond forms on file. However, if the obligee has its own specific form and performance bond language, you'll need to get the performance and payment bond form from them and supply it to your bond agent at the time of the request.
A bond form is a template of legal language used to make the bond guarantee, and the owner of the job decides which bond form must be used. The bond form language will include the language "faithful performance" or something similar, which simply means that you will complete the job properly.
The payment bond form language guarantees the payment of all sub-contractors and suppliers.
What Financial Statements Must Show to Get Performance Bonds
Although providing your business financials gives you the best chances at getting approved for the performance bond size you need (not using your financial statements will limit you to smaller contracts). If you choose to take the recommended route of using business financials when applying for a performance bond, these items must all be represented in them:
Balance sheet
Income statement
Cash flow statement
Complete notes and disclosures
Work schedules
If any of these items are missing in your financial statements, the surety company will raise a red flag, and likely will not approve you for performance bonds until submitted.
When a surety company is reviewing and considering a contractor for performance bonding, the financial statements must demonstrate sufficient working capital, equity, cash flow and profit; the ideal figures for all these items will vary greatly depending on the type of work, size of the contract and even geographic location.
Information Your CPA Must Provide
First, if you don't already work with a CPA to prepare your financial statements for the surety company to consider you for bonding, it's important that you start. Also, make sure to only work with a CPA that specializes in the construction industry.
Choosing a good CPA will give you the best chances of getting approved for your performance bond, and can be the difference between getting the performance bonds you need on a regular basis or being limited to smaller bonds.
Once you find a good construction CPA, make sure they use the right accounting method for the projects you're interested in. There are several types of accounting methods that may be considered, and you should ask your CPA about the pro's and con's of each:
Percentage of completion method: this will allow you to get performance bonds for larger contracts (over $350K), and is preferred by most surety companies.
Cash method: this will likely cost you the least to have prepared, but is not the in-depth evaluation needed for performance bonds for larger contracts (about $350K and over). This method isn't recommended because it only reviews the cash in the bank, but it leaves out reviewing your payables and receivables, the latter of which is often a large portion of a contractor's assets.
Accrual method: this is the most basic method that you can use if you want to get performance bonds for medium-sized contracts. Generally, this method involves matching the expenses for a specific project to the income from that same project.
Completed contract method: this method should only be used by small contractors, and it involves reporting all the income from a specific contract and deducting any related project costs in the year in which the project is completed.
You'll want to make sure your CPA uses the proper financial statement type when applying for performance bonds as well. There are three kinds of financial statement types offering different levels of detail:
Reviewed statements: this is the ideal type, as it's the best balance of a CPA getting to know your business's financial profile and accountability detail, without going overboard with details about your company that won't necessarily affect your performance bond approvals.
Audited statements: this type is usually overkill, as it reviews details that likely won't affect the projects you want to bid on (unless you are a large company such as a Fortune 500 Company).
Compilation statements: this type is not recommend, as the financials are provided to the CPA by the contractor, and the CPA doesn't ensure the information provided by the contractor is accurate.
How Performance Bonds Work with Other Bonds
Payment Bonds
A payment bond is a guarantee that you will pay all sub-contractors, suppliers and laborers working on the project.
As mentioned above, a performance bond is different as it ensures the job will be completed properly. The guarantee of your performance and payment are so intertwined that a performance bond and payment bond are almost always both required.
Fortunately, bonding companies typically package a performance and payment bond together so you will only pay one rate for both. Stand-alone performance or payment bond requirements do occur at times, but they are a rarity. Should you be required to post just one of the two, the same rate typically applies as it would for both bonds bundled together. It's important to understand that contractor license bonds are separate from performance and payment bonds (but often confused with them), and are required to obtain a contractor license rather than work on public projects.
Bid Bonds
Bid bonds are the first thing you need to bid on public projects, as they guarantee the bids you submit are accurate and that the surety company will write your performance bond for the contract if you're awarded a job.
Bid bonds count against your bond line until you notify your agent that you were not awarded the job. Performance bonds count against your bond line until the job is successfully completed.
Your bond line can be thought of as your surety credit line that you are pre-approved to use. You will be provided a single bond limit for individual jobs and an aggregate bond limit, which is the total of all active bonds.
What Is the Difference Between Performance Bond & Bank Guarantee?
A bank guarantee is offered as a part of a bank loan, promising that if the borrower or contractor defaults on the loan repayment, the bank can cover the costs. Banks will charge a fee to make a guarantee on the loan. 
On the other hand, a performance bond guarantees that the contractor will complete the job according to the terms of their contract.
How Much Does a Performance Bond Cost?
The cost of a performance bond is a small percentage of the full contract amount. Larger contract premiums are usually around 1%. Smaller contracts have fewer underwriting requirements, but are priced higher at around 3%.
Your performance and payment bond cost should be included in your bid, making it so you do not pay for your bond, the owner does.
If you want to see if you qualify and determine your payment and performance bond cost, you need to fill out our application to get an online performance bond quote. You can also take a look at our most frequently asked surety bond questions.
Performance Bond Rates Explained
The percentage of the contract amount you must pay is also known as your rate, and can differ and affect your bonding costs depending on your line of work and the state in which you perform work.
Surety companies file different base performance bond rates in each state depending on what type of work that needs to be bonded, such as concrete work, architectural construction, engineering construction and excavation. Rates are usually pretty similar across surety companies, but there are exceptions since surety companies have different appetites for bonding particular trades.
Your personal credit will be used when a surety company is considering you for a performance bond and determining your rate, however business financials are the most important item that will be reviewed.
If you can demonstrate financial strength by providing strong business financials, it can drastically lower your performance bond rates. Give yourself the best chance to get the lowest rates possible by working with a CPA and understanding what they must provide for your performance bond.
The Beginner's Guide to Bidding and Winning Public Jobs
We created a comprehensive guide which explains everything you must know in order to bid on and win projects. The topics covered in the e-book include:
The pros and cons of bidding on public construction projects
Bid solicitation procedures
What influences the bid process
How to bid on public projects
Surety bonds for bidding and construction
Why you need to understand bond claims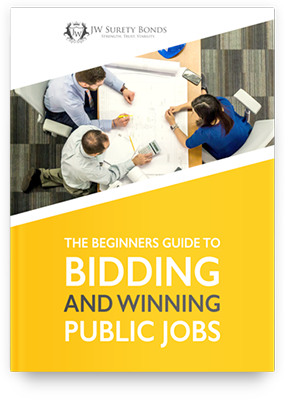 Beginner's Guide to Bidding and Winning
All You Need To Know About Surety Bonds!
This e-book was created with to help contractors successfully navigate the process of bidding and winning public construction projects.
Bad Credit Performance Bond Options
It's possible to get performance bonds for a public job if you have personal credit issues. However, if you need a performance bond for a smaller contract (about $350K and under) your credit issues cannot be severe.
Smaller performance bond approvals are based strictly on personal credit, and if you have items such as large collections, past dues, civil judgments, tax liens, bankruptcy or past due child support, you will not be able to get a performance bond in standard markets.
If you're a smaller/disadvantaged contractor with credit issues, you'll need to go through the SBA program to get bonded. In order to obtain bonding through the SBA, you'll need to provide CPA prepared financials.
It's in your best interest to maximize your line of credit with your bank, as the SBA views the unused portion of your bank line as cash on hand which will help increase your bond line (bonding companies do not view unused bank lines as cash, which is what makes the SBA unique). If you don't have a line of credit with your bank it's strongly encouraged that you get one, simply because it's good business practice to have cash available when needed.
If you are a larger contractor looking for performance bonds for bigger projects (over $350K), you can get bonded with credit problems. In order to get approved, you'll have to provide the surety company with strong CPA prepared business financials and demonstrate appropriate industry experience.
Bad credit will not help your case when applying for large performance bonds, so you'll want to make sure you know what your CPA needs to provide when you apply for bonding.
Contractor Performance Bond Alternatives
If you don't want to post contractor performance bonds for jobs, you may have the option of posting cash collateral in the full amount of the bond that's being required (this is sometimes incorrectly referred to as a "cash performance bond"). Typically, an owner will not accept cash directly, but may allow your bank to issue an irrevocable letter of credit from your bank.
However, posting collateral will greatly restrict your company's cash position, and as you likely know readily available cash is essential to a contracting business. If you think getting a performance and payment bond is the right choice for you, read our contractor's bond guide where you'll find every bond you need for performing contracting work.
Performance Bonds for Service Contracts
Performance bonds can be needed in order to perform work on service contracts such as trash collection contracts, janitorial contracts, software installation contracts and school bus contracts. Just like performance bonds for construction projects, service contract performance bonds guarantee that the work will be done properly and according to the contract.
However, unlike performance bonds for construction jobs, service contract performance bonds are written for a set duration that corresponds to the length of the contract (usually a minimum of one year and a maximum of three years). At the end of the service contract, the obligee can choose to renew the contract if it's an option.
Performance bonds for service contracts cost a percentage of the contract amount, which is determined by considering your financial strength, e.g. your personal credit and business financials.
The surety company reviews your financial situation to decide whether a particular contract is a good fit for your company, and get an idea of the chances of your breaking a contract and triggering bond claims.
Contractor Insurance
There are several types of insurance coverages that are recommended for contractors, but the recommended coverage will vary based on your operation.
If you'd like to learn more about all of the insurance coverages available to you, please read our contractor insurance guide.
Frequently Asked Questions
It is possible if you are a smaller contractor. However, your credit issues cannot be severe, as approvals for smaller contractors are based solely on personal credit. Larger contractors with strong CPA prepared business financials and appropriate industry experience can get approved with credit issues.
No. Surety bond costs are based on the full contract amount, as the bond guarantees the total scope of work will be completed. Otherwise, there is no way to determine what portion of the contract is bonded.
After you are awarded a contract that requires the bonds. If a contract requires a bid bond, a payment and performance surety bond will usually be required after. Learn the entire bond process by visiting the construction bond guide.
Your assets were joined upon marriage. With surety bonding, you are corporately and personally responsible for repayment of bond claims. Therefore, the surety requires your spouse to personally guarantee your company. In addition, if your spouse is unwilling to provide a personal guarantee, the surety will question why they should.
It is your pre-approved bond limits. Bond lines include single and aggregate limits. The single limit is the largest bond you can get for one particular job. The aggregate limit is the total amount of bonded work on hand you can have at once.
We have industry standard bond forms on file from the AIA which are often used. However, you will need to obtain them from the obligee if they have their own specific bond forms.
Hire a construction CPA. Your business financial statement is the primary item sureties will use to determine your bond line. If a CPA unfamiliar with construction accounting is used, your statements will likely be incorrectly prepared, limiting your chances to increase your bond line. The bond size you can get is based on in order of importance your business financial statements, industry experience, banking records, supplier references, personal credit and financial statements.
No. Only one application is needed when applying for both bonds.
You must contact us immediately, as we have a team of claim specialists here to find a resolution for you. Keep in mind, it is crucial that you work with an expert in the surety industry. Learn more about how to ensure you choose the proper bond company.
---