What Is a Performance Bond?
A performance bond is a type of surety bond that guarantees a job will be completed per the specifications of a contract between several parties. Also known as contract bonds, these bonds are typically issued by a bonding company, or insurance company. Construction performance bonds are common in the construction industry.
Why Are Performance Bonds Necessary?
Performance bonds are needed to ensure a construction project is completed, even if the contractor or project owner can't deliver on the construction contract's specifications. Without them, the owner would have to support the additional costs of seeing the project through.
How Does a Performance Bond Work?
A performance bond differs from insurance as the bonding company won't simply write a check if you default on the job. If you can't complete the job, the bonding company may put the job out to bid with select contractors or even complete the work themselves.
If claims are filed on your performance surety bond, you must pay back the bond amount to the bonding company. Learn more about how surety bonds work and why fully understanding them can mitigate your risk.
When Is a Performance Bond Required?
Performance bond requirements are set in place by the Miller Act for all public work contracts and federal government projects $100,000 and above. Bonds may also be required for small businesses doing private work or by a general contractor doing subcontracting.
How To Get a Performance Bond?
If you need payment and performance bonds for a job, you'll need to complete a bond application to see if you qualify for bonding. During the bonding process, you'll need to provide financial statements, including the following:
Balance sheet
Income statement
Cash flow statement
Complete notes and disclosures
Work schedules
You may need additional information from your certified public accountant (CPA) for bigger contracts.
How Much Does a Performance Bond Cost?
The cost of a performance bond is a small percentage of the full contract price. Larger contract premiums are usually around 1%. Smaller contracts have fewer underwriting requirements but are priced higher at around 3%.
Given the bond amount, get a quote from a surety company like JW Surety Bonds to determine your exact cost.
What's the Difference Between a Performance Bond and a Payment Bond?
A payment bond guarantees you'll pay all subcontractors, suppliers, and laborers working on the project. A performance bond ensures the job will be completed properly. 
The guarantee of your performance and payment are so intertwined that a performance bond and payment bond are almost always required.
What's the Difference Between a Performance Bond and a Bid Bond?
A bid bond protects a project owner by guaranteeing that if a contractor wins a job bid, they'll accept it and meet the requirements of the bid.
A performance bond comes into play once the project bid has been won and ensures the project is completed without contractor default during the time frame and terms outlined in the contract.
The Beginner's Guide to Bidding and Winning Public Jobs
We created a comprehensive guide that explains everything you should know to bid on and win projects. The topics covered in the e-book include:
The pros and cons of bidding on public construction projects
Bid solicitation procedures
What influences the bid process
How to bid on public projects
Surety bonds for bidding and construction
Why you need to understand bond claims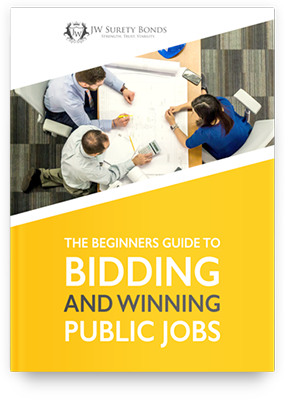 Beginner's Guide to Bidding and Winning
All You Need To Know About Surety Bonds!
We created this e-book to help contractors successfully navigate the process of bidding and winning public construction projects.
Frequently Asked Questions
It's possible if you're a smaller contractor. However, your credit issues can't be severe, as approvals for smaller contractors are based solely on personal credit. Larger contractors with strong CPA-prepared business financials and appropriate industry experience can get approved with credit issues.
No. Surety bond costs are based on the full contract amount, as the bond guarantees the total scope of work will be completed. Otherwise, there's no way to determine the bonded portion of the contract.
Yes. However, you must have acceptable personal credit, and you'll be limited to smaller bonds. Apply to determine if your new business qualifies.
It's your preapproved bond limits. Bond lines include single and aggregate limits. The single limit is the largest bond you can get for one particular job. The aggregate limit is the total amount of bonded work you can have at once.
We have industry-standard bond forms on file from the AIA, which are often used. However, you'll need to obtain them from the obligee if they have specific bond forms.
Hire a construction CPA. Your business financial statement is the primary item sureties will use to determine your bond line. If a CPA unfamiliar with construction accounting is used, your statements will likely be incorrectly prepared, limiting your chances to increase your bond line. 
The bond size you can get is based on, in order of importance, your business financial statements, industry experience, banking records, supplier references, personal credit, and financial statements.
That's not a problem. You can apply and get a standalone payment bond approval, as the same application and process are used for standalone payment bonds.
No. Only one application is needed when applying for both bonds.
Contact us immediately, as we have a team of claim specialists to find a resolution for you. It's crucial that you work with an expert in the surety industry. Learn more about how to ensure you choose the proper bond company.
---
From Our Customers
5.0
Anonymous
-

WA

,

United States
28 Oct 2023
Gaby is amazing. She helped me with obtaining a surety bond in a very short period of time. She is very professional and I highly recommend her.
5.0
Gabriels
-

TX

,

United States
25 Oct 2023
I enthusiastically recommend JW Surety company for all your surety bond needs. Ms. Gaby, in particular, was incredibly conscientious and, at one point, was communicating with and guiding our team on a weekend night. An awesome company indeed!<br><br>Gabriels<br>Manager
5.0
Jhon P.
-

CA

,

United States
08 Sep 2023
Gabriela was really supportive and great on giving me the best service
5.0
Capt. J.
-

MD

,

United States
05 Sep 2023
It was a great flawless experience dealing with JW Surety Bonds. 5 star service...
I just wanted to show my appreciation and to let others know that JW is a great choice for surety bonds. My agent Matt was very knowledgeable and responsive in assisting me through the entire process.
5.0
Tashonda
-

LA

,

United States
22 Aug 2023
The process was very easy to follow. I had the chance to speak with the friendliest associate by the name of Gabrielle. We emailed, text and called regarding the information that was needed to be done. I highly recommend this company.
Ready to Get Started?
Get a real-time quote today. You'll be bonded in minutes, not days!