What is a Contractor Bond?
How Does a Contractor Bond Work?
Contract bonds are required if you want to perform work on public projects (and some private as well) to ensure jobs will be completed properly. They can be required by the owner themselves or a general contractor that hired you as a sub-contractor.
Contract bonding is required for any job exceeding $100,000 due to the Miller Act. You can read our in-depth construction bond guide to learn everything from the process of getting a contract bond to increasing your bond lines.
Bid Bond - Allows you to bid on bonded jobs and protects the public.
Performance Bond - This lets you perform work on a project once you are awarded the job.
Payment Bond - Ensures that you'll pay all laborers, sub-contractors and suppliers.
Maintenance Bond - Allows you to work on a job that requires a warranty on your workmanship.
Supply Bond - This allows you to work on projects that require you to deliver materials.
The Beginner's Guide to Bidding and Winning Public Jobs
We created a comprehensive guide which explains everything you must know in order to bid on and win projects. The topics covered in the e-book include:
The pros and cons of bidding on public construction projects
Bid solicitation procedures
What influences the bid process
How to bid on public projects
Surety bonds for bidding and construction
Why you need to understand bond claims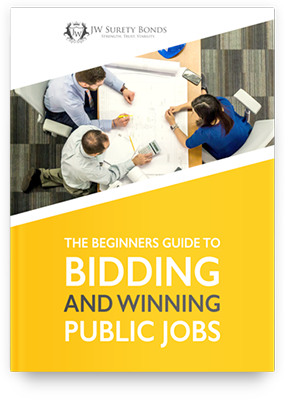 Beginner's Guide to Bidding and Winning
All You Need To Know About Surety Bonds!
This e-book was created with to help contractors successfully navigate the process of bidding and winning public construction projects.
General Contractor Bonds & Bonding Subs
The owner of a job will often require a bond of their general contractors. If you're a G.C. required by the owner to get contractor's bonding, it is recommended that you in turn require bonds of your sub-contractors to guarantee their work performance and payment of all workers and suppliers.
SBA Bond Program
This program is meant to help smaller and emerging contractors get bonded for larger jobs when they have had trouble elsewhere. Take a look at our SBA bond guide to learn about the requirements and how to get SBA bonds.
Licensing Requirements for Contractors
A contractor's license bond is needed to get a license based on where you perform the work. The bond ensures you follow the rules and regulations of your license.
Contractor Bonding Costs
Bonding costs are not one size fits all. They vary greatly depending on what type of bond you are posting, the contract bond rate that applies to you, and the size of the bond. You can use our surety bond premium calculator to get an instant ballpark estimate.
However, not everyone qualifies for contractors bonds. If you want to see if you qualify for the bond you need and determine the costs associated with it, you'll need to obtain a firm quote.
Liabilities of Posting a Surety Bond
Contractors Bond Insurance
Fidelity bonds are very different from the contract and license bonds mentioned above, as they are an insurance product that protect you or your customers against employee dishonesty such as theft.
Fidelity bonds are usually optional to obtain, but are also required at times (e.g. employee benefit plan theft protection). Getting contractor bonding insurance through fidelity bonds is something all contractors should consider.
Construction Jobs We've Bonded