What is a Payment Bond?
A payment bond is a type of surety bond that extends protection to subcontractors, vendors, and suppliers, ensuring they will get paid in line with the terms of the contract. Having a payment bond, often combined with a performance bond, is a necessary part of doing business on state or federal construction projects.
Just like other surety bonds, a payment bond offers certain protections to specific parties involved in a construction contract. As the contractor, you secure your payment bond from a surety agency to ensure the subcontractors, vendors, and suppliers, are paid. This is a three-party contract that gives the people who work on the contract the ability to make a claim to the surety agency if payment is not made.
When Do You Need a Payment Bond?
A payment bond is often a requirement when working on state or federal construction projects. Before a project begins, a payment bond is put in place so that payments are guaranteed to those working on the job. In many cases, a payment bond is combined with a performance bond, explained below, for a single rate.
What is the Difference Between a Performance Bond and a Payment Bond?
A payment bond ensures that subcontractors, suppliers, vendors, and laborers on a specific project are paid as agreed per your project contract. A performance bond, on the other hand, is a guarantee that the work promised in a contract is delivered adequately.
Both payment and performance bonds are required for many state and federal construction projects, and they are underwritten by a surety agency together in nearly all cases.
Can you Get a Payment Bond Only?
You can get a payment bond without an attached performance bond, but it's rare. Most construction projects on a state or federal level require both to be in place in order for a contractor to work on a project legally. In the rare cases where a performance bond is not also a requirement, a payment bond may be obtained on its own.
Payment Bond Cost
The cost of a payment bond is not the total amount of the bond required, but instead, it equals a percentage of the bond amount. This percentage is based on several factors and underwriting requirements, and bondholders may pay 1% to 4% depending on details included in the bond application.
Payment Bond Rates Explained
The cost of a payment bond, represented as a percentage of the total bond amount, is known as your bond rate. Depending on the state in which you work, the project you need the bond for, and your personal credit history, bond rates will vary one contractor to the next. A surety agency may also take a look at your business financials to determine your bond rate. All of these factors come together to provide a clear picture of the risk you present to the surety agency. The lower your risk, the lower the rate of your bond in most cases.
Credit Scores and Payment Bond Costs
Your credit score plays a vital role in the cost of your payment bond. Surety bond providers extend a form of credit to you when a new bond is issued. If a claim is made against the bond for non-payment, the bond provider pays for that claim. However, you as the bondholder may be required to repay that claim amount. If you have a low credit score, a surety agency may view you as a higher risk for repayment than someone who has a clean financial track record. To offset this risk, your bond rate may be higher.
Can You Get a Payment Bond with Bad Credit?
You can get a payment bond with bad credit. However, the process may take longer or require more documentation.
Fortunately, the right surety agency can work with you to get the payment bond you need even when credit is an issue. You may pay a higher rate for your bond initially, but you can work to improve your credit through on-time payments and responsible management of debts. These small steps can go a long way in reducing the cost of your payment bond for your next project.
How Do Payment Bonds Work?
The concept of a payment bond is simple when you understand who is involved in the process and how claims are managed over time.
The obligee, the principal, and the surety
A payment bond is a three-party contract including the following:
The surety – this is the company that backs the bond you need
The obligee – this is the general contractor or the government agency requiring the bond
The principal – you as the contractor who is required to have a payment bond for a specific contract
When a claim is made against a payment bond because payment was either not made on time or at all, the surety company that provided your bond covers the claim amount, paid to the obligee. You as the principal may then be required to repay that claim amount back to the surety.
The Federal Miller Act
Payment bonds are mandated by the Miller Act, a federal regulation that is meant to protect suppliers, vendors, and subcontractors on federal construction projects. Under the law, all payments made on a contract valued at more than $100,000 are protected through a payment bond. In all cases, both a performance bond and a payment bond are needed to comply with the Miller Act on federal construction contracts.
How to Get a Payment Bond
Understanding what a payment bond is and how it works in the event of a claim is important to any construction contractor's business. However, it is just as important to know how you can secure a payment bond when the time comes. The following steps lay out what's needed so you can get the payment bond you need for state or federal construction projects.
Prepare and organize your documents
Getting a payment bond requires you to gather certain documents to submit along with your bond application. These items may include the following:
Business balance sheet
Income statement
Cash flow statement
Disclosures for the business
Work schedules
Personal and business tax returns
Your personal credit is also reviewed in the payment bond application process to ensure you are eligible for a new bond. A payment bond form, which we provide, is also required, which details what bond you need based on the specific project you are taking on. Having these documents together and organized is arguably the most important step of getting a payment bond when it is needed. It is often recommended that you work with an accountant who understands the construction business to help get your documents in order.
Obtain and sign the bond agreement
Once your application has been reviewed for accuracy along with your business and personal financial information, the surety agency provides a bond agreement after everything is approved. You will need to review this document and sign it for your records, and submit it back to the surety agency.
Cover the payment bond fees
The rate you pay for your payment bond is determined after a full review of your business and personal financial documents, your payment bond form, and other documents requested from the surety agency. Once approved for your bond, you will need to pay for your payment bond based on the rate provided to you.
Submit your payment surety bond
After paying for your bond and receiving the bond agreement, you will then submit your payment bond to the state or federal department responsible for ensuring payment bonds are in place.
The Beginner's Guide to Bidding and Winning Public Jobs
We created a comprehensive guide which explains everything you must know in order to bid on and win projects. The topics covered in the e-book include:
The pros and cons of bidding on public construction projects
Bid solicitation procedures
What influences the bid process
How to bid on public projects
Surety bonds for bidding and construction
Why you need to understand bond claims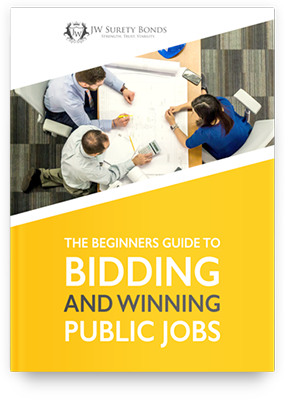 Beginner's Guide to Bidding and Winning
All You Need To Know About Surety Bonds!
This e-book was created with to help contractors successfully navigate the process of bidding and winning public construction projects.
Frequently Asked Questions
No. Costs are based on the full contract amount, as the bond guarantees the total scope of work will be completed. Otherwise, there is no way to determine what portion of the contract is bonded.
After you are awarded a contract that requires the bonds. If a contract requires a bid bond, a payment and performance surety bond will usually be required after. Learn the entire bond process by visiting the construction bond guide.
We have industry standard bond forms on file from the AIA which are often used. However, you will need to obtain them from the obligee if they have their own specific bond forms.
Hire a construction CPA. Your business financial statement is the primary item sureties will use to determine your bond line. If a CPA unfamiliar with construction accounting is used, your statements will likely be incorrectly prepared, limiting your chances to increase your bond line. The bond size you can get is based on in order of importance your business financial statements, industry experience, banking records, supplier references, personal credit and financial statements.
No. Only one application is needed when applying for both bonds.
You must contact us immediately, as we have a team of claim specialists here to find a resolution for you. Keep in mind, it is crucial that you work with an expert in the surety industry. Learn more about how to ensure you choose the proper bond company.
---
From Our Customers
5.0
Jhon P.
-

CA

,

United States
08 Sep 2023
Gabriela was really supportive and great on giving me the best service
5.0
Capt. J.
-

MD

,

United States
05 Sep 2023
It was a great flawless experience dealing with JW Surety Bonds. 5 star service...
I just wanted to show my appreciation and to let others know that JW is a great choice for surety bonds. My agent Matt was very knowledgeable and responsive in assisting me through the entire process.
5.0
Tashonda
-

LA

,

United States
22 Aug 2023
The process was very easy to follow. I had the chance to speak with the friendliest associate by the name of Gabrielle. We emailed, text and called regarding the information that was needed to be done. I highly recommend this company.
5.0
Sara N.
-

TX

,

United States
31 Jul 2023
The whole process with JW Surety Bonds is quick and easy.The price is fair. I got a great quote. If you have a good credit score,you'll get the excellent price, doesn't matter if you new in the business .<br>Gabrielle is awesome.Thank you very much.
5.0
Anonymous
-

CT

,

United States
29 Jun 2023
The customer service was outstanding, and the product was exactly what I was looking for.' 'I was so pleased with the service I received from this business. They went above and beyond to help me find the perfect item.' 'I was very impressed with the quality of the product I received.
Ready to Get Started?
Get a real-time quote today. You'll be bonded in minutes, not days!