Many states require construction companies and general contractors to obtain a construction surety bond for licensing, project bids, and construction contracts over a specified amount.
Here is everything you need to know.
What is a Construction Bond?
There are several types of construction bonds used to guarantee construction and quality workmanship—often required by the government for public jobs and public works. Additionally, private entities and general contractors bidding out projects to subcontractors can also require them.
You can use our contractor bond guide to learn about every bond you'll ever need for your contracting business. You can also take a look at our most frequently asked surety bond questions.
Why Are They Required?
Construction surety bonds protect project owners, suppliers, and laborers against financial loss. It is a legally binding agreement that you (a construction company or general contractor) will carry out a job lawfully, ethically, and as per the terms of the contract. If you fail to do so, the affected party can make a claim against the bond. The bond company that issued your bond pays for any valid claims initially. However, you're ultimately responsible for reimbursing all costs to the bond company.
Types of Construction Bonds
Bid Bonds
Bid bonds get your foot in the door by allowing you to bid on bonded jobs. They guarantee your bid is accurate (so make sure it is!). They also guarantee that the bonding company will provide a performance & payment bond if you are awarded the contract.
Performance Bonds
Performance bonds are what guarantee your work to the project owner. The required "performance" of your work is outlined in writing in the contract. Note that higher contract amounts often require bigger bond amounts.
Payment Bonds
Payment bonds guarantee that you'll pay all subcontractors, laborers, and suppliers.
Maintenance Bonds
Maintenance bonds provide a warranty on your workmanship for a specific amount of time after the work is complete.
Supply Bonds
Supply bonds ensure suppliers deliver materials according to their contract.
How Do Construction Bonds Work?
A maintenance bond is occasionally required after you close out the job by whoever required the bid and performance bonds. If this is the case, file a bond application for a maintenance bond. Be sure to make any repairs and site improvements while your bond is active.
The Beginner's Guide to Bidding and Winning Public Jobs
This comprehensive guide for small businesses and big companies alike explains everything you must know to bid on and win projects. The topics covered in this free e-book include:
The pros and cons of bidding on public construction projects
Bid solicitation procedures
What influences the bid process
How to bid on public projects
Surety bonds for bidding and construction
Why you need to understand bond claims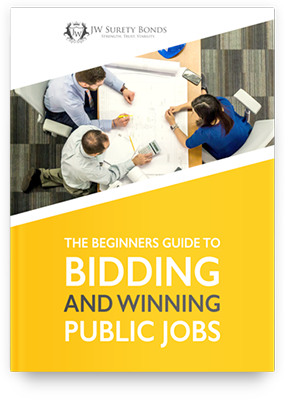 Beginner's Guide to Bidding and Winning
All You Need To Know About Surety Bonds!
Construction Bonding Capacity Explained
Bonding capacity (also referred to as your bond line) is the pre-approved dollar amount of contract bonds that you qualify for.
Your single limit is the largest bond you can get for a single job. Your aggregate limit is the total amount of bonded work on hand you can have at once for several projects. Learn how choosing the wrong construction bonding company can limit your bond lines.
Remember, active jobs count against your bond line—whether you are awarded projects or not—making it important to tell your bond agent the results of every job you bid on.
A Simple Bond Line Example
Let's imagine you have a $500,000 over $1,000,000 bond line.
The $500,000 single limit would allow you to work on jobs no larger than $500,000. Your $1,000,000 aggregate limit would allow you to work on two jobs of $500,000, four jobs of $250,000, eight jobs of $125,000, etc. at the same time.
Strong Financials Will Increase Your Bond Limits
When a surety company or any other lender is considering writing a performance bond, your financial statements will be reviewed. This is a key part of the underwriting process to help them determine how you handle your obligations and whether you can handle projects that come along with a larger bond limit.
Your financial statements must show sufficient working capital, cash flow, equity, and profit for a surety company to increase your bond limits.
When providing your financial statements to a surety company, it's highly recommended that you work with a construction CPA. They know the industry inside and out and will be able to present your company appropriately when attempting to increase your bond limits.
Crawling with Construction Bonds Before You Run
Build Strong Foundations with Smaller Construction Bonds and Jobs
When you get construction bonds such as bid and performance bonds for a public job, you are responsible for the project's completion. If you don't complete the job according to the contract, a claim can be filed on your bond—which you're ultimately responsible for paying. Therefore, you should avoid getting in over your head by bidding on larger projects that you're not yet qualified to work on. Thankfully, the bonding process often helps ensure this.
If you are a contractor with a new business, the surety company will likely limit you to bonds for only smaller contracts (about $350K and under). The bond limit is for your own protection since your company doesn't have a proven track record of completing larger projects. It additionally benefits you since you don't have to obtain CPA-prepared financials for smaller jobs—which often cost thousands to have prepared.
Start with smaller jobs to gain the proper experience and allow yourself to get familiar with the entire process, from bidding on jobs to completing projects. This will also give you time to develop a strong relationship with the surety company.
Strengthen Your Experience and Surety Relationship, Get Bigger Bonds
Once you have the proper experience, a track record of completed projects, and have built up your relationship with the surety company, you can start bidding on larger projects (about $350K+). Your relationship with the surety company is important because when they provide you bonds for public construction jobs, they are extending a form of credit to you.
As mentioned above, the bonds guarantee you'll complete the project according to the contract. If you default or perform faulty work and cause claims, the surety company will pay them at first. However, they will come back for you for reimbursement. Building a strong relationship with the surety company is vital to both your company's and the surety's success.
Working on bigger jobs usually increases your company's overall profit, which makes getting the CPA-prepared business financials that are required for larger bonds less of an issue as it often is for smaller or new contractors.
Bonds for Your Contractor License
Contractor license bonds are required by most states for contractors to get their license. These bonds guarantee you'll pay any claims in full that you may cause by not operating your contracting business professionally. If you'd like to learn more about what surety bonds are and how they work, you can read our detailed guide here.
Developer Bonds For Subdivisions
Subdivision bonds allow developers to make improvements on public property such as roads, sewers, and sidewalks. They guarantee the improvements will be done properly.
The local government will tell you if a bond is needed to perform improvements or additions after you present your site-improvement plans.
Types of Work Construction Bonds Can't Be Used For
Surety bonds for construction jobs protect the public and are used for public projects. However, most surety companies in the U.S. won't provide construction surety bonds for certain lines of work. Why? Because the majority of U.S. surety companies consider certain projects too risky to bond. Some examples include:
Overseas Projects & Jobs on Indian Reservations
With projects overseas and Indian reservation construction jobs, most U.S. surety companies will not consider writing surety bonds to guarantee their completion because the laws differ from state and Federal laws.
Since the surety company is first on the hook to pay bond claims, they don't want to take the chance of providing surety bonds in a region where they're unfamiliar with the law and risk non-payment of claims.
Multi-Year Construction Jobs (3+ years)
Multi-year construction contracts that last for three or more years are too risky for surety companies. They can't determine whether a contractor will still qualify to perform the work that far down the road.
For instance, if a contractor defaults on another project while also working on a three-year job, it could cause them to go bankrupt.This would mean the contractor wouldn't be able to finish any other jobs they were working on.
Private Home Remodeling Projects (Unless Government Funded)
Getting construction bonds for private home remodeling projects will be impossible. Not because they're too risky for surety companies, but as a result of being private jobs. As mentioned above, surety bonds for construction jobs protect the public and are used for public projects.
It's possible to get surety bonds for private home remodeling jobs that are being paid for by the government, e.g. the government stepping in and paying for projects in a particular state where a hurricane caused significant damage to homes.
Additional Information
Performance bonds for public construction projects guarantee your performance on the project. This differs them from financial guarantee bonds that ensure things such as building leases or sales tax revenue are paid.
If bonds for construction projects simply guaranteed that payments would be made, more surety companies may consider writing bonds for the types of work mentioned above. However, the risk is far greater.
Construction Jobs We've Bonded
Frequently Asked Questions
It is possible to get bonds for smaller construction projects with minor credit issues. However, if you have serious credit issues such as large collections, past dues, civil judgments, tax liens, bankruptcy, or past due child support you will not be able to get bonded. Smaller contracts are based strictly on personal credit. Therefore, the surety company will see negative items as an indication of how you conduct your business, financial responsibilities, and how you'll perform on the job.
You can obtain bonds for larger contracts with serious credit issues, but you'll need to provide strong CPA-prepared financials and acceptable industry experience to demonstrate to the surety company that you're able to handle larger projects.
There are several reasons, including credit issues, weak business financials, little to no industry experience, or the bond company protecting you from default if they believe the job is a bad fit.
We have industry-standard AIA bond forms on file. However, you must obtain the bond forms from whoever is requiring the bonds (the obligee) if they have their own.
Generally, only large companies such as Fortune 500 companies or large developers will require contract bonds.
It based on your business financials, industry experience, and credit strength. If you have good credit but do not have strong financials or industry experience, you will likely only qualify for a smaller bond line of about $300,000 and under. If you have good credit, strong CPA business financials, and experience in the construction industry, you can get approved for a larger bond line of around $350,000+.
They are surety bonds used to guarantee construction. You can learn more about the various bond types you may need by reading our contractor bond guide.
When you get bonds for construction projects, whether it's a bid bond or performance bond, the surety company is providing you a form of credit. The bonds guarantee that you'll bid on a project accurately and that you'll perform the work according to the contract. If you don't and trigger claims on the bond, the surety company will pay them. However, you are ultimately responsible to pay the surety company back. If a contractor has credit issues, the surety company may not want to provide a form of credit to someone who has trouble keeping on top of their personal credit and financial responsibilities.
The bond company will pay the claim at first, but you will have to pay them back. Avoid bond claims by completing jobs in full and according to the contracts. Find out how we can save you money on claims if they occur.
Contact us immediately, as we have a team of claim specialists here to find a resolution for you. While some insurance companies also offer bonding, they don\'t have the same expertise as our bond experts when dealing with claims. Learn more about how to ensure you choose the proper bond company.
---
From Our Customers
5.0
Jhon P.
-

CA

,

United States
08 Sep 2023
Gabriela was really supportive and great on giving me the best service
5.0
Capt. J.
-

MD

,

United States
05 Sep 2023
It was a great flawless experience dealing with JW Surety Bonds. 5 star service...
I just wanted to show my appreciation and to let others know that JW is a great choice for surety bonds. My agent Matt was very knowledgeable and responsive in assisting me through the entire process.
5.0
Tashonda
-

LA

,

United States
22 Aug 2023
The process was very easy to follow. I had the chance to speak with the friendliest associate by the name of Gabrielle. We emailed, text and called regarding the information that was needed to be done. I highly recommend this company.
5.0
Sara N.
-

TX

,

United States
31 Jul 2023
The whole process with JW Surety Bonds is quick and easy.The price is fair. I got a great quote. If you have a good credit score,you'll get the excellent price, doesn't matter if you new in the business .<br>Gabrielle is awesome.Thank you very much.
5.0
Anonymous
-

CT

,

United States
29 Jun 2023
The customer service was outstanding, and the product was exactly what I was looking for.' 'I was so pleased with the service I received from this business. They went above and beyond to help me find the perfect item.' 'I was very impressed with the quality of the product I received.
Ready to Get Started?
Get a real-time quote today. You'll be bonded in minutes, not days!