Surety Bond Definition
A surety bond is a binding contract between three different parties:
The principal (the person needing the bond).
The surety (the company writing the bond).
The obligee (the entity requiring the bond).
It provides a guarantee to the obligee that the principal will conduct themselves per the terms outlined in the surety bond. If the principal fails to complete the task or obligation, the obligee can file a claim against the bond for damages. If a claim is deemed valid, the surety reimburses the obligee.
The principal must repay any claims to the surety, as outlined in the indemnity agreement that every bondholder must sign.
Don't have the time to read about surety bonds below? Watch our quick 90-second video which covers how surety bonds work.
What Is a Surety Bond Used For?
A surety bond protects government entities and the general public from financial loss and other damages. If the bond's requirements aren't met — such as not performing contracted work or failing to pay suppliers, vendors, or subcontractors — a claim might be filed against the bond.
"What's a Surety Bond?" Infographic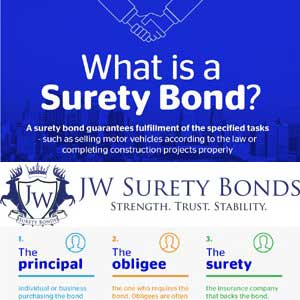 Do I Need a Surety Bond?
You only need a surety bond if you're required to obtain one, which you'll be notified of depending on the circumstance.
Surety Bond Requirements by State and Industry
Surety bond requirements vary by state and industry. Surety bonds like auto dealer bonds and freight broker bonds might be similar across some states (except the bond amounts). However, court bonds can vary greatly by state or local government. So, you'll need to find the right bond, depending on your circumstances.
Many industries require bonds to guarantee the bondholder follows through with contractual agreements. Payment bonds are common in the construction industry, as they guarantee a project's subcontractors and material suppliers will be paid. These are required by the federal government for projects over $35,000 and are often required in conjunction with performance bonds.
Employee Retirement Income Security Act (ERISA) bonds are also common for businesses regardless of industry, as they protect employees with benefit plan packages.
Types of Surety Bonds
Generally, three categories of surety bonds exist that could be required for doing business. The most common types of surety bonds include:
License and Permit Bonds 
License and permit bonds are required for various professionals to operate legally. Auto dealers, licensed contractors, and freight brokers are some examples of professionals required by government agencies to secure a license or permit bond. These bonds may also be called commercial surety or business bonds.
Contractor Bonds 
Individuals or businesses working on public construction projects and government contracts are likely required to obtain a contract surety bond. This includes construction bonds, bid bonds, and maintenance bonds.
Court Bonds 
Certain courts require these bonds for various purposes, such as probate or judicial bonds.
If you need help finding your surety bond, check out our Find a bond tool.
---
How To Get a Surety Bond
Getting a surety bond is an easy process with a few steps. Here's what you can expect from a bond company during the bonding process:
Fill out a bond application for our in-house underwriters to assess.
Once your bond form is approved, you'll get a free quote and an indemnity agreement.
Sign the agreement and email or fax it back to your bond provider.
Pay the invoice online.
Once everything is processed, you'll receive a copy of the surety bond in an email. Additionally, the original bond will be sent to you in the mail.
Surety Bond Example
Here's an example of a general contractor using a surety bond in Georgia. The bond allows them to get a general contractor license and pays out an obligee if a contract isn't being properly met.
Step 1: Determine Need for Surety Bond
Let's say a business owner (the principal) moves to Georgia and wants to start a small business in the construction industry. They decide they want to be a general contractor. 
However, Georgia (the obligee) dictates they need a general contractor license to take on construction contracts over $2,500. There are many requirements to obtain this license, and one is a $25,000 contractor surety bond that acts as a financial guarantee.
Step 2: Secure a Surety Bond Through a Surety Company
The business owner applies for a bond through a surety company (the surety). A quick underwriting process assesses how much of a risk they are by looking at factors like their credit score, financial statements, previous bond history, and moral character. 
The business owner is an excellent candidate and secures a surety bond premium of 2%, meaning they pay a flat fee of $500 to obtain the bond from the lender.
Step 3: Surety Company Pays the Obligee Due to Claim
The business owner's application is a success. They now have a general contractor limited tier license, meaning they can take on work with a contract price of up to $1,000,000. Fast-forward half a year, their workmanship on a residential home is faulty. 
It isn't the standard agreed on in the contract between the business owner and the project owner. The project owner puts in a claim against the bond. The investigation finds the business owner failed to uphold their contractual obligations, so the surety pays out to the project owner. The business owner is now on the hook for paying back the surety.
---
As featured in
Image

Image

Image

Image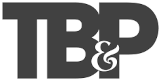 Image

Surety Bond FAQ
A surety bond generally costs 1% to 10% of the full bond amount. For example, if you need a $20,000 bond, your costs could be between $200 and $2,000.
The cost of a surety bond depends on the bond amount you need and your rate. An underwriting process determines your rate. An underwriter will look at your financial statements, credit score, and past bonds to determine your financial strength.
Do you have bad credit? Getting a surety bond with bad credit is still possible, but the premium will likely increase.
You can use our bond premium calculator to get an instant estimate. If you need to get a firm surety bond quote, you can apply to get online approval.
Factors like credit score, loss of business assets, and previous bond claims against you can impact your ability to get a surety bond. However, JW Surety Bonds is experienced with helping clients secure surety bonds given a wide range of backgrounds and circumstances. 
Contact JW Surety Bonds to discuss your surety bond options and get the bond you need.
Surety bonds are a guarantee of payment to another party. They're not like an insurance policy from an insurance company.
A surety bond doesn't pay for your losses in the event of a claim. Instead, the surety bond guarantees that financial obligations are made to an obligee if a claim is made against you.
---
The Consumer's Guide to Surety Bonds E-Book
For the most thorough answers available to fundamental questions related to securing a surety bond, download our free "Consumer's Guide to Surety Bonds" e-book. Topics covered in the e-book include:
How surety bonds work
How indemnity agreements affect you
The various surety bond types required
How to get bonded
How claims affect you
This e-book was designed to educate consumers, specifically first-time applicants. It's an excellent resource if you're unfamiliar with how surety bonds work, the pricing of surety bonds, or how bonds affect you or your business.
Secure a Surety Bond With JW Surety Bonds
As the nation's largest surety bond service, the team at JW Surety Bonds is experienced at helping you get the surety bond you need. Get an instant surety bond quote to get started!