The Consumer's Guide to Surety Bonds
All You Need To Know About Surety Bonds
Learn all you need to know about:
The different types of surety bonds
How to calculate your bond costs
The application process
Bond claims and how to avoid them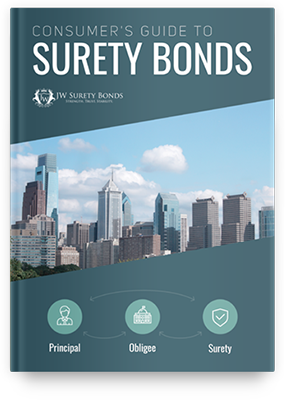 What Can This Ebook Do For You?
Surety bond requirements can vary greatly by type and location, making them confusing to first-time business owners. With this in mind, we created this e-book guide which takes you through the whole process of getting bonded and explains the most important concepts related to surety bonds. After reading it you'll be able to identify what type of bond you need, estimate how much it will cost you, prepare for the application process and a lot more!
Chapter list
I. Surety Bond Overview
6
What is the difference between being bonded and insured?
9
II. Types of surety bonds
11
License & permit bonds
17
How are bond rates determined?
25
How to reduce your bond rate
27
Image

About JW Surety Bonds
JW Surety Bonds is the largest volume bond producer in the United States, with a focus on providing our clients low rates, an easy process, and the best in customer service. Working with JW Surety, you get the quality personalized service of a small company and the many advantages of working with the top writer of all types of surety bonds in the country.
JW Surety created this e-book to help potential customers get licensed and bonded. This detailed guide will help you navigate every aspect of obtaining a surety bond for your business.