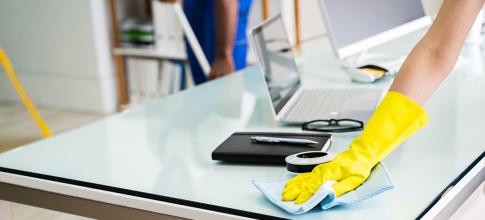 Face masks and social distancing were not common necessities a year ago. This past year, businesses and other in-person sectors drastically shifted their sanitation practices to combat the spread of COVID-19. Today, businesses are still taking necessary steps to keep employees and customers safe. Since we've spent nearly a year in this new normal, we wanted to find out how confident Americans are with businesses and new sanitation procedures. We surveyed a total of 3,000 Americans to get an idea of their confidence level in the ability of businesses to uphold high cleaning standards in 2021. We also included tips for businesses who want to work on building trust with their customers this year.
Key Findings
More than 1 in 4 respondents trust schools and restaurants the most to uphold sanitation practices.
On a 5-point confidence rating system with five being "very confident" and one being "not confident at all," nearly a third of respondents gave businesses a "3".
Americans Trust Schools and Restaurants The Most
Of the industries we listed, Americans put their trust in education and restaurants the most. Schools and restaurants in the U.S. went through drastic changes in the past year. Schools embraced distance learning, modified in-person instruction, or a mix of both. Restaurants adjusted their indoor and outdoor dining layouts. Other eateries who couldn't accommodate on-site dining resorted to takeout-only models. On top of this, all industries stayed agile as local and state restrictions continuously pivoted throughout the year to adjust to the virus' changing impact on the country.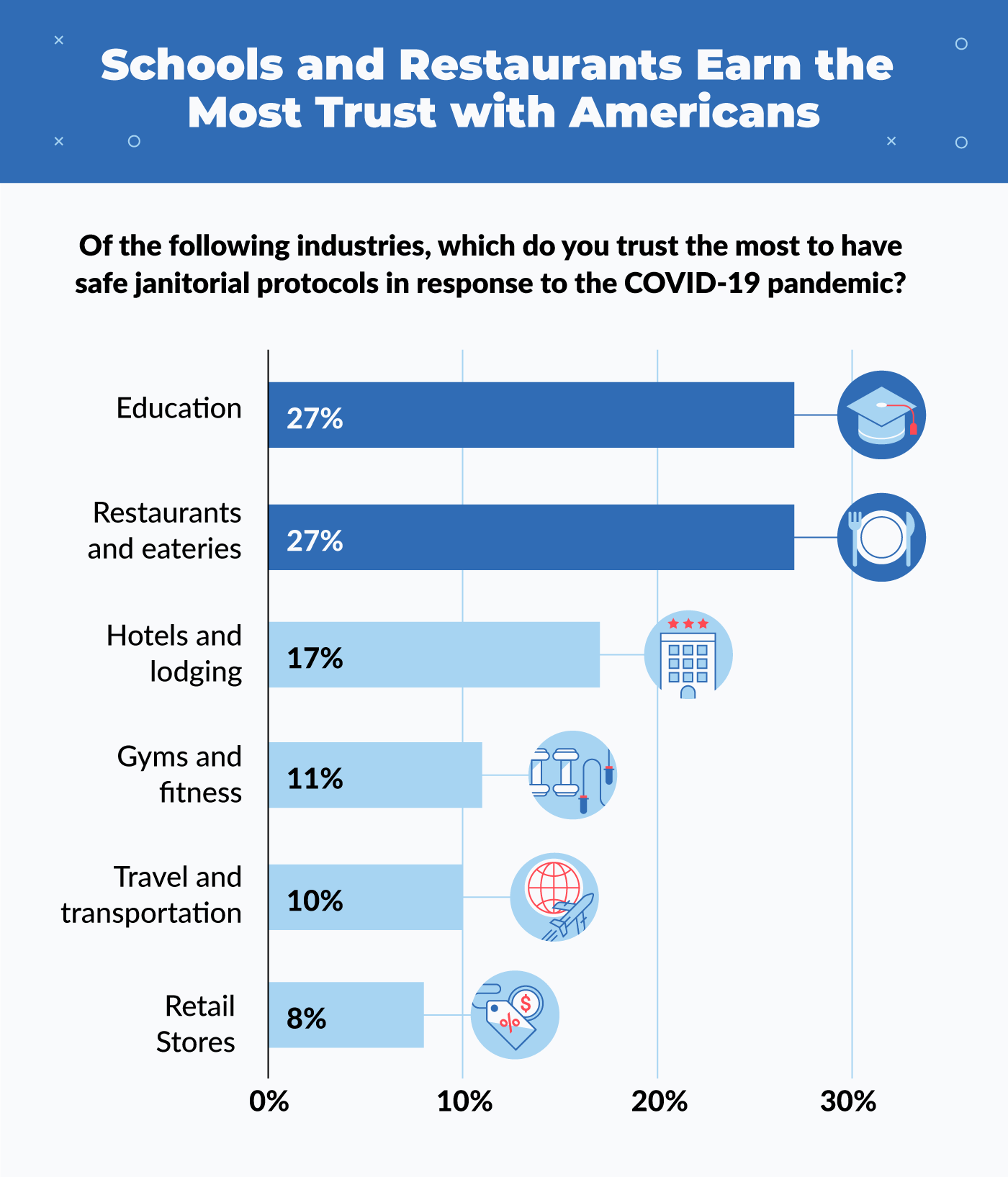 Looking at the opposite end, Americans trusted retail stores the least. State and local governments required retail stores to reduce indoor capacity, increase sanitation, and enforce COVID-19 precautions with employees and customers. Big retailers like Target and Costco implemented hours dedicated to seniors and those who are most vulnerable to give them time to shop.
Americans Give Businesses 3 out of 5 Stars for Cleanliness Confidence
We also asked respondents to rate businesses on a scale of one to five based on their confidence that they'd uphold high cleaning standards in 2021. One meant "not at all confident" and five meant "very confident." One third of Americans give businesses a three. Although business and other organizations received a neutral score, there's no question that they're working hard to keep everyone safe. The lack of confidence may be a result of changing restrictions and employees or customers who actively flout safety precautions — all factors that are out of a businesses' control.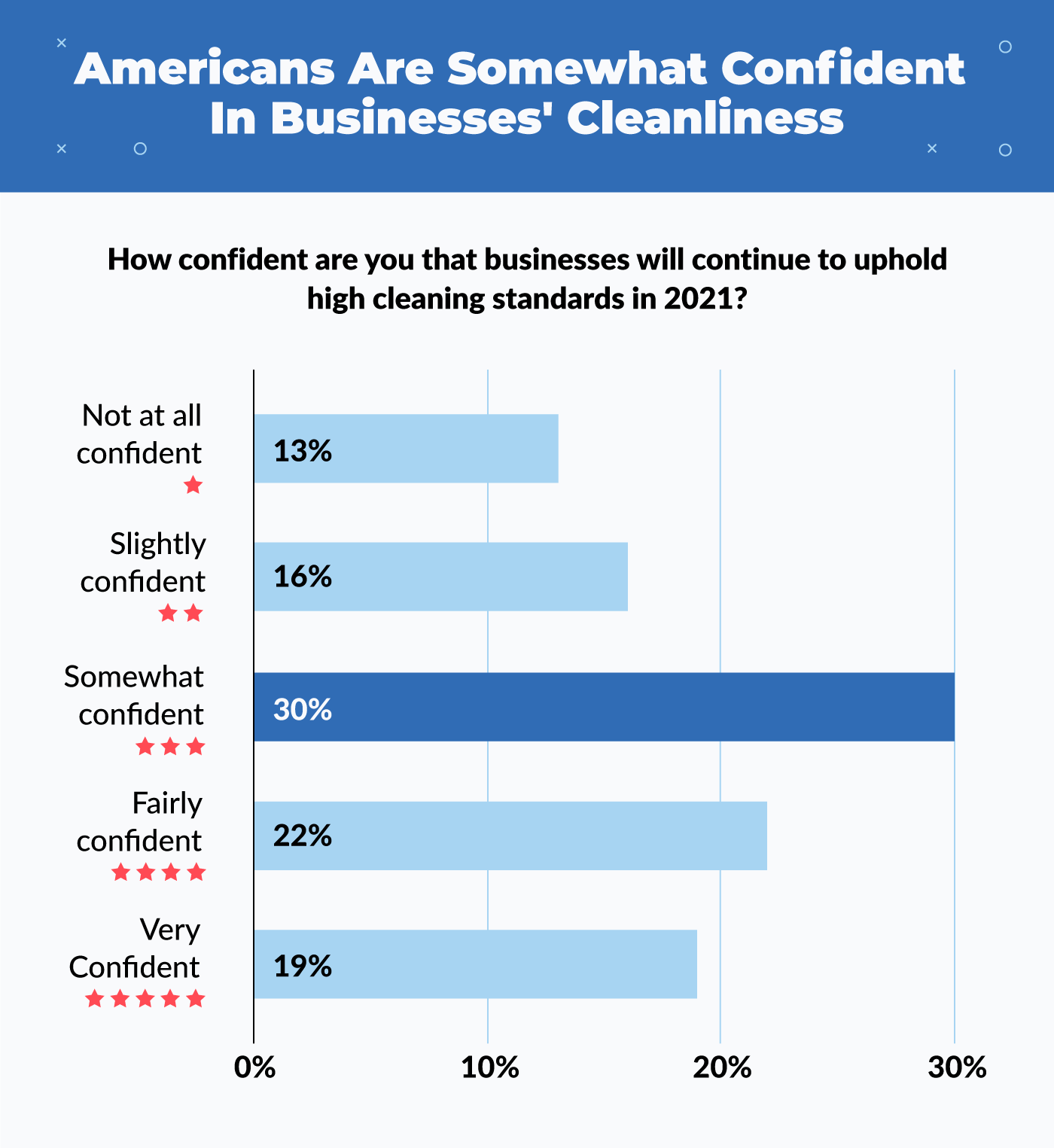 An Inside Look on The Janitorial Industry
In addition to our survey, we also heard from a few business owners about the pandemic's effect on the janitorial industry. We learned that the industry faced significant strain because of increasing demand for sanitation services and changes in the economy. Josh Eberyl, owner of 717 Home Buyers, says he's started using an almost daily janitorial staff to keep public surfaces sanitized. "I don't want any of my employees to feel like they are putting themselves at risk by coming to work...," he says. "I don't want to have to shut down the office because an employee got infected, so paying a bit extra every month in order to make sure that everything is clean is 100% worth it." Cleaning King owner Nick Wilkesmann says that the pandemic has had a polarizing effect on the janitorial services industry. "...Some firms have seen business go through the roof thanks to the need for deeper and more frequent cleans, whereas others have had their work disappear when the workplaces they clean have simply shut down," he says. "One of the main challenges during the pandemic has been training cleaning staff to complete COVID-safe deep cleans, not just in the actual cleaning process but also in the correct usage of PPE to levels not typically seen in our industry."

Kevin Geick is a manager at Bio Recovery, a nationwide disease and biohazard cleanup company with over 20 years experience in the field. Geick says that one issue with janitorial work is that everyday household cleaning companies are offering COVID-19 disinfection services. "Many of these companies have no experience in disease cleanup situations, so this poses dangers to both those receiving the services, as well as the cleaners themselves," he says.
How to Maintain Customer Confidence During Uncertain Times
Receiving three stars for anything isn't a good feeling. Customer confidence has always been key to good business and it's even more important now while we continue to navigate a global pandemic. In addition to the direct risk of infection, there've been other issues like fraud and scams that customers are concerned about. Below are a few tips to build customer confidence during uncertain times.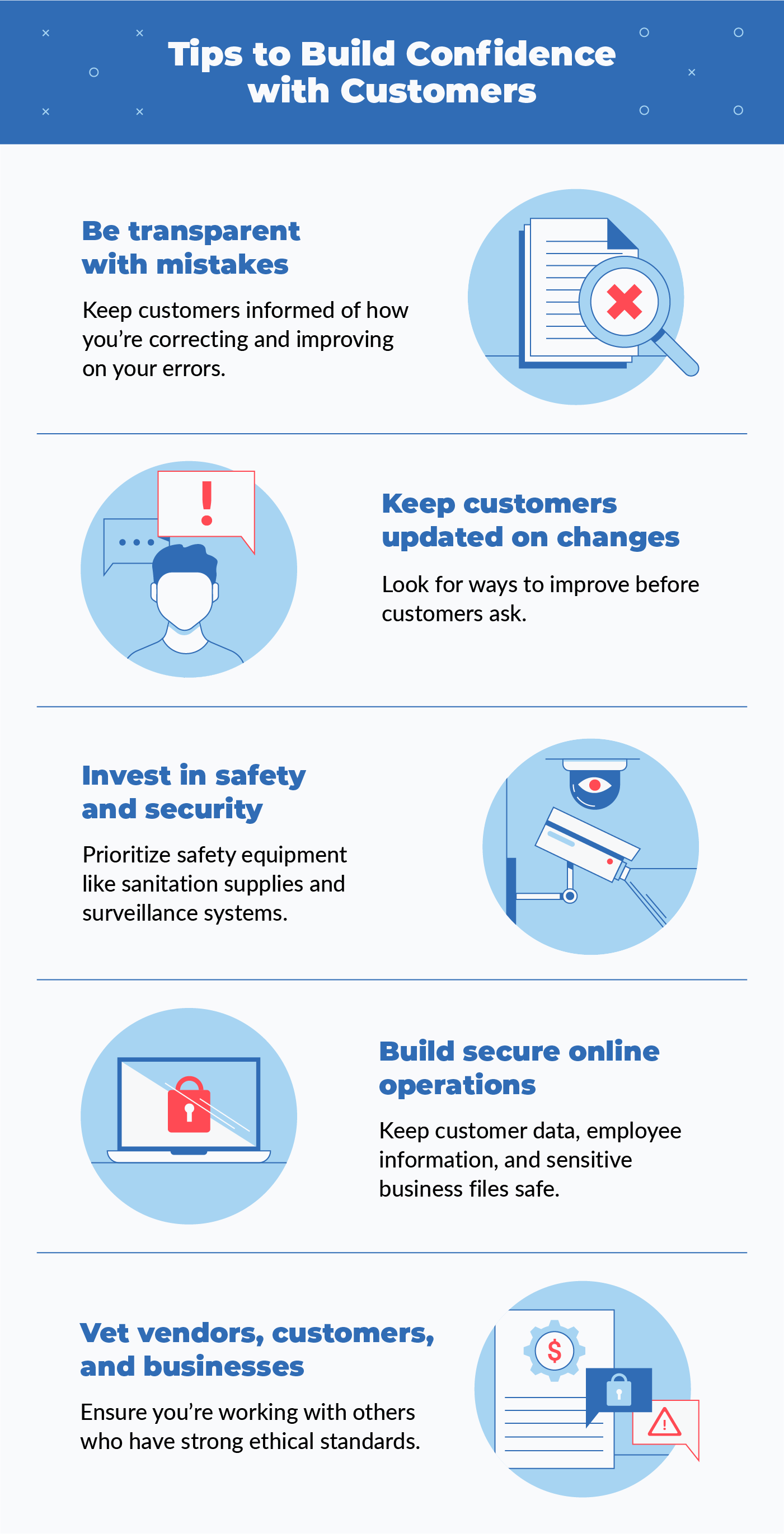 Keeping Janitorial Customers Safe from Dishonest Employees
Businesses rely on janitorial companies to keep their businesses clean. Inevitably, janitorial teams also gain access to areas with sensitive or valuable items for a business. As an owner of a janitorial company, the last thing you want to think about is the steps to take if an employee is caught stealing from a customer. In this case, you should look into getting a janitorial bond to protect your customers from employee theft. In addition to keeping customers protected, you can open up opportunities for more business. Many businesses prefer working with janitorial companies who are bonded and insured. Contact us today if you have any questions on how to get this surety bond.

---

---