When you need your freight to arrive safely and securely from point A to point B, a freight broker can help. They know the ins and outs of the intricate shipping industry and act as an intermediary between a freight service provider and a shipper.
The guide below covers everything you need to know about what freight brokers do. You will also find information on how to get your freight broker license, including education, surety bonds, and the application process.
What is the Freight Broker's Role in the Transportation of Goods?
A freight broker uses their connections, skills, and resources to find a shipper to move freight (also commonly referred to as goods). They do not own either the cargo or shipping vessels (trucks, ships, airplanes, etc.).
Instead, they act as a middleman between shippers and transportation companies, taking care of all shipping logistics for a commission. Their major benefit is that they free up time for the shippers and can help secure the best rates—allowing cargo to ship out faster and cheaper.
A freight broker job entails:
Having a thorough understanding of the shipping industry, trucking industry, and transportation laws.
Understanding a company's needs and the shipping needs for all types of freight.
Finding shippers ready to take on cargo when it is ready to go to avoid delays.
Carefully vetting freight carriers for reliability. This includes assessing safety scores and past history.
Using load boards.
Ensuring each trucking company fills out a carrier packet.
Using negotiation skills to broker deals with shippers.
Facilitating the movement of the freight.
Tracing and tracking shipments.
Consistently and clearly communicating with all parties. Brokers are the primary connection between shippers and freight service providers.
Effectively deal with any issues as they arise throughout the process.
Basic accounting, such as invoicing and general bookkeeping.
Dispatchers vs. Freight Brokers
The overlap in job duties between dispatchers and freight brokers has led to many people confusing the two professions. After all, part of each job is to fill transports and they both act as a middleman. However, dispatchers and freight brokers are different.
A freight broker's main job is to connect shippers with carriers. To do so, they must be licensed, bonded, and insured to operate legally.
Dispatchers can work independently or directly for shipping carriers. Their job is to receive and transmit information to help track cargo while it is on the move. Unlike freight brokers, they are unregulated and do not require any licensing or bonding.
Is Becoming a Freight Broker Worth It?
Yes. Becoming a freight broker can lead to a rewarding career for those with social personalities. If you decide to open your own business, perks include choosing your clients and the amount of work you take on. Plus, the growth of your freight brokerage business is in your hands.
Contrastingly, becoming a freight broker may not be for those with bad communication skills. A career as a successful freight broker hinges on good communication since you are the main line between shippers and freight carriers.
How Do Freight Brokers Make Money?
The way that freight brokers generally make money is the difference between the shipping rate and the price the shipper pays. Therefore, it is in their best interest to charge a shipper a lot and negotiate the lowest possible rate with the shipping company.
How does this save a shipper money? Oftentimes the rate that a broker charges is still lower than what a shipper could secure on their own. However, even when it isn't, the shipper is paying for a broker's expertise and the fact that they are taking on shipping-related business activities off their hands.
How much do freight brokers make? On average, freight brokers in the US make $62,105 salary + $28,000 commission per year . This varies depending on years of experience—with experienced freight brokers making the most. Number of partnerships and location also factor into a freight broker's salary. It is also worth noting that the cost of becoming a freight broker can be steep. But with a successful practice, you can quickly make back your initial costs.
Are Freight Brokers in High Demand?
Yes, freight brokers are in high demand. The boom of e-commerce has made goods move through our economy faster than ever and at higher volumes. The role that freight brokerages play is vital for keeping up that fast pace. Additionally, with the shipping delays, truck driver shortages, and supply chain disruptions experienced over the past few years, companies are finding freight brokers more valuable than ever.
A few places where freight brokers are needed:
a company routing any type of freight.
a shipper that wants quick service.
shipments that qualify as less-than-load shipping (LTL).
those that want to outsource their shipping needs.
a trucking company looking to fill their trailers.
How Do Freight Brokers Affect the Economy?
In short, freight brokers support a healthy economy. Our economy heavily relies on getting goods from point A to point B, and freight brokers contribute to a well-oiled shipping system. They do so by facilitating the transport of goods from people making goods to people selling goods.
In 2020, the shipping industry generated $732.3 billion in revenue . This number is expected to increase in the coming years as the freight industry expands as the demand for goods and shipping continues to soar.
What Are the Qualifications to Become a Freight Broker?
If you're thinking about becoming a freight broker, there are several steps that you will need to go through to qualify for your broker authority.
Apply for an MC Authority
The motor carrier (MC) number is necessary for making your freight broker business legal. This broker authority application is processed through the Federal Motor Carrier Safety Administration (FMCSA) of the U.S Department of Transportation. You will need to first obtain a pin from them before you can submit an online OP-1 application for your MC Authority.
If you also decide to be a carrier and work in interstate commerce, you will need a USDOT (form MCS-150).
Get Liability Insurance
This does not apply if you are only a freight broker. However, liability insurance is legally required by the FMCSA for all freight forwarders and carriers.
Obtain Processing Agents
You must obtain a processing agent for each state in which your brokerage will be operating. You can find these agents through the FMCSA's list of firms who provide processing agents. Or you can also get someone to work directly for you since freight broker agent training is readily available.
Obtain a BMC-84 Bond or BMC-85 Trust Fund
As part of the MAP-21 law, all freight brokers are required to obtain a freight broker bond or trust in the amount of $75,000 to obtain their license.
There are many differences between BMC-84s and BMC-85s, so make sure you get familiar with them before choosing one for your freight brokerage. Regardless of which option you choose, it's crucial that you work with an expert in the industry.
Learn more about how to ensure you choose the proper bond company.
Get Your Unified Carrier Registration
The final step in the legal process is obtaining your Unified Carrier Registration (UCR). In most states, you can register online through the UCR application website.
Check out our blog, How to Become a Freight Broker, for more information that covers FAQs.
What Kind of Education Is Required to Become a Freight Broker?
Although some jobs as a freight broker only require a high-school diploma, a post-secondary degree is still desirable. An undergraduate degree in logistics and supply chain management is an excellent fit as it goes through subjects like business and project management, accounting, material handling, and distribution.
Professional certification by the Transportation Intermediaries Association (TIA) is another option for freight broker training. The Certified Transportation Broker (CTB) program takes anywhere from 60-180 hours to complete and is the most widely recognized. The TIA also offers a New Broker Course for those interested in starting their own freight brokerage.
Freight Broker Starter Kit E-Book
Want more information? Get ahead in the industry and download our free freight broker starter kit e-book. It has everything you need to know in one place, including start-up costs, how to obtain your freight broker license, and more.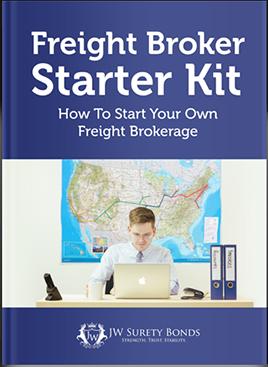 Freight Broker Starter Kit
How to start your own freight brokerage
Who Are Some of the Most Successful Freight Brokers?
There are many successful freight broker companies that model how to succeed in this competitive industry. A few characteristics that all of the following brokers have in common include a track record of customer satisfaction, partnerships with reliable carriers, and world-class communication.
This Fortune 500 company founded in 1905 offers freight transportation, transportation management, brokerage, and warehousing.
2021 gross revenue: $11.3
Founded in 2006, this Chicago-based freight broker provides supply chain solutions for businesses.
2021 gross revenue (est.): 4.2 billion
Operating out of Ohio, this brokerage services all of the United States. They have been in operation since 1997.
2021 gross revenue: 4.1 billion
With over 744 locations that service 18 countries, this company's primary focus is less-than-truckload and freight brokerage. They have been in operation since 1989.
2021 gross revenue: 2.7 billion
A transportation services company based out of Jacksonville, Florida. They were founded in 1968 and have more than 11,000 independent owner operators.
2021 gross revenue (est.): 1.9 billion
This brokerage founded in 2005 connects businesses that need to ship their products with carriers who transport goods quickly, securely, and cost-effectively.
2021 gross revenue: 1.9 billion
J.B. Hunt Integrated Capacity Solutions
From a 1961 Arkansas start-up to a Fortune 500 company, they specialize in supply chain management and freight brokerage.
2021 gross revenue: 1.6 billion
A third-party logistic provider with a network of over 120 LTL carriers and 50,000 active truckload carriers.
2021 gross revenue: 1.6 billion
An Illinois-based business that provides intermodal, truck brokerage and logistics services. They were founded in 1971 and have grown to 33 locations since.
2021 gross revenue: 1.2 Billion
---

---