The Freight Broker Starter Kit
42-Page Step-by-Step Guide About Becoming a Freight Broker
Learn how to:
Estimate the costs of becoming a freight broker
Decide if you need training and where to get it if you do
Fulfill ALL the legal requirements
Market your brand new freight brokerage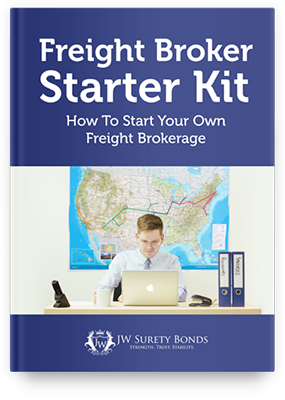 What Can This Ebook Do For You?
From understanding the very basics of freight brokerage to getting into the nitty gritty of how to market yourself, get the right training, and register with the FMCSA, we'll walk you through the entire process of becoming a freight broker, clear and simple.
Chapter list
The Right Time to Start Your Business
7
How Much Does It Cost to Become a Freight Broker?
11
Making a Business Plan
15
IV. Getting Your MC Authority & Other Legal Requirements
22
Step #1: Obtaining Your MC Authority from the FMCSA
23
Step #2: Obtaining Insurance
25
Step #3: Obtaining Processing Agents
26
Step #4: Getting Your Surety Bond or Trust Fund
27
Step #5: Getting Your Unified Carrier Registration
31
V. Marketing and Lead Generation
32
Calculating Return on Investment (ROI)
40
Image

About JW Surety Bonds
JW Surety Bonds is the largest volume bond producer in the United States, with a focus on providing our clients low rates, an easy process, and the best in customer service. Working with JW Surety, you get the quality personalized service of a small company and the many advantages of working with the top writer of freight broker bonds in the country.
JW Surety created this e-book to help potential customers enter the freight broker field. This detailed guide will help you navigate every aspect of starting your new freight broker business.