It can be tough for aspiring freight brokers to start operating in this rather complex field. You need a solid set of diverse skills and knowledge, ranging from communication, marketing, and sales to legal and industry know-how.
To help aspiring freight brokers, we compiled a list of the top freight broker training schools. We've ranked these schools based on programs, teachers, location, reviews, and pricing. Here are the top 13 freight broker training schools.
To read the full comparison and breakdown of each school, download our free freight broker school e-book.   

#13: Broker U
Besides separate online schools, some learning platforms offer freight brokering courses. This is the case with Udemy, which has a brokering class called Broker U.
#12: Freight Broker BootCamp
The Freight Broker Bootcamp is one of the well-known online options for freight broker training. While the website is a bit outdated, the information it contains is updated and very useful.
#11: DAT Freight Broker Training
The Freight Broker Training course from DAT Freight & Analytics is a great option for those looking for the flexibility of an online course with optional add-ons, such as group or one-on-one coaching with experienced professionals. 
#10: Freight Broker Agent School
Another good way to start your training in brokering is to attend the courses of the Freight Broker Agent School. You can attend the courses and workshops it organizes in Georgia and Florida.
Get to know how to get a freight broker license in Georgia.
#9: Atex Freight Broker Training
The Atex Freight Broker Training school is a good educational option for starting as a freight broker. The website is a bit outdated, but it's information-rich.
#8: Freight Broker Trainer
The Freight Broker Trainer school is led by the Transportation Training Group. The school offers training options for brokers, freight dispatchers, and oversize load pilot car operators.
#7: Taltoa Freight Broker Training
Taltoa has trained and consulted freight professionals for more than 20 years. The school offers training, placement, and consulting for freight brokers and agents.
#6: Freight Brokers Course
The Freight Brokers Course offers high-quality online logistics training, which is accessible for budding brokers from across the U.S. The school also has freight broker training quiz apps (both iOS and Android), which can be handy for transportation professionals.
#5: CSUSM Freight Broker/Agent Training
For those looking for a course through an established institution, California State University San Marcos offers a Freight Broker/Agent Training course taught by two freight brokerage professionals with years of experience. The course is online, completed at your own pace, and typically takes six months to complete.
#4: Freight Movers School
The Freight Movers School is certainly one of the top names in training freight brokers and agents. It used to operate as the Transport Training of America, Inc.
#3: The Brooke Transportation Training Solutions
The Brooke Transportation Training Solutions is a well-known and established freight broker training school. In fact, it is the first result you will get if you search for "freight broker schools" on Google. Its website is modern, information-rich and user-friendly.
#2: Loadtraining Freight Broker School
A great option for your freight broker training needs is the Loadtraining Freight Broker School. You should start by reading the inspirational personal story of the founder David Dwindle on how he came to love his profession. It will certainly motivate your own efforts in the industry.
#1: Freight Broker Planet
Freight Broker Planet was founded in April 2011, offering training 100% live, streamed to your device, with planned and scheduled time periods. Each training module has access to the trainer and others in the session, using the microphone and speakers on their device, allowing them to ask questions and get answers. They have unique evaluation standards which encourage trainees throughout the learning process.
Do You Need a Freight Broker License?
Yes, you'll need a freight broker license from the Federal Motor Carrier Safety Administration (FMCSA) to have a freight broker business. You'll need to complete the FMCSA Broker Registration and meet registration requirements, such as getting insurance, a processing agent, a BMC-84 surety bond, and Unified Carrier Registration (UCR).
Do You Need Freight Broker Training?
Freight broker training isn't required by law. However, achieving success in freight brokering — similarly to most other fields — requires thorough knowledge of the transportation industry. By learning its intricacies, you'll be better prepared to handle the regular workflow and the challenges on the way. Continuing education can also help ensure you are up to date on the latest shipping industry practices and requirements. Proper training may even lead to a higher freight broker salary. 
How Do You Get Freight Broker Training?
While no training is legally required for freight brokers, many schools offer excellent programs to get you up to speed on the latest industry trends, technology, and best practices. These can really make the difference when it comes to how your freight brokerage initially performs when you open for business and can affect your profitability down the road.
There are numerous options for receiving freight broker training, each offering a different set of skills and information for shippers. How you decide to go about learning will depend on your previous experience and needs. Still, one of the most popular and proven ways to get started in brokering is to attend a freight broker class or school.
Is There Free Freight Broker Training Online?
Several free online resources cover freight broker training and other important items required for becoming a freight broker (such as our "How to Become a Freight Broker Guide"). While free online freight broker training resources can help you learn at your own pace, they shouldn't be your sole source of training/information — but used in tandem with attending a quality training school program.
Freight Broker Training Online vs. In-Person Training
There are many online and on-location freight broker training schools to choose from. Online freight broker schools — such as Freight Broker Planet — can be very helpful and are a great fit if you have a busy schedule, as they offer self-paced options. On the other hand, in-classroom training classes can provide hands-on training and more one-on-one attention. Whether you choose offline or online classes will depend on your preferences and personal learning needs.
How to Choose a Freight Broker School
If you've opted for an official freight broker training program, carefully assess what your needs are. This is how you can make sure you select the most appropriate course. It's important since you don't want to waste your time learning things you already know. At the same time, don't go for a program that doesn't teach you the core competencies you'll need when running your own freight brokerage.
Important Items to Consider When Choosing a Training Program
Start your assessment of available training programs based on your current experience and knowledge base. Take time to revise what you already know and outline the main skills you want to work on. Then, see whether a freight school has something of value to offer you.
Consider things like transportation law, types of freight, record-keeping, financial management, or any other skills necessary to become a successful freight broker. Beyond transportation broker knowledge, you may need to consider skills to run your own business, in which options like a community college might be appealing. 
Once you've identified your educational needs, decide whether you can attend a course at a physical location or opt for a remote course. You can review the locations at which major schools offer their training and see if anything fits your plans. If there's no appropriate program in your proximity, consider an online course.
Last but not least, determine how much time you can dedicate to a training program and what budget you can put aside for it. There are various options in terms of program length and different pricing models.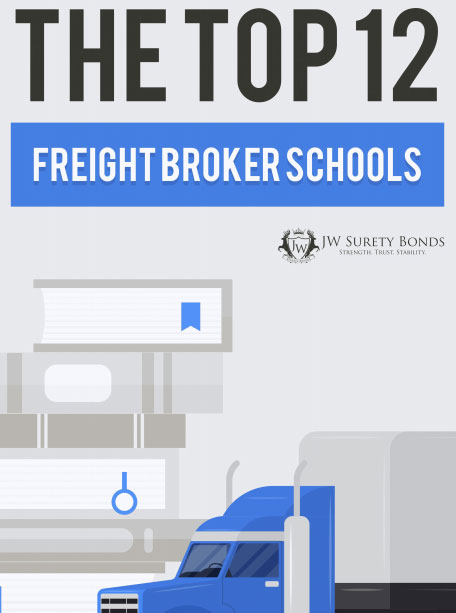 The Ultimate Freight Broker Training School Guide (Discounts Inside)
Researching and comparing all the different training programs and schools to find the right one can be time-consuming. That's why we created a free comprehensive guide comparing the best freight broker training schools across the nation, which will allow you to find the one that best meets your needs.
Our e-book also includes school discounts exclusive to users who download it.

---

---