The Top Freight Broker Schools in the U.S.
Overview of Programs, Reviews and Pricing (discounts inside)
Learn all you need to know about:
The benefits of freight broker training
How to choose the right school for your needs
Each school's program and teaching methods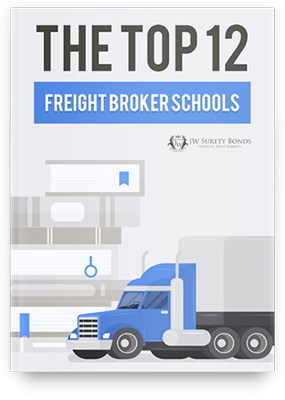 What Can This Ebook Do For You?
While not a mandatory licensing requirement, freight broker training can be a good way to ensure that you are starting your new business on the right foot. It can help you acquire the proper skills and knowledge which are essential to your success. However, there are number factors to consider and it can be hard to pick the right school without prior experience. To help you out, we took a look at the best freight broker schools in the U.S. and came up with this list. Our e-book also includes school discounts which are exclusive to users who download it. Have a look at the program, the reviews and the pricing of each one so you can decide which one of them best fits your needs.
Chapter list
The importance of training for freight brokers
5
How proper training can boost your business
6
Educational options for freight brokers
7
How to choose a freight broker school
8
The most important factors for making your selection
9
The criteria used for choosing the top schools
10
The top freight broker schools
11-25
Image

About JW Surety Bonds
JW Surety Bonds is the largest volume bond producer in the United States, with a focus on providing our clients low rates, an easy process, and the best in customer service. Working with JW Surety, you get the quality personalized service of a small company and the many advantages of working with the top writer of all types of surety bonds in the country.
JW Surety created this e-book to help potential customers successfully navigate the process of choosing a freight broker training program. Do not hesitate to reach out for all surety-related questions your company may have.