Getting a surety bond (BMC-84) or trust fund (BMC-85) is a critical step on the path to becoming a freight broker. You can't operate legally without one of these options because it's a license requirement by the FMCSA.
As we know from the clients we speak to on a daily basis, the process can unfortunately seem very confusing. We get common questions about what bonds are, how it compares with a trust and which one is the better option.
This guide will cover the differences between the BMC-85 and BMC-84 to help you make the right decision for your brokerage.
What is the Difference Between the BMC-84 and BMC-85?
The FMCSA requires brokers to get one or the other as proof of insurance coverage for at least $75,000. The differences between the BMC-84 and BMC-85 are how brokers are required to pay.
A BMC-84 is a surety bond that requires brokers to pay a percentage of the $75,000 requirement as a monthly or yearly premium.
A BMC-85 is a trust fund that typically requires brokers to pay a full $75,000 into the fund and are unable to access afterwards.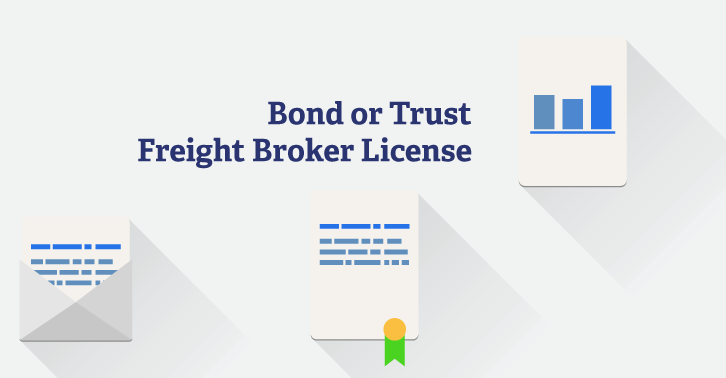 There are a few similarities between these options. Both fulfill the FMCSA requirements and protect customers in case you fail to fulfill your obligations as a freight broker. Neither are designed to protect brokerages from liability. Additionally, you are responsible for paying valid claims regardless of which option you choose.
Now that we have an overview, there are still a few key things to know about both of these options. Read on to get more in-depth info on the BMC-84 and BMC-85.
Option One: BMC-84 Surety Bonds
BMC-84s are better choices for newer freight brokers who don't have much working capital available. Here are a few key things to know about BMC-84s:
You'll pay a percentage of the $75,000 coverage as a monthly or yearly premium
Premium rates are determined by things factors your business's financial health and your credit score
Surety bond companies are invested in investigating claims since they share liability
How the BMC-84 Works
The surety bond is in place to assure federal regulations will be followed and that carriers will be paid in a timely manner. If this is not the case, the bond company will step in to ensure the customer suffers no losses. This guarantee on your behalf is considered a form of credit to you, for which you pay a percentage of the bond amount.
It's important to understand when you purchase a surety bond, you will sign a legal agreement indemnifying the bond company and will be required to repay the full amount of all valid claims.
Surety bonds are useful when claims against you are filed, but of course, the best thing to do is avoid those claims in the first place. Even having a claim filed can make it much more difficult to obtain a surety bond in the future, possibly putting you out of business.
So it's essential to closely follow FMCSA regulations, make your payments on time, and resolve conflicts before they reach the claims stage.
How Much Does the BMC-84 Cost?
A bonding provider will evaluate your company based on your credit and charge you an annual premium, which is a percentage of the $75,000 bond amount required by the MAP-21 law (this percentage usually amounts to between $750 - $9,000 a year). This type of bond is often referred to as a BMC-84 after the name of the document you file with the FMCSA.
In order to make sure you file everything correctly, it's best to have a bonding agency which is also an MGU (Managing General Underwriter), meaning they make the underwriting decision and act as your advocate in the claims process. An MGU can also help educate you in how to avoid claims in the first place. You can learn more about surety bond costs and how they are determined by reading our comprehensive pricing guide. You can also take a look at the most frequent surety bond related questions here.
If you would like to learn more about
what a surety bond is
and how it works, you can find all the information you need in our
FAQ section
.
Option Two: BMC-85 Trust Funds
BMC-85s are more common amongst larger brokers and carriers, but for anyone getting started isn't a very good option because of the large upfront cost.Below are a few important factors to know about BMC-85s.
With a trust fund, you'll typically need to place the full amount of $75,000 into a trust, which you are unable to touch.
You'll also have to pay a bank fee for this service
Trust companies have less liability when paying claims since it is paid out from your trust. These companies may not be as motivated to investigate claims
The FMCSA has recently proposed stricter regulation on the asset types that can be included in a BMC-85 fund.
How Much Does the BMC-85 Cost?
In addition to the collateral you must post, there is also an annual fee, usually around $1,500, that will have to be paid in addition to the $75,000 you must put into the trust.
Also, many trust companies advertise that freight brokers can fund their trust with cash, an Irrevocable Letter Of Credit (ILOC), or pay the trust company to obtain an ILOC on their behalf. But it's important to note that anyone considering purchasing a trust fund needs to verify that the trust fund company is not under-funded.
Getting Bonded with Bad Credit
Bad credit is one of the most common worries for people who need to get bonded.
In such cases a surety bond is the better option because getting a loan for the full $75,000 is going to be difficult with credit problems. But even if you choose to go the BMC-84 route, keep in mind that not all agencies are able to provide bonds to applicants with bad credit.
It's important to choose a big bonding agency which works with a large number of bond providers. By communicating with many different sureties, the agency will be more likely to find a reasonable rate for your freight broker bond in spite of your low credit score.
Of course, bad credit will increase the cost of your bond, but the most vital thing is that you'll still be able to get bonded and open your business.
In the meantime, there's a lot you can also do to improve your credit. Paying your bills on time, avoiding reaching limits on your lines of credit, only applying for new lines of credit when you need them, and paying debt instead of moving it can all make a big difference over time.
Once you apply to renew your bond, your improved credit score will be taken into account and your bond cost will decrease accordingly. You can also feel good knowing that a surety bond doesn't affect your credit standing.
Avoiding Group Trusts or Bonds
Many still incorrectly believe that group trusts or group bonds are valid ways to fulfill the FMCSA's bonding requirements. However, these options were removed by the MAP-21 law and no longer fulfill the requirement.
Unfortunately, some agencies are still attempting to sell these trusts or bonds in spite of this. These illegal tactics often go under the radar until caught by an FMCSA audit. When this has happened it has put brokers out of business.
Conclusion
Once you've got your bond or trust, you'll be ready to complete the other steps towards getting your license and getting started brokering freight. If you're interested in the BMC-84 bond, you can apply online to get a firm quote.
Update (2/17/2017): Pacific Financial BMC-85 Trusts Under Legal Scrutiny
The class action lawsuit the Owner-Operator Independent Drivers Association (OOIDA) filed against Pacific Financial Association regarding the legitimacy of their BMC-85 trusts was given the go ahead to move forward.
If you currently have a BMC-85 trust with Pacific Financial, this lawsuit should raise a red flag.
If you're concerned that BMC-85's will be ruled as an unacceptable instrument to obtain your authority, it's important to understand that there is an alternative option to retain your freight authority: a BMC-84 surety bond.
Freight Broker E-Book Guides
Take a look our free freight broker e-book guides, which cover the most important information you'll need to know as a freight broker. Take a look at the topics covered in our e-book guides below:
How much it costs to become a broker
How to get your authority (BMC-84 vs. BMC-85)
How to get the proper training
How to leverage/find the right load boards
These e-book guides were created specifically with freight brokers in mind, and provide all of the crucial information you need to help ensure your brokerage thrives in this competitive profession.

---

---