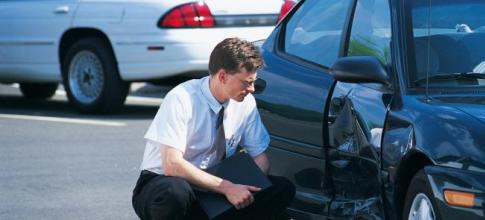 If you want to become a public adjuster, you'll need three things: a high school diploma, industry knowledge, and a state public adjuster license. 
While these are the minimum requirements for becoming a licensed public adjuster, those hoping to enter the industry may need more than these in order to get hired by a client or adjusting firm. Depending on your situation, you may also want to get a college degree, some work experience in the insurance industry, or additional certifications that can help strengthen your resume and increase your chances of getting hired. Many states also require public adjusters to hold a surety bond before they can get licensed.
Acquiring the skills to become a public adjuster is challenging, but the process itself doesn't have to be complicated. We've broken down all the steps you need to take in order to become a successful public adjuster.
What Does a Public Adjuster Do?
Public insurance adjusters work on behalf of someone who has filed an insurance claim to make sure that person receives the full amount that they are owed. Like a claims adjuster, public adjusters visit damage sites and investigate what happened, why it happened, who is liable, and how much the damages cost. But whereas a claims adjuster works for the insurance company to protect them from overpaying a claim, a public adjuster's goal is to get the most money possible for their client.
The most successful public adjusters are critical thinkers and skilled communicators, both in person and in writing. Most adjusting cases also require at least some basic financial accounting. Most importantly, public adjusters must be skilled observers, capable of analyzing damages and drawing financial conclusions from the details of a case.
Table of Contents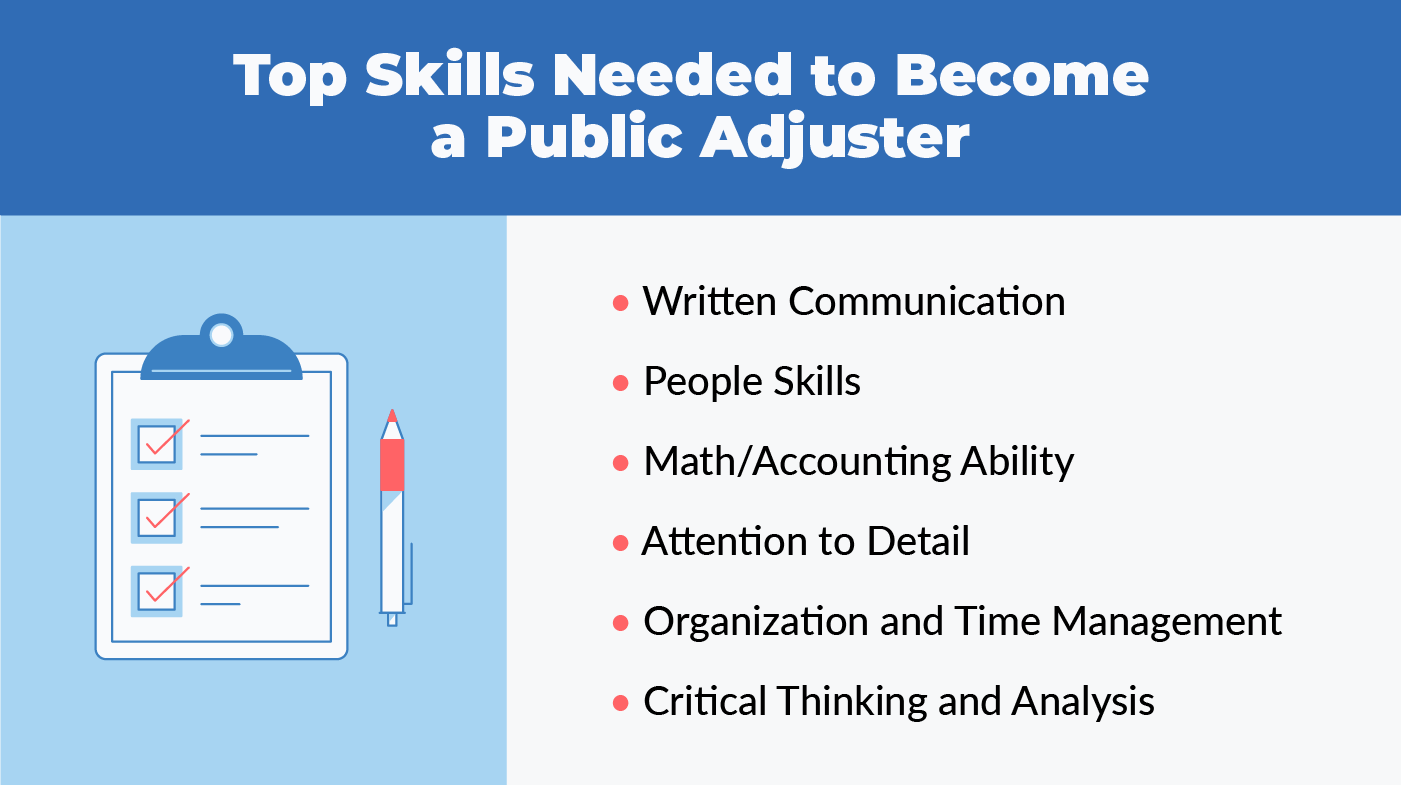 Step 1: Complete Your General Education
The minimum required education to become a public insurance adjuster is a high school diploma or equivalent (GED). Since the job requires such detailed technical knowledge and the ability to communicate that knowledge convincingly, it's wise to get a college degree if possible. Having a college degree will also help build confidence and trust with potential clients, which will lead to more contracts and a higher salary.
Note that two states are an exception to this rule: Alabama and Arkansas. In Alabama, only licensed attorneys can operate as public adjusters. Arkansas bans public adjusters from conducting business in the state entirely.
Best Degrees for Public Adjusters
Public adjusters can have a degree in just about any field and go on to have a successful career in insurance. Any program that helps strengthen your math and analysis skills, oral and written communication, customer service ability, and interpersonal skills will prepare you well for a career in public adjusting. Here are a few specific fields of study that transfer particularly well to a career in public adjusting:
Accounting

Architecture

Business Administration

Civil Engineering

Construction

Economics

English

Finance

Forensic Science

Logistics Management

Physics

Pre-Law

Real Estate

Risk Management

Statistics

Technical Writing
You may also want to consider what your focus as a public adjuster will be and major in a subject related to that specialty. For example, someone who wants to concentrate on small business insurance claims may want to major in business administration, while someone who plans to specialize in homeowner's claims might consider a program in architecture or construction management.
Step 2: Acquire Industry Knowledge
The next step for all aspiring public adjusters is to acquire industry knowledge. In states that require a public adjuster's license, you'll need to study all of the terms and concepts necessary to pass the state licensing exam. Even if your state doesn't require a license, you'll still need this knowledge to get hired and perform your job well. You may also want to get licensed in other states where you plan to work, in which case you'll need to pass an exam as well.
Public Adjuster Knowledge Basics
The content of each state's exam varies, but every prospective public adjuster needs a strong foundational knowledge of some key insurance basics. These elements include:
General insurance knowledge

Parts of an insurance policy (declarations, insuring agreements, definitions, exclusions, conditions, and endorsements)

Specific knowledge of different insurance claim types:

Automotive

Aviation

Casualty

Commercial

Crime and fidelity

Flood

Fire

Homeowner

Marine

Medical

Property

Important insurance terms and concepts

Key laws and regulations (e.g. National Flood Insurance Program)
How to Learn the Industry
There are a few different ways to learn what you need to know about the insurance industry:
Get a Job in Insurance
Though public adjusting requires prior knowledge, there are plenty of insurance jobs that don't require any previous experience. Entry-level opportunities in sales, admin, or customer service at an insurance agency can be a great way to learn the industry while preparing to transition to public adjusting.
Start as a Claims Adjuster
Another way to phase into public adjusting is to start as a claims adjuster, working for an insurance agency. Since claims adjusters are used on claims of all sizes (unlike public adjusters, who are typically only hired on big cases), it's easier to learn on the job under the instruction of a more experienced adjuster.
Enroll in a Training Course
Finally, training and exam prep courses are available online from a number of different sources. If you're preparing to take your state's exam, look for a course that caters its material to your state's test.
Step 3: Apply for a License
Public adjusters are required to have a license to operate in 32 states. In Alabama, only attorneys can operate as public adjusters, and public adjusters are prohibited entirely from adjusting claims in Arkansas.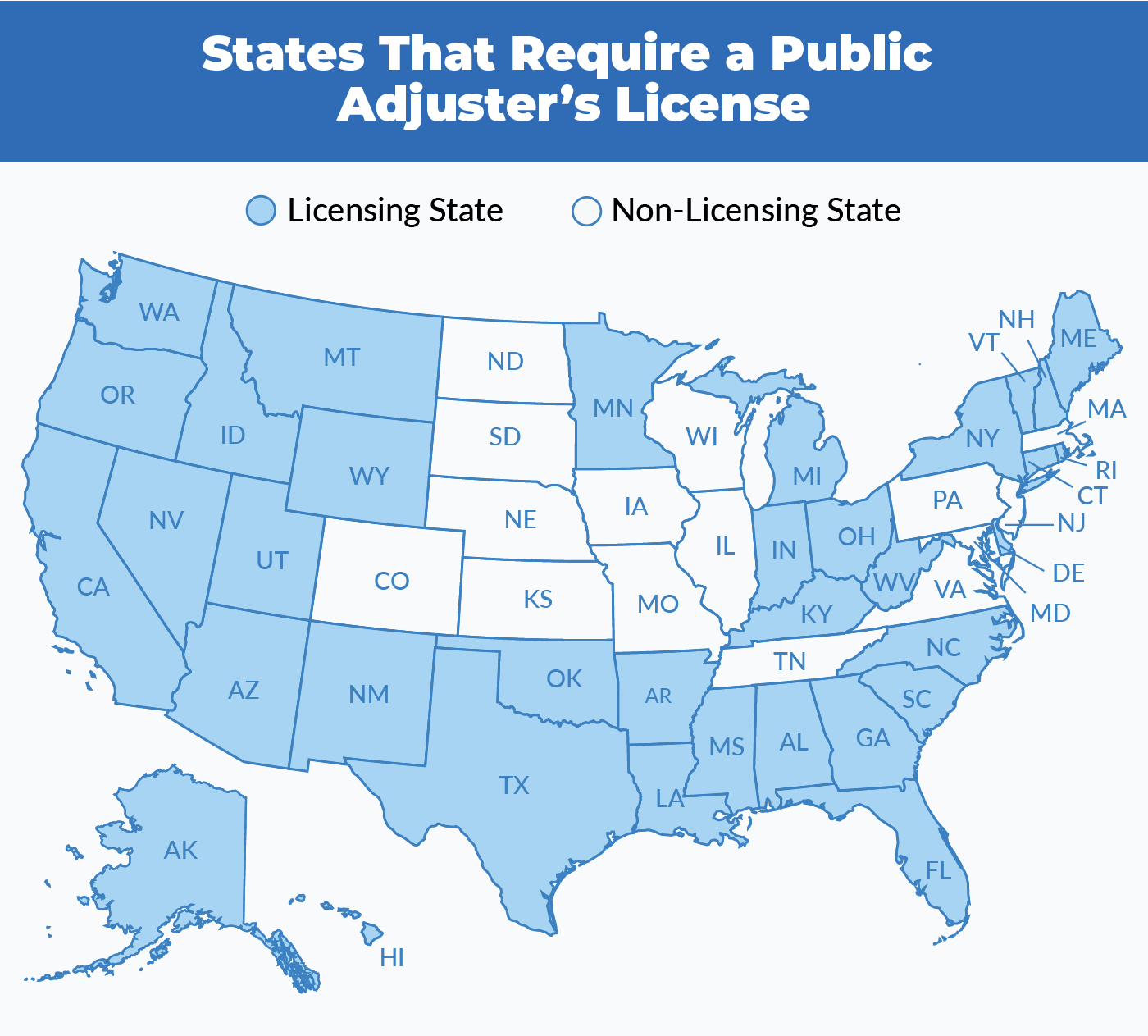 License requirements vary from state to state. However, each state's licensing requirements must comply with the Public Adjuster Licensing Model Act, which lays out minimum standards that must be included in each state's licensing requirements. For example, every state requires applicants to pass a licensing exam.
Crossing State Lines
If you plan to work as a public adjuster in more than one state, you'll need to research each state's licensing requirements and ensure that you meet them all. In some cases, this may mean passing multiple exams in order to acquire multiple separate licenses. However, some states have reciprocity agreements that allow public adjusters to obtain licenses in other states without having to pass multiple exams.
This reciprocity map can help you determine what states offer reciprocal licensing privileges and what you need to do to acquire your necessary certifications.
Should I Get Multiple Licenses?
Public adjusters need to cross state lines more often than you might think. If you work on behalf of a large company that does business in multiple states, they may expect you to be licensed in every state where they do business. 
Many public adjusters also travel to the locations of recent disasters in order to make themselves available to insurance policyholders in the aftermath of the event. For this reason, it's wise to hold licenses in places where natural disasters are common. Coastal states as well as those prone to tornadoes, wildfires, and earthquakes often have a greater demand for public adjusting services.
Step 4: Buy a Public Adjuster Bond
Twenty-seven states require public adjusters to hold surety bonds in order to acquire a license. They are: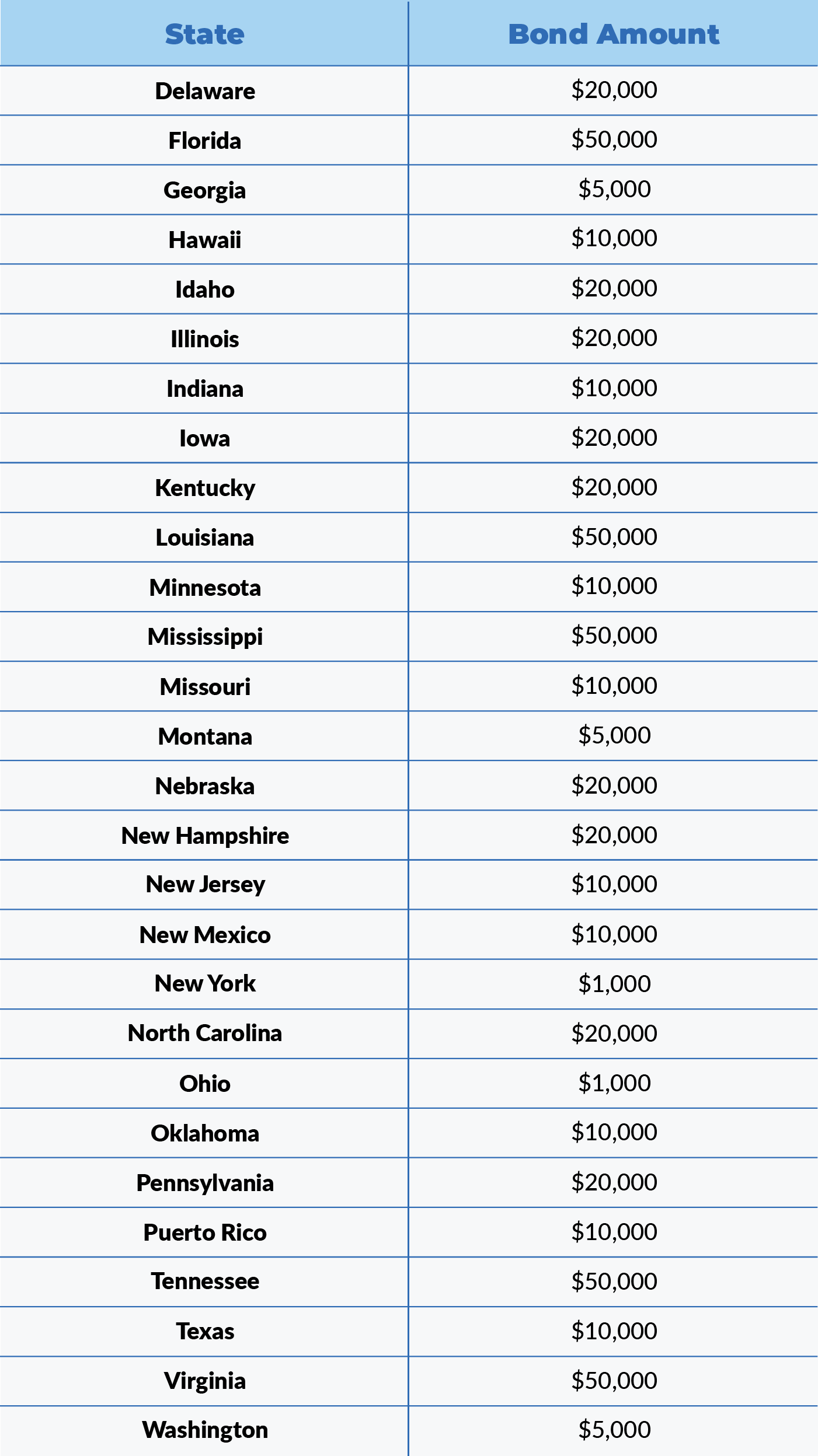 The purpose of a Public Adjuster Surety Bond is to ensure that the adjuster does their job properly and complies with state laws, regulations, and insurance statutes.
How much your surety bond will cost depends on how much the bond is worth and the rate you're offered based on your credit history. As you're preparing to apply for your license, be sure to budget for the cost of the required bond.
Step 5: Keep Your License in Good Standing
Public adjuster's licenses are valid for two years from the date the license was issued, so public adjusters must submit for renewal regularly in order to maintain their license in good standing. 
Renewal requirements and fees vary by state, but all states require public adjusters to complete 24 hours of continuing education during each two-year period. Eligible courses must be approved by the state commissioner, and at least part of the adjuster's education hours must be dedicated to topics related to business ethics.
Consider Additional Certifications
Some public adjusters choose to get additional certifications that can help make their job easier and strengthen their trustworthiness in the eyes of potential clients. In some cases, these courses can also count toward your 24-hour continuing education requirement for renewing your license.
Xactimate
If you work with claims involving physical property damage, Xactimate is a software that can make your job much easier. Designed to help contractors estimate construction costs, claims adjusters often learn Xactimate to help estimate construction-related damage costs when adjusting property insurance claims.
Senior Professional Public Adjuster (SPPA)
Public adjusters who have ten years of experience can complete the Senior Professional Public Adjuster training program, which allows adjusters to market themselves as experts in the industry and charge a greater percentage of a payout on cases they handle.
Carrier-Specific Certifications
Certain insurance carriers including State Farm and Allstate offer carrier-specific certifications, which they require their claims adjusters to hold. Public adjusters may benefit from acquiring these certifications voluntarily, especially if they frequently work with claims involving those companies.
Auto Appraiser
If you work with auto insurance claims, you may benefit from getting certified as an auto appraiser. Normally adjusters will hire an auto appraiser to assist with cost calculations in auto insurance claims cases, so you can save money by becoming an appraiser yourself.
How Does a Public Adjuster Find Work?
Public adjusters can work independently or as part of an adjusting firm. Employees of adjusting firms will have a more traditional work experience, while independent adjusters are more like freelancers and can decide how much they want to work and when.
Whether an adjuster is independent or works for an adjusting firm, networking is a key ingredient to building a successful and fulfilling career. Groups like the National Association of Public Insurance Adjusters (NAPIA) and the American Association of Public Insurance Adjusters (AAPIA) offer memberships and access to trainings, events, and membership directories. These are great places to find a mentor, continuing education opportunities, or even your next job.
How Much Do Public Adjusters Make?
Public adjusters' annual pay varies widely, but the Bureau of Labor Statistics reports that the median pay for insurance claims adjusters, appraisers, examiners, and investigators was $66,540 per year in 2019. 
The amount an individual public adjuster makes depends heavily on what types of cases they handle. The typical range for a public adjuster is between 15 and 25 percent. However, adjusters will charge a higher percentage for smaller cases (those claimed for losses of less than six figures) or may not take on smaller cases at all since the payout may not be large enough to cover the cost of their time.
Is Public Adjusting for You?
As you can see, becoming a public adjuster isn't a simple task — it requires hard work, skill, and determination. But for those who invest this effort, public adjusting is an incredibly rewarding career that offers an active day-to-day lifestyle, great work flexibility, engaging daily challenges, and the opportunity to learn new things in every case you take on. 
---

---