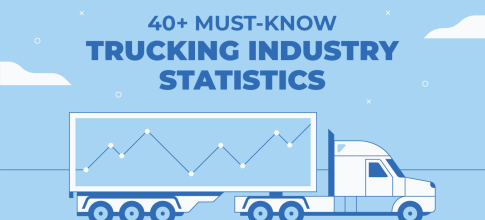 The United States trucking industry is one of the largest revenue streams in the nation's economy and is responsible for transporting 70 percent of all goods in the U.S. In 2019, the industry's total revenue reached $791.7 billion. Aside from the transportation of goods, the trucking industry employs millions of workers, making up about six percent of the nation's workforce. 
While the industry is a foundational sector of our economy, there are many different factors that are starting to change the way the industry performs. With the ongoing driver shortages and the rise in self-driving trucks, we may start to see a shift in the way this industry operates. Read on to find out some key trucking industry statistics regarding the current state of the industry and future projections. 
Trucking Industry Facts and Figures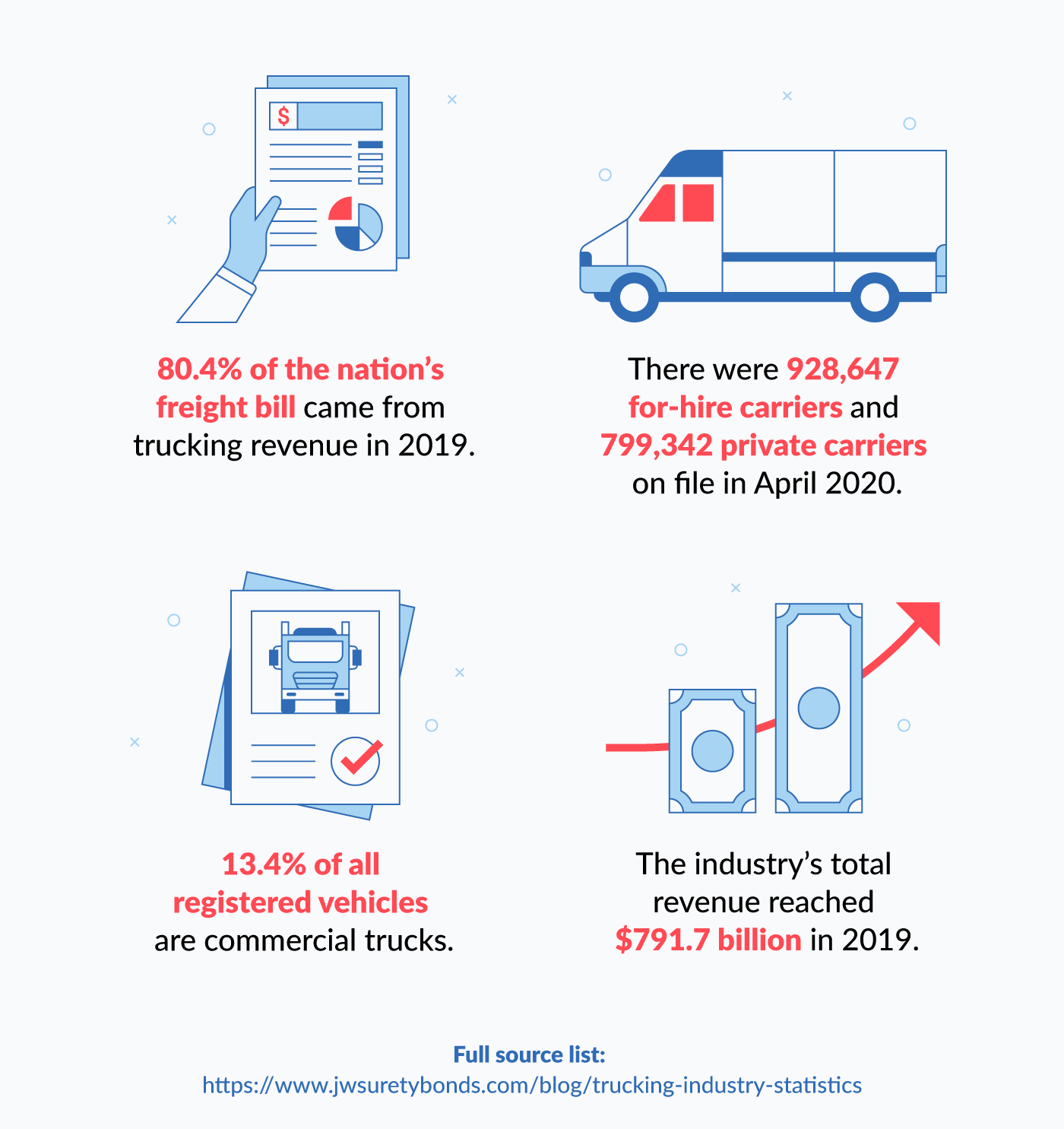 Without the trucking industry, our nation would not be the same, as it's an essential industry that helps keep us afloat. Since the trucking and freight industry is such a lucrative source of income for the nation's economy, a lot of businesses rely on it for their everyday operations. The industry represents more than half of the nation's freight bill, and without it, our economy would suffer. For-hire carriers and private carriers make up most of the nation's trucking companies. 
In 2019, 80.4% of the nation's freight bill came from trucking revenue.

1

There were a total 928,647 for-hire carriers on file in April 2020.

1

In April 2020, there were a total of 799,342 private carriers on file.

1

13.4% of all registered vehicles are commercial trucks.

2

In 2019, 3.91 million Class 8 trucks were in operation.

2

The total number of trucks registered and used for business reached 36.9 million in 2018.

2

According to the most recent report, commercial trucks paid $18 billion in federal highway-user taxes in 2018.

2

Commercial trucks paid $27.7 billion in state highway-user taxes in 2018.

2

As of January 2019, 24.44¢ of federal fuel tax was used to pay for each gallon of diesel fuel.

2
1. American Trucking Association: Trucking Moved 11.84 Billion Tons of Freight in 2019
2. American Trucking Association: Economics and Industry Data
Transportation and Moving Stats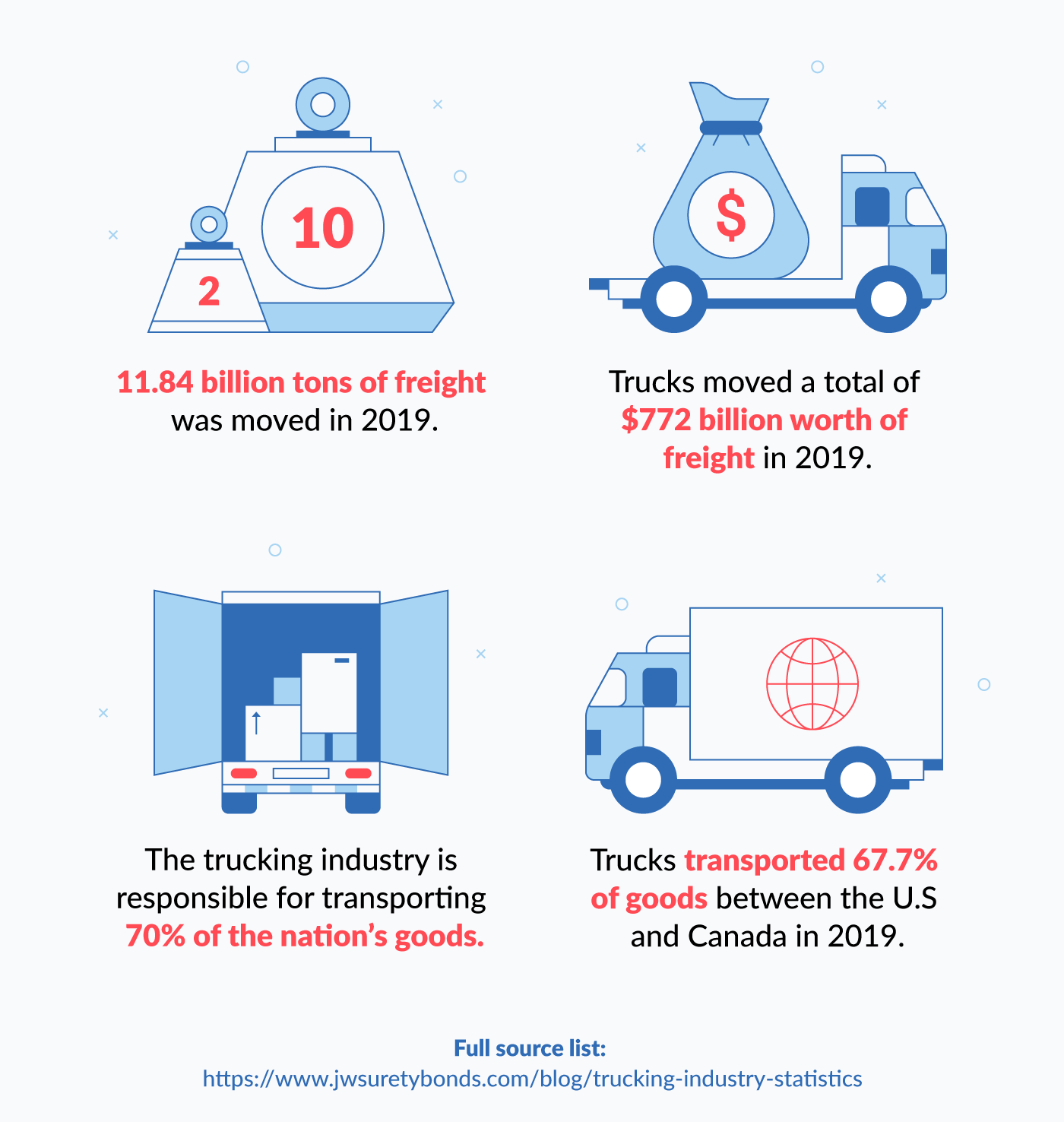 The trucking industry is responsible for transporting goods all over the nation as well as our bordering countries. Freight trucks carry a variety of consumer goods, everything from food to cars or raw materials and oil. As the American Trucking Association puts it, every good in the U.S has been on a truck at some point in its journey.
In 2019, the trucking industry moved 11.84 billion tons of freight.

1

Trucks moved a total of $772 billion worth of freight in 2019.

1

In 2019, 67.7% of goods moved between the U.S. and Canada were transported by trucks.

1

83.1% of cross-border trade with Mexico was moved by trucks in 2019.

1

72.5% of freight transported in the U.S. in 2019 was hauled by trucks.

2
1. American Trucking Association: Trucking Moved 11.84 Billion Tons of Freight in 2019
2. American Trucking Association: Economics and Industry Data
Employment Demographics and Compensation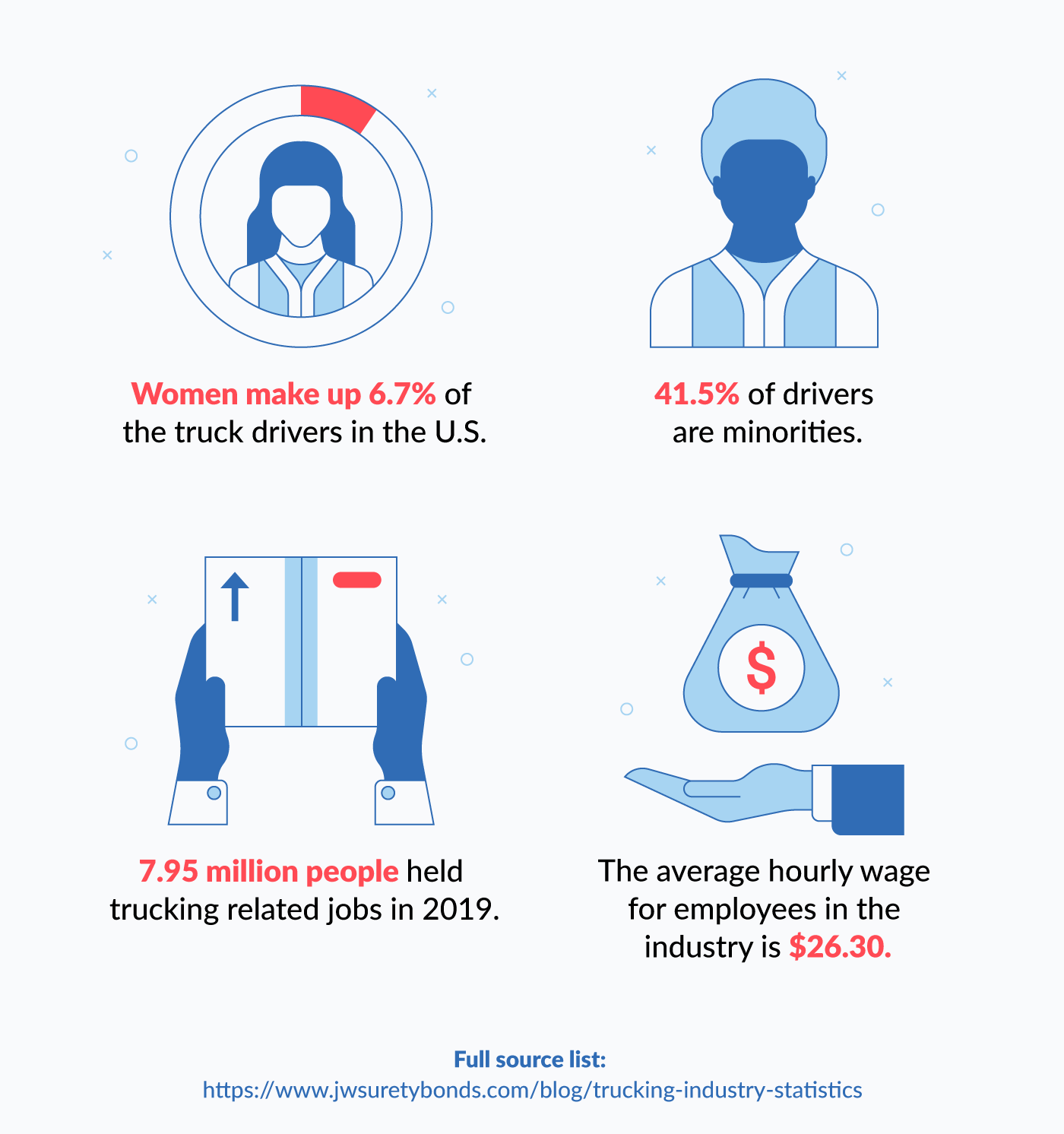 It's no secret that the trucking industry is primarily a male dominant workforce. Though it's a racially diverse industry, there was only about a two percent increase in the amount of women employed in the last 18 years, and recruiting female drivers is a problem the industry continues to face. The industry's average median salary is not very competitive compared to other sectors, which may contribute to the high turnover rate and difficulty in recruiting drivers. 
Statistics on Driver Shortages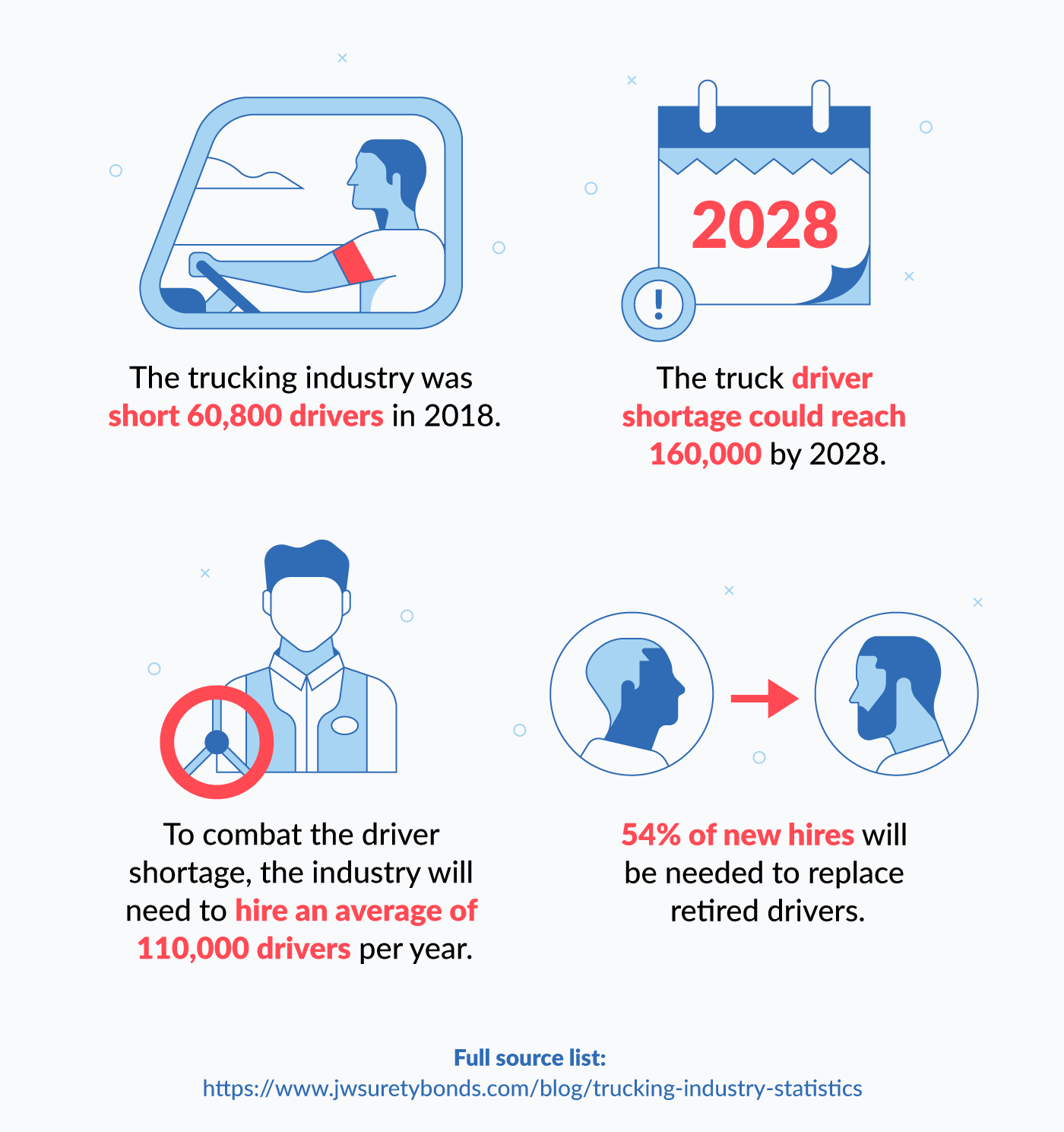 One of the leading problems the industry is currently facing is the shortage of truck drivers. According to the American Trucking Association, the industry has been struggling with this problem on and off since 2015. One of the leading causes keeping the driver shortage high is the high average age of the current workforce. 
With the average age of truck drivers reaching 46 years and above, these existing drivers have or will start to retire, and the industry is struggling to replace them. Aside from that, more companies are cracking down on safety prioritization and are having trouble finding qualified drivers. 
Liabilities, Accidents and Fleet Driver Safety Statistics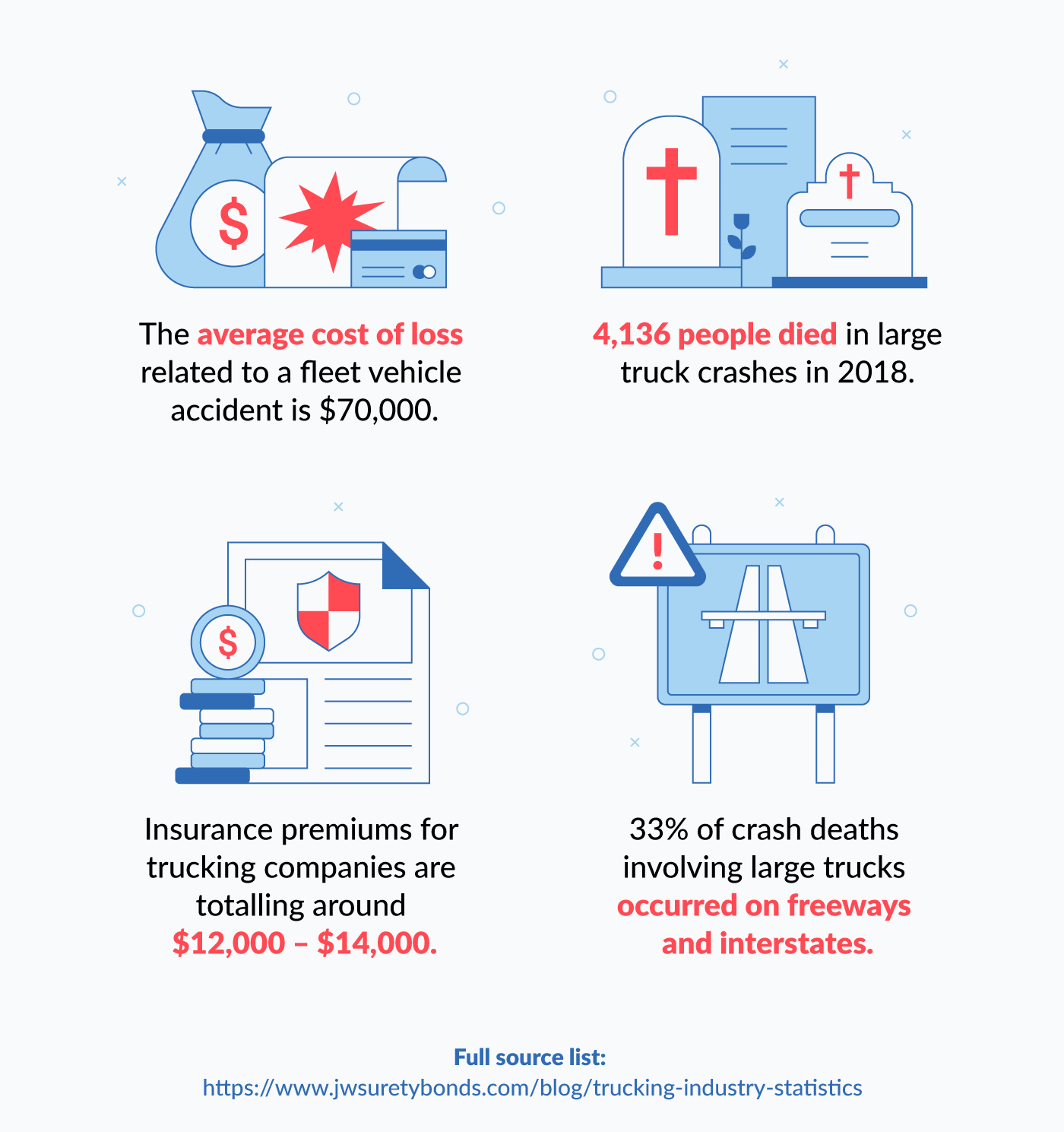 With the amount of miles fleet drivers have to travel daily, mixed with the long hours and hard working conditions, it's no surprise that accidents and crashes happen. Over the years the industry has seen an increase in crashes leading to fatalities. These types of accidents usually occur from distracted driving and other driver behaviors. Trucking companies have also started to see an increase in insurance premiums due to these accidents. 
With this in mind, companies are starting to take driver safety more seriously to avoid any liabilities. Depending on the circumstances around the incident, the driver or the company could be liable. The cargo manufacturer or loader could also be responsible should there be any issues when transporting fleet. In these instances, a freight broker bond could protect the shipper or carrier. 
Self-Driving Trucks and the Future of Trucking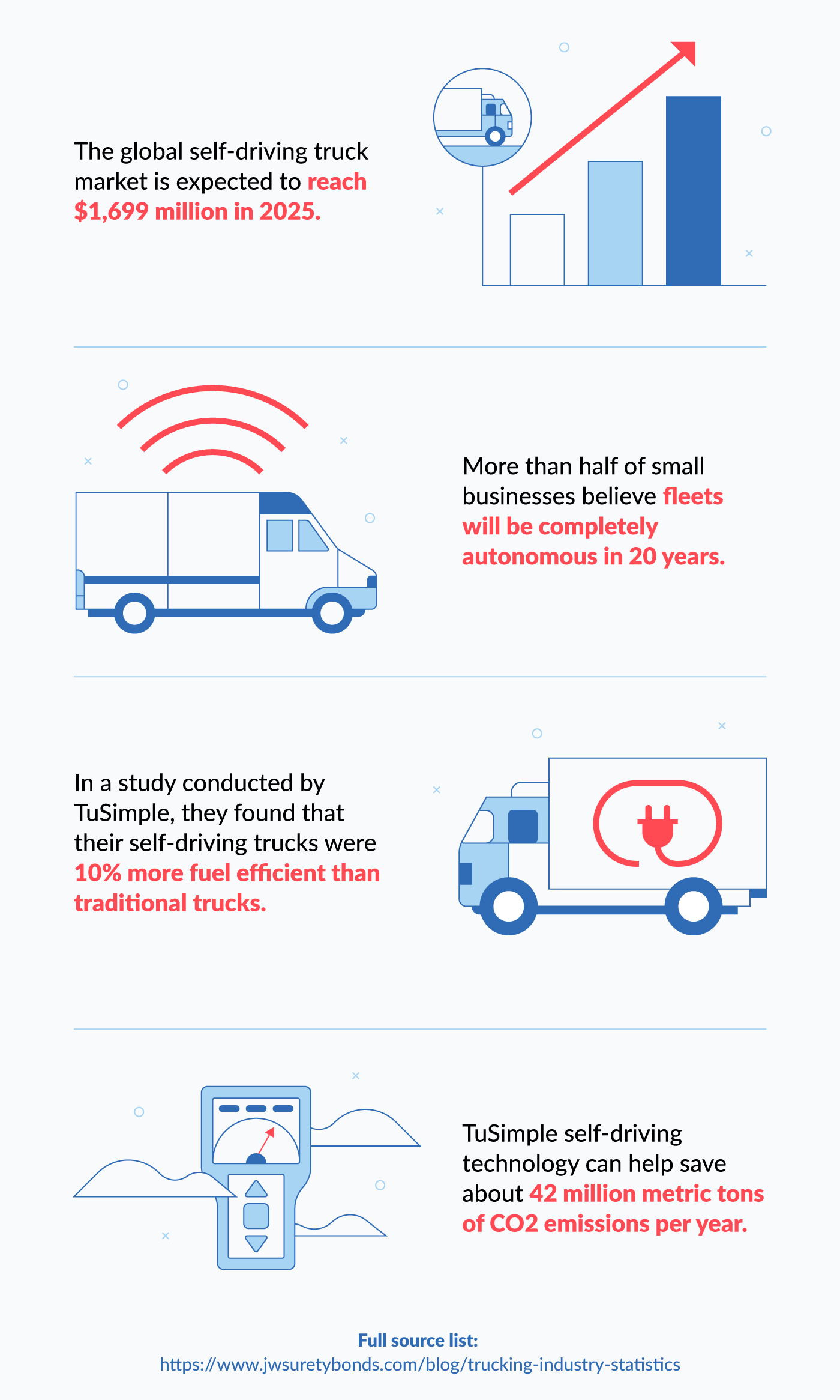 Self-driving automotives have started to make their way into the U.S trucking industry. While many believe that this could put drivers out of work, these trucks still need human supervision and could be a solution to the driver shortage in the industry, as they can provide opportunities for people who wouldn't have considered becoming a driver before. Autonomous trucks can also help decrease the chances of driver accidents on the road. Most trucking accidents are caused by human errors, but so far with this technology, error is extremely minimal. 
San Diego based company TuSimple has already started testing their self-driving trucks and predicts these trucks will not only have a positive impact on the industry, but the environment as well. TuSimple says their technology is aimed at transforming the trucking industry by reducing carbon emissions, lowering costs, and increasing safety. 
Though the trucking industry has gone through major shifts in recent years, it still remains one of the nation's most profitable sectors. Self-driving trucks could be the future of the trucking industry and help solve the current problems it faces. New technology can seem scary to an industry that's been doing well for years, but embracing this change can create a safer industry and contribute to a safer environment overall. 
---

---