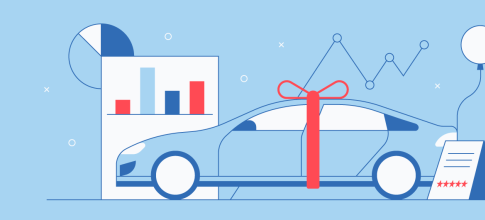 The car dealership industry is ever changing. From buyer habits and sales trends to marketing tactics, it's become even more important to analyze the current state of the industry so they can become better equipped to keep their auto dealership successful.
Like many other businesses in the U.S., car dealerships have been greatly impacted by the effects of COVID-19. Though there has been a significant decrease in new car sales, the average transaction price has strengthened. Dealers are now offering buyers incentives like lower APR rates and deferred payments, which can benefit both the buyer and the dealer.
The consumer may receive a lower monthly payment, while the dealer can make money over time through accrued interest. While this may look like a win for both parties, Kelley Blue Book reports that these levels are not sustainable.
Over the last year, we've seen a huge shift in consumer purchasing behavior. Buyers are spending less physical time in a dealership and prefer it this way. With the beginning phases of the car shopping process done primarily online, buyers are looking to complete most of their purchase process, like signing documents and negotiating prices, before they finish the transaction in-person.
These statistics help paint a picture of the current status of the car dealership industry so dealerships can adapt to the economic shift and new found car buyer journey.
Car Dealership Prices and Sales
The car-buyer consumer market isn't going anywhere. Even during a global pandemic, consumers are still on the hunt for new and used vehicles. Over the last year, there has been a slight increase in the price of a new vehicle, which has pushed buyers to consider purchasing used vehicles.
1. There was a $1,200 increase for the average retail price of a new vehicle in 2019, making the average cost $36,824. (NADA)
2. New vehicle sales reached over $1 trillion in 2019. (NADA)
3. In 2018, 28% of car buyers agreed that owning and leasing a vehicle is becoming too expensive. (COX Automotive)
4. There has been a steady increase in buyers leaning toward used vehicles, and in 2019 64% of buyers considered purchasing used cars over new. (COX Automotive)
5. Car dealerships saw a 0.9% increase from 2018 to 2019 in the number of used vehicles sold. (NADA)
6. Dealerships sold an average of 1,026 new vehicles in 2019. (NADA)

7. The average retail price for used vehicles sold averaged at $21,094. (NADA)
8. Ford F-Series was the best selling car model over the past two years reaching a total of 896,526 vehicles sold in 2019 and 909,330 vehicles sold in 2018. (Goodcarbadcar)
9. From May 2019 to May 2020, the average transaction price for industry vehicles increased by 4.3%. (Kelley Blue Book)
10. Industry vehicles have seen a slight decrease (0.6%) in transaction prices from April to May of 2020 due to COVID-19. (Kelley Blue Book)
11. 42% of consumers are somewhat or very likely to consider an alternative fuel vehicle for their next purchase. (ThinkNow)
Key Takeaways:
Car prices are still on the rise. Even though prices are on the rise, consumers are still purchasing new vehicles.
Used cars are being favored over new. Because of the rise in prices, buyers are leaning more towards used vehicles, and we have seen a slight increase in the average number of used vehicles sold.
Alternative fuel vehicles are gaining popularity. Close to half of consumers are interested in these types of vehicles for their next purchase.
Car Buying Habits
Over the last few years, the car buyer's journey has seen a significant shift. Buyer's prefer to spend less time at the dealership and are spending even less time in the market.
12. 41% of car buyers only visit one dealership when shopping for a new car. (COX Automotive)
13. Though there is a significant increase in online shopping for vehicles, 81% of buyers prefer in-person purchases. (ThinkNow)
14. 63% of consumers say they use their smartphones to compare prices during their car-shopping journey. (AdColony)
15. 53% of consumers use their smartphone to research car models and specs. (AdColony)
16. 40% of consumers use their smartphone to find dealership locations. (AdColony)

17. Car buyers spent an average of 96 days in the market in 2019, which was a 22 day drop from previous years. (COX Automotive)
18. Every 7 out of 10 buyers say they are more likely to buy from a dealership if they can start the process online. (COX Automotive)
19. From 2017 to 2019, time spent at the dealership has dropped by 3 minutes, averaging a total of 2 hours and 52 minutes spent on the in-person process. (COX Automotive)
20. Dealers can save an average of 45 minutes if paperwork is handled online. (COX Automotive)
21. When looking at the buying experience, 61% of buyers say their dealership experience was the same or worse than previous visits. (COX Automotive)
Key Takeaways:
Car buyers prefer to research online before making an in-person purchase. Since the research phase of the car-buying process is primarily done online, dealerships must tailor their online sites to appeal to consumers and create a more user-friendly shopping experience.
Car buyers are still spending close to 3 hours at the dealership. If dealers can aim to streamline their processes to include more steps available online, buyers will end up spending less time at the dealership, which in turn will increase customer satisfaction.
Repairs at Car Dealerships
Consumers are always looking for cost-effective methods to repair their vehicles and often look to third-party mechanics as opposed to dealerships. But, with the rise of fuel-efficient vehicles and the need for service notifications, this may give dealerships an advantage over local auto-mechanics and third-party service providers.
22. 125 million repair orders were written in June 2020. (NADA)
23. 5.27 million repair orders were customer orders. (NADA)
24. 1.17 million body shop repair orders were claim related. (NADA)
25. 3.07 million repair orders were internal. (NADA)
26. Service and parts sales cost a total of $51.94 billion per new-vehicle dealership in June 2020.. (NADA)

27. In 2020, 37% of dealerships had on-site body shops, a 2% decrease from the last 2 years. (NADA)
28. A study conducted in 2016 found that 1 in 3 service visits are conducted at a dealership. (COX Automotive)
29. In 2016, 25% of car owners went to local mechanic shops for general repairs and maintenance. (COX Automotive)
30. 32% of consumers do not keep track of their vehicle service schedule. (COX Automotive)
31. In 2016, 29% of consumers rely on the dealership for notifications regarding routine maintenance and recall information. (COX Automotive)
Key Takeaways:
Consumers do not keep track of their vehicle routine maintenance and repair schedules and rely on the dealership for notifications. This gives car dealerships the upper hand over third-party repair shops. Getting regular maintenance and repairs through a dealership is also beneficial to the vehicle owner because if they ever want to sell or trade their vehicle, there is a track record of all completed services. This helps the dealership's future sale by putting the next buyer at ease.
Service and parts sales have seen a steady increase since 2012. This provides a huge advantage for dealerships, especially with alternative fuel vehicle sales on the rise. Most of these types of vehicles need special parts and maintenance, so the purchaser has to get it serviced directly from the dealer.
Auto Dealership Marketing
In today's age, the car-buying journey almost always starts online. Though the transaction is usually completed in-person, online advertising and site optimization is key for dealerships to convert online leads to in-person transactions.
32. 61% of consumers have considered clicking on an auto ad when shopping for a vehicle. (AdColony)
33. 54% of consumers have clicked on an auto ad when shopping for a vehicle. (AdColony)
34. 41% percent of consumers say they are likely or very likely to click on an ad during the car-buying process. (AdColony)
35. To explore models and features of a vehicle, 70% of consumers say they would consider watching or engaging with a video during their car-buying process. (AdColony) 36. Smartphones are the most used device (29%) during the car buying process. (AdColony)

37. 23% of buyers use a computer during their car-buying process, 9% of buyers use a tablet, and 39% of buyers say they use both devices. (AdColony)
38. When considering a way to purchase, 46% of consumers say easy access to a local dealer representative would make the process easier. (AdColony)
39. 48% of consumers say online reviews would help them consider one vehicle brand or model over another. (AdColony)
40. 32% of buyers are between the ages of 18-24. (AdColony)
41. Dealerships advertising expenses in 2019 were heavily dedicated toward internet advertisements, totaling about $310,000 per dealership. (NADA)
42. Dealerships spend more than half of their total advertising expenses online (56%), while the other expenses are used toward traditional advertising like TV (14.5%), radio (10.3%), and direct mail (8.5%). (NADA)
43. 60% of consumers say that their chances of visiting a dealership after researching for a vehicle online are very likely. (AdColony)
44. Third party sites are a valuable resource to buyers when car shopping; 65% of buyers visited a third-party site first and 58% visited a third-party site last. (COX Automotive)
45. Contrary to third-party sites, 35% of new car buyers finish their research on a dealership website. (COX Automotive)
Key Takeaways:
Consumers are clicking on auto advertisements. More than half of consumers click on auto ads when shopping for a car. With 33% of the buyer demographic ranging from 18 to 34 years, ads should be targeting this audience.
Buyers want interactive features. This is an opportunity for dealerships to expand their digital presence and create engaging content for their users. Use FAQ pages to answer common buyer questions and make it easy for buyers to reach a representative by integrating an easily accessible "call now" button or a live chat box.
Buyers are using multiple devices when car shopping online. This makes it extremely important for dealerships to make sure their sites are easily accessible on any device. With most buyers using their smartphones, mobile-friendliness is key to user experience.
Auto Dealer Compliance
When it comes time to purchase, everything is digital. Dealerships store a large amount of personal customer data, which puts them at a very high risk for cyber attacks. Aside from customer data regulations, there are many other regulations in place, like the Disposal Rule, the Used Car Rule, and the Equal Credit Opportunity Act. With this in mind, auto dealerships must ensure that they are in compliance with all federal regulations and their staff is equipped with the right training, or they could suffer serious penalties.
46. In the most recent study available from 2016, only 37% of auto dealers implement compliance training. (Total Dealer Compliance)
47. In 2016, 68% of buyers would be more likely to purchase a vehicle from a dealership that is compliant with federal regulations. (Total Dealer Compliance)
48. In 2019, there were 38,561 identity theft reports related to auto loans and leases, which was a 105% increase from the previous year. (Federal Trade Commission)
49. According to a study conducted by CDK Global in 2018, 63% of auto dealerships say they do not have a proper process in place to respond to security breaches on their networks. (CDK Global).

50. In 2018, 65% of auto dealers say they do not test their security systems regularly. (CDK Global)
51. Not complying with the Used Car Rule could result in a penalty of up to $40,000. (Total Dealer Compliance)
52. Failure to comply with the Gramm-Leach-Bliley Act, which requires auto-dealerships to protect the privacy of their customers personal data, could result in civil penalties up to $10,000 per violation. (Total Dealer Compliance).
Key Takeaways:
Dealerships can face serious penalties if they fail to comply with federal regulations.  Failing to comply with state and federal regulations not only puts the dealership at risk, but their clientele as well.
Dealerships should consider prioritizing compliance training for all employees and hire a compliance officer. Federal regulations can be hard to understand for car salespersons. Dealerships can hire a compliance officer to help train individuals on compliance requirements. Dealerships can also look into processing auto dealer bonds to avoid risk and penalty.
Given these statistics, there's a clear shift in how buyers are searching for and purchasing cars. With the presence of online marketing tactics, dealers can put themselves ahead of the competition by implementing strategies that will not only convert sales, but increase customer satisfaction and loyalty.
To maintain a healthy business and customer base, auto dealerships must ensure that they are in compliance with all federal and state regulations. Consider getting an auto dealer bond, to protect your clients from potential risks related to these regulations.  
---

---