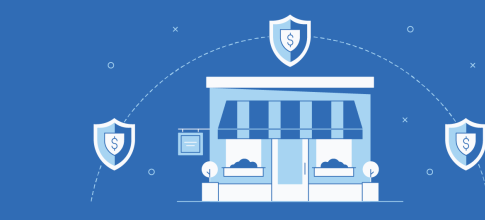 Today's economic climate brings memories of The Great Recession that some of us prefer not to remember. All businesses are vulnerable to financial storms. The most you can do is prepare your business before the tough times occur and stay on your toes until it passes.
Keeping your company afloat during a recession is not easy, especially if this is your first time dealing with one. Take a look at the 12 best practices below to get an idea of what you should do to recession-proof your business. You can also skip ahead to the infographic to see all of the expert's tips.
1. Watch for the Signs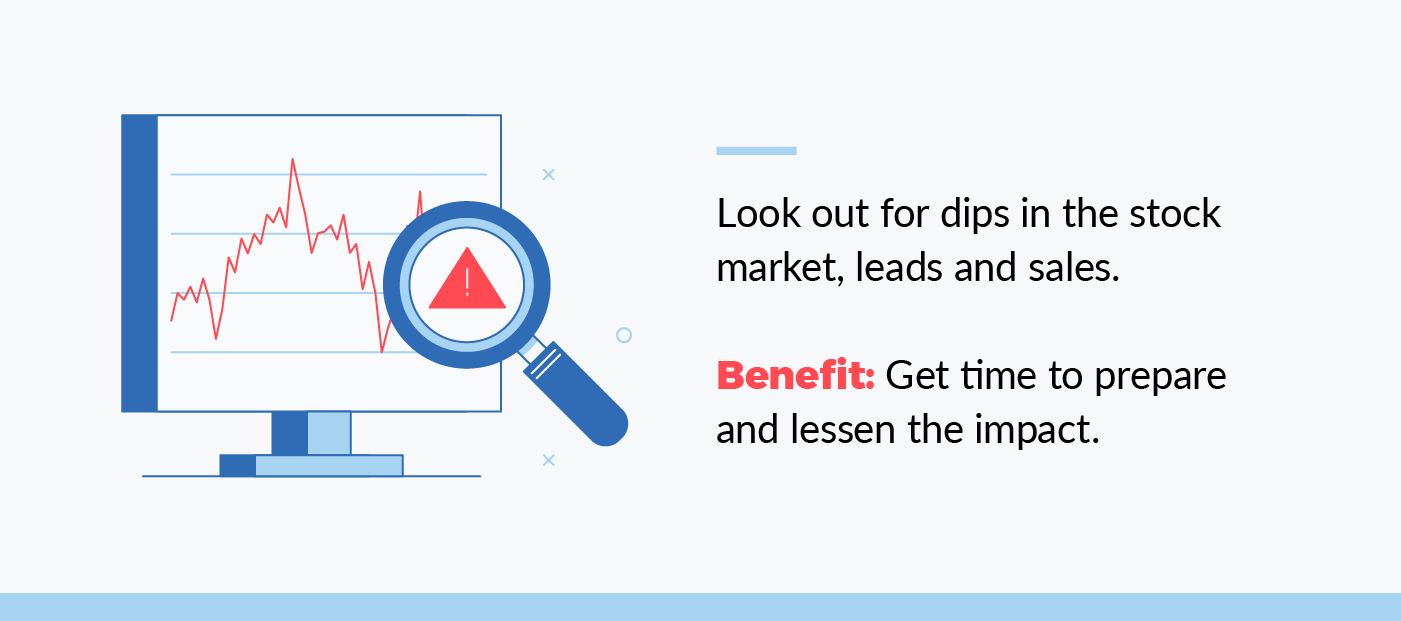 Getting a head start gives you more time to make changes before the situation takes a turn for the worse.
HomeWorkingClub.com founder, Ben Taylor, went through a major recession and several downturns with his business. He says the early stages are the ideal time to act.
"Save and prepare before the situation becomes urgent—there's often some level of warning that a recession is on its way. THAT is the time to start cutting costs, doing pessimistic cash flow projections and making sure [you] have the kind of funding you need. Waiting until things have already got bad isn't a good idea," Taylor says.
Here are a couple of signs that an economic downturn may be approaching:
Economic changes: Dips in the stock market and other investments are early warning signs that a recession is coming.
Financial panic: Customers will start reacting when they start backing out of contracts. Unusual dips in leads and sales are also red flags.
After confirming that a downturn is on the way, your next step is to see how it will impact your business.
Founder and CEO of FitSmallBusiness.com David Waring says, "Too often, business owners do not properly analyze their success because they haven't been through a recession with their business. Assess how much of your success is attributable to your unique, competitive advantages, and how much is attributable to the overall health of the economy."
2. Set Up Flexible Agreements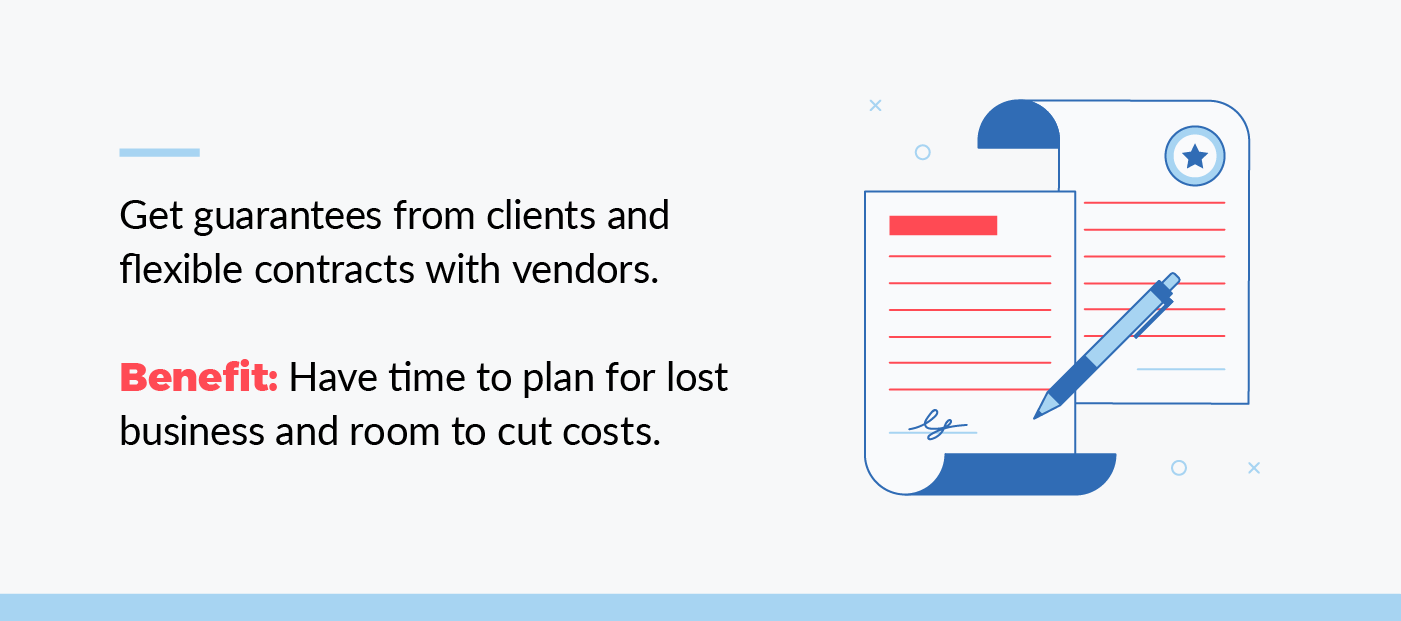 CEO of Scotwork North America, Brian Buck says flexible contracts allow businesses to move through downturns without turning their business upside down.
In a downturn, he recommends protecting your revenue stream so you have the ability to scale down costs. When a downturn is on the horizon, Buck says you should plan how to handle requests to make changes to or get out of a deal.
Here are a few other tips Buck gave on contracts:
Guarantees for clients: Get long notice periods for cancellations and term-commitment guarantees to give you enough time to make changes.
Flexibility with vendors: Minimize long term revenue or term-commitments with vendors to keep agreements flexible.
Expect negotiations and reworkings across the board: For clients, he recommends offering temporary relief in exchange for signing on for more work. For vendors, he says you should know that your business is valuable to vendors during a recession and to use that to your advantage.
Always be proactive: You have the power to control negotiations if you make a proactive proposal.
While you're negotiating, keep an eye out for contract red flags like venue provisions and boilerplates so you're not caught off guard.
3. Continue Investing in Marketing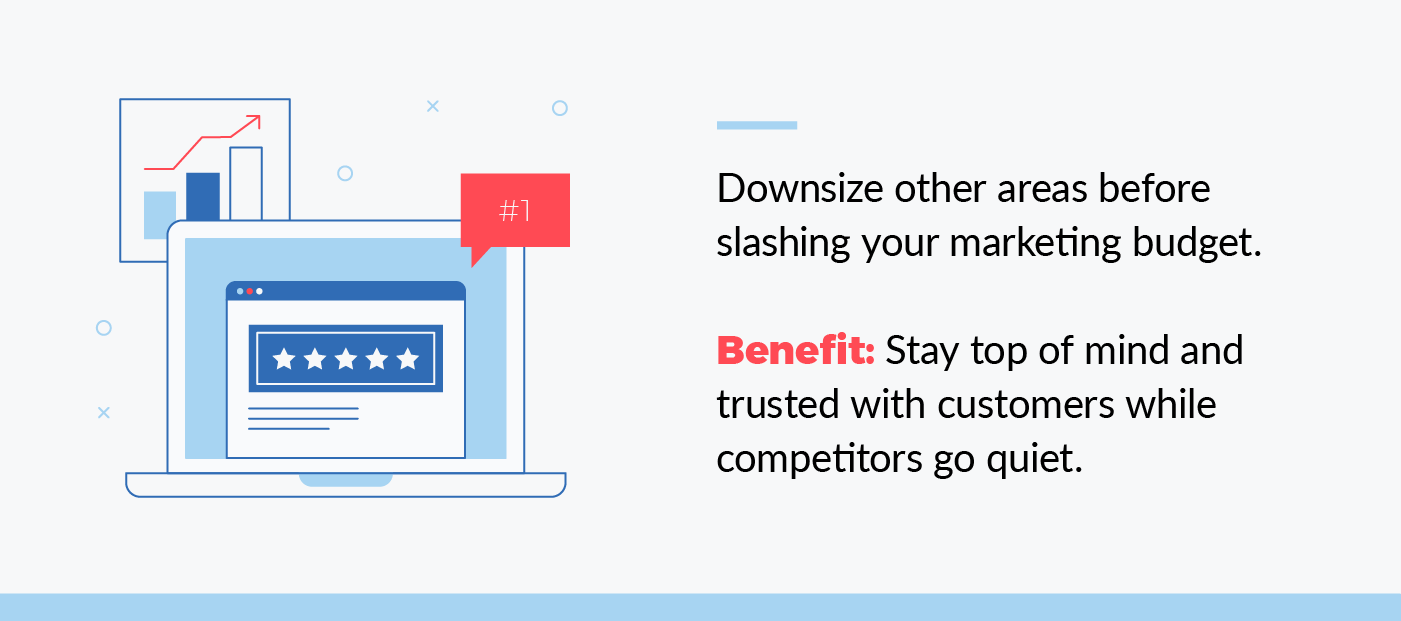 In tough financial times, some businesses immediately cut their marketing, advertising, and other promotional budgets. This move hurts your business since you're limiting the ways you can reach customers.
Forbes highlights a few ways businesses can market during a recession:
Make the most of the low "noise level": Competitors are also cutting back on their promotional budgets. This is an opportunity for businesses to reposition themselves or introduce a new product.
Build consumer trust: Customers feel your brand is stable if you stay visible. You can also keep control of your brand's narrative if you continue your campaigns.
Take advantage of low advertising costs: Costs drop during an economic downturn. You can use these savings to invest in other methods of advertising.
Stay top of mind: Staying engaged curbs the potential of losing sales.
4. Reduce Overhead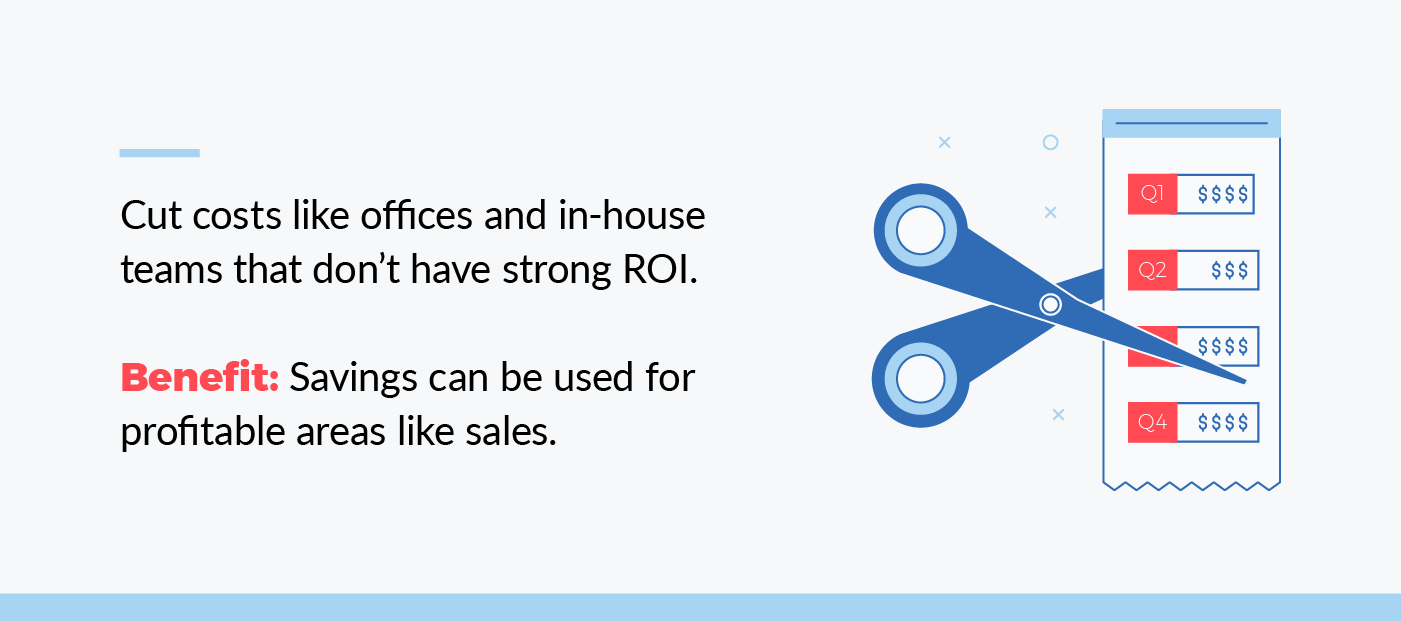 Scaling down your overhead is a go-to recommendation from business leaders. For example, the recent pandemic showed us how we can function without an office space. Global Workplace Analytics reports that nearly six in 10 employers said cost-savings is a big benefit to telecommuting. Other benefits include increased employee empowerment and collaboration.
Founder of Swenson He, Chao He, says there are ways companies can put cost-cutting measures in place that also include strategic spending.
"Maximizing dollars is just as much about spending dollars the right way as it is about spending less dollars overall," He says.
He uses office space as an example. He says downsizing alone might not benefit for your company. Downsizing might be more valuable if you also sign up for a coworking membership and invest in your virtual office operations. This way, overall expenses decrease, employees get more locations to work in, and your team can still feel connected to their coworkers.
Besides office expenses, you should also consider outsourcing. Chanty Founder, Dmytro Okunyev, says you should outsource your most expensive areas that don't result in a good ROI. Examples include HR and marketing. Okunyev says you should consider the roles you need and outsource the rest.
"It's cheaper and much easier to put a contractor on hold for a few months then having to fire and rehire an entire team for your company," Okunyev said.
5. Downsize Inventory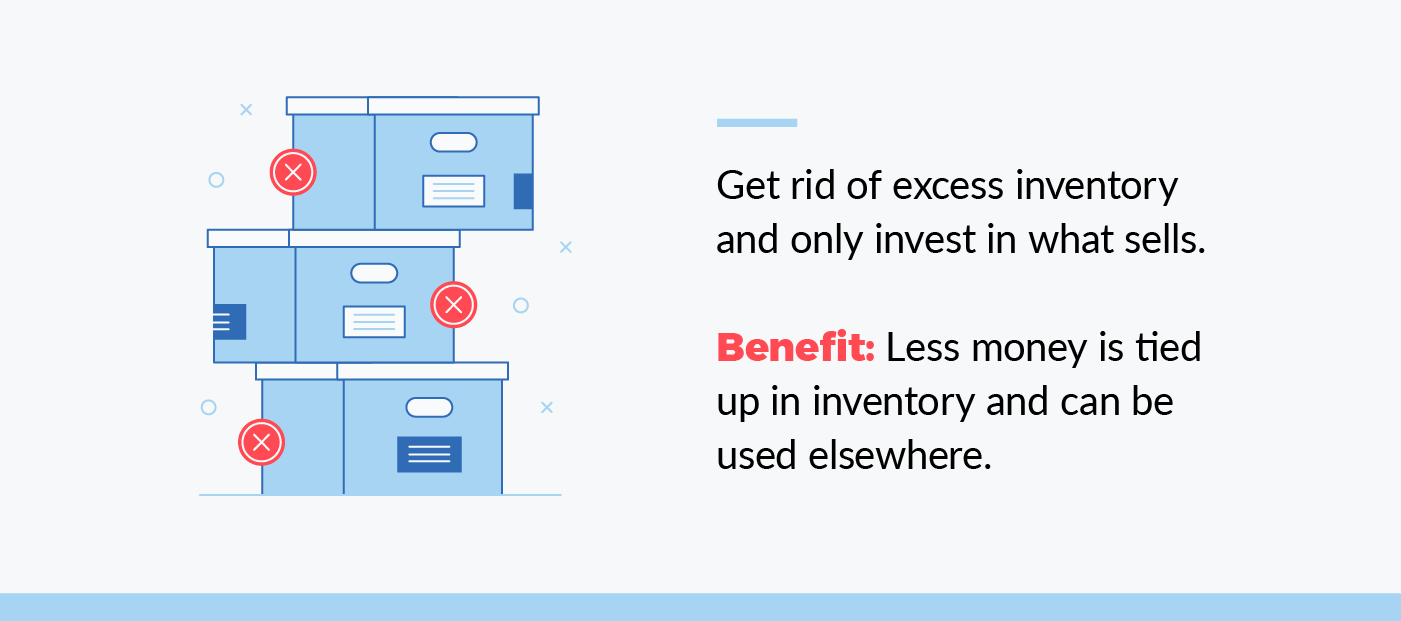 Inventory can end up eating lots of cash while it sits unsold. Ideally, you'll only house inventory that is more likely to sell. To do this, take a look at your sales over the past few quarters and see what is and isn't moving. For example, auto dealers can see what cars are worth keeping and what cars aren't as popular.
Buying the best inventory is difficult if you're already stuck with a lot of product. Vend HQ offers helpful ways to get rid of old inventory:
Sell to liquidation companies, but you won't likely make a profit.
Use products as freebies or incentives to encourage customers to sign up for email lists or to take part in a sale.
Bundle similar products and sell at a discounted price. You can move many products and adjust the price so you don't lose too much profit.
Discount old inventory by using flash or overstock sales to create a sense of urgency.
Re-market your products by updating pictures and posting new content for old products. Remarketing may drive up the cost of keeping the product depending on the effort needed.
Donate old products to give to a good cause and benefit from tax deductions.
6. Manage Cash Flow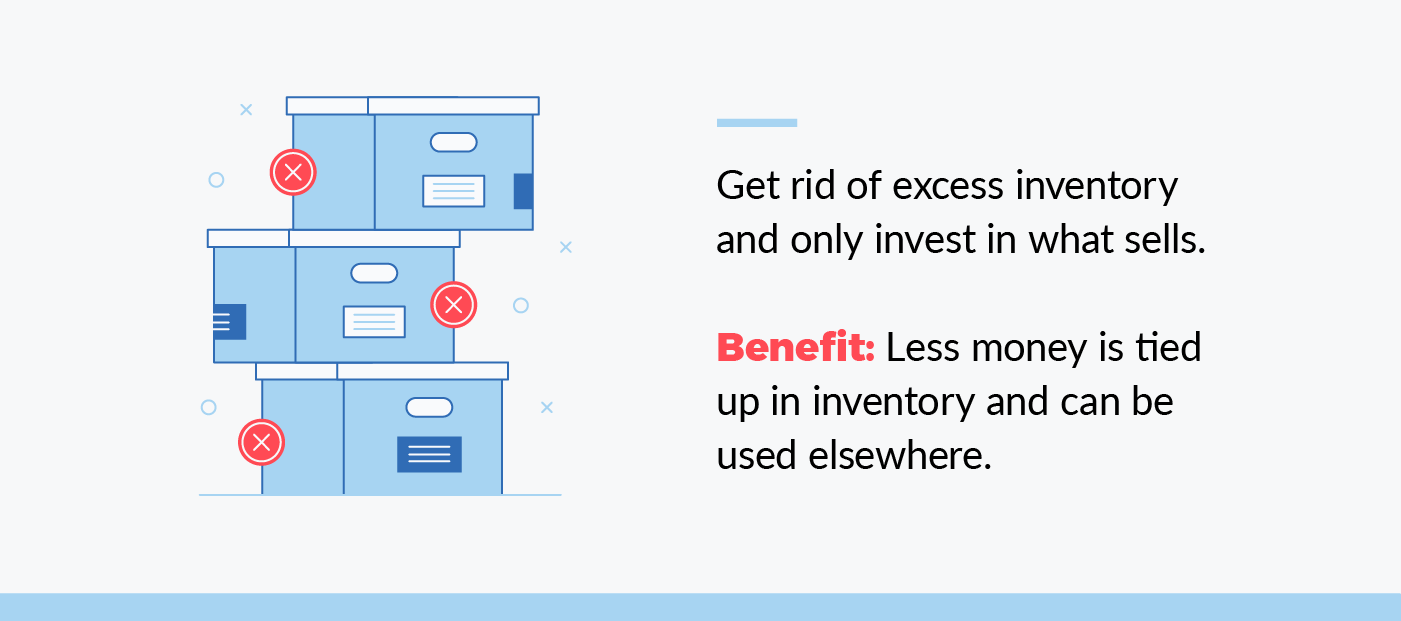 Managing your cash flow is an obvious step to take during a downturn. But, the process isn't always clear when you're in the middle of a financial crisis.
Here are a few steps to take when looking at your cash flow:
Pay down debt: You'll want money freed up during a recession, so pay down debt fast to free up cash.
Get aggressive with collections: Unpaid work makes it hard to plan. Double-down on money owed and improve any delays in the collections process.
Establish periodic KPIs to track your financial health: Use financials from previous quarters to see what a healthy cash flow may look like during a downturn. Then, establish daily, weekly and monthly KPIs to know when cash flow is going south.
7. Modify Offerings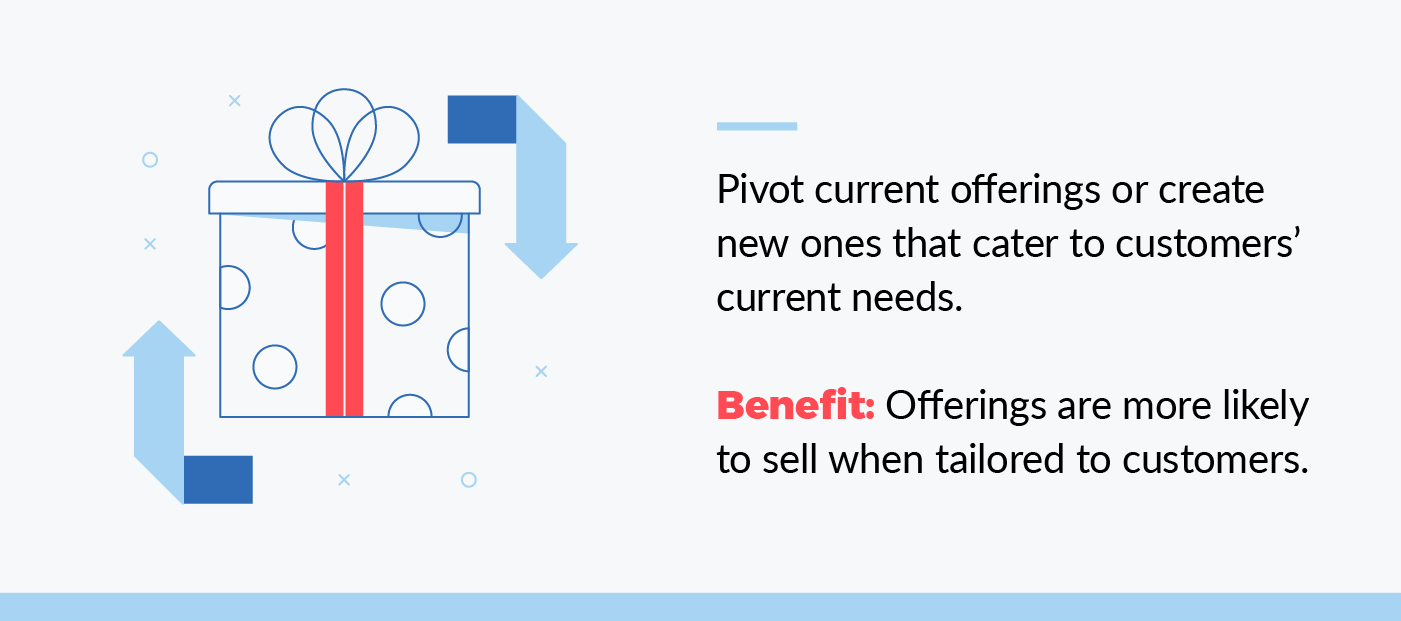 If demand is dropping, consider adjusting your core offerings or offering something new.
Founder and CEO of iHeartRaves and INTO THE AM Brian Lim says, "If your business is suffering, think critically about how you can pivot in these uncertain times. The economy won't stay shut down forever, and pivoting can help you weather the storm and keep your business afloat until things return to some sense of normalcy."
Lim's companies sell fashion items to music festival attendees. They made a couple changes as a result of the COVID-19 pandemic. The company pivoted their marketing strategy to reposition their products as loungewear and lingerie. They also began designing face masks and donating masks to non-profits.
Lim says pivots like these can turn into permanent revenue streams. Even after the pandemic passes, Lim says his company can continue selling masks to festival goers to protect from dirt, dust, wind, and sun.
8. Diversify Revenue Streams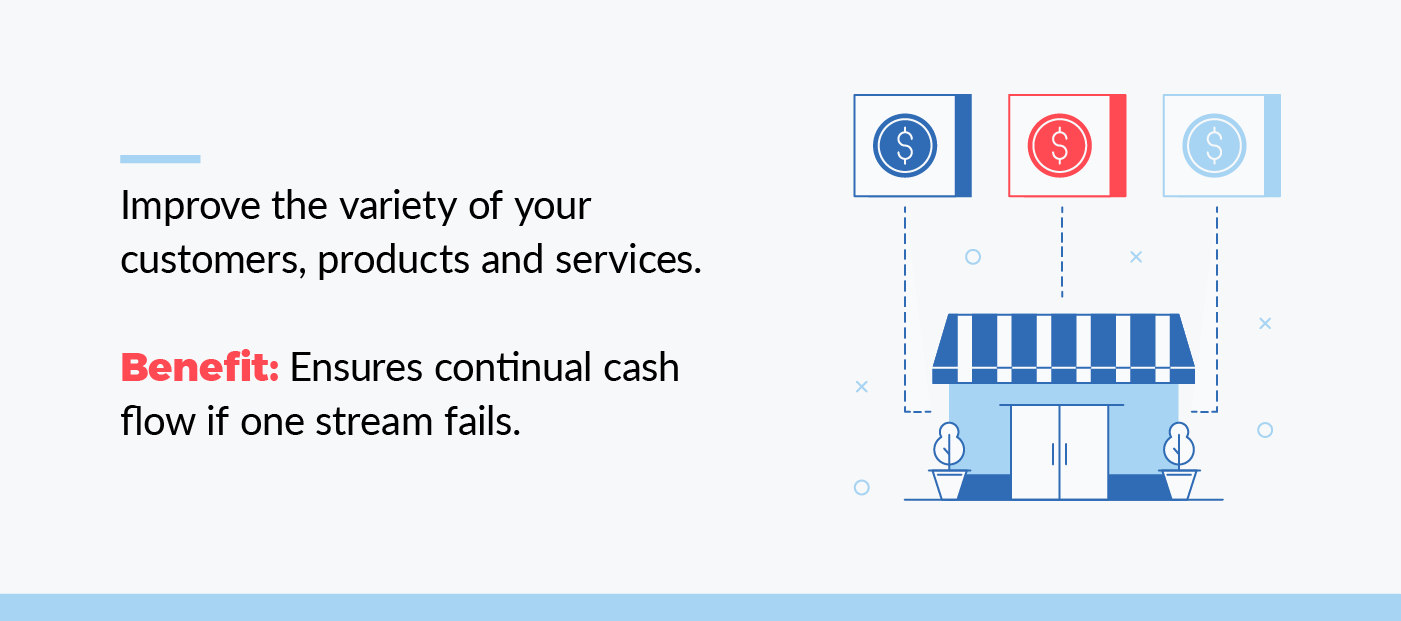 Many business owners say that diversification is key to surviving a recession. Diversifying means your revenue doesn't rely on a couple clients, products or services. Depending solely on any one of these things could be your downfall. For example, construction companies could take a hit if a major client backs out. Travel agencies can also suffer if demand for travel drops.
Joe Bailey, Business Development Consultant at My Trading Skills says, "Diversify your offerings, as well as your target market in order to keep money flowing in even when there is a recession at play. Multiple revenue streams keeps your business flexible, and able to stay afloat during tough economic times."
You should also diversify your distribution channels. For example, storefront businesses can use e-commerce platforms to expand their reach to more customers. You can also expand who you're distributing to with these channels. If you sold only to wholesalers, you should consider selling to consumers.
Diversifying could even mean internationally expanding your business. Director of Net Lawman, Andrew Taylor, says he did this after the last recession hit. Taylor says you should do your research when picking countries to move into. For example, you can look into the countries most of your blog visitors come from.
"You do need to research your target audience in a country you wish to move into and make some changes to accommodate. You might find a different demographic would be a suitable audience for your product in this new country that is not relevant in yours," Taylor said.
9. Expand on Team Training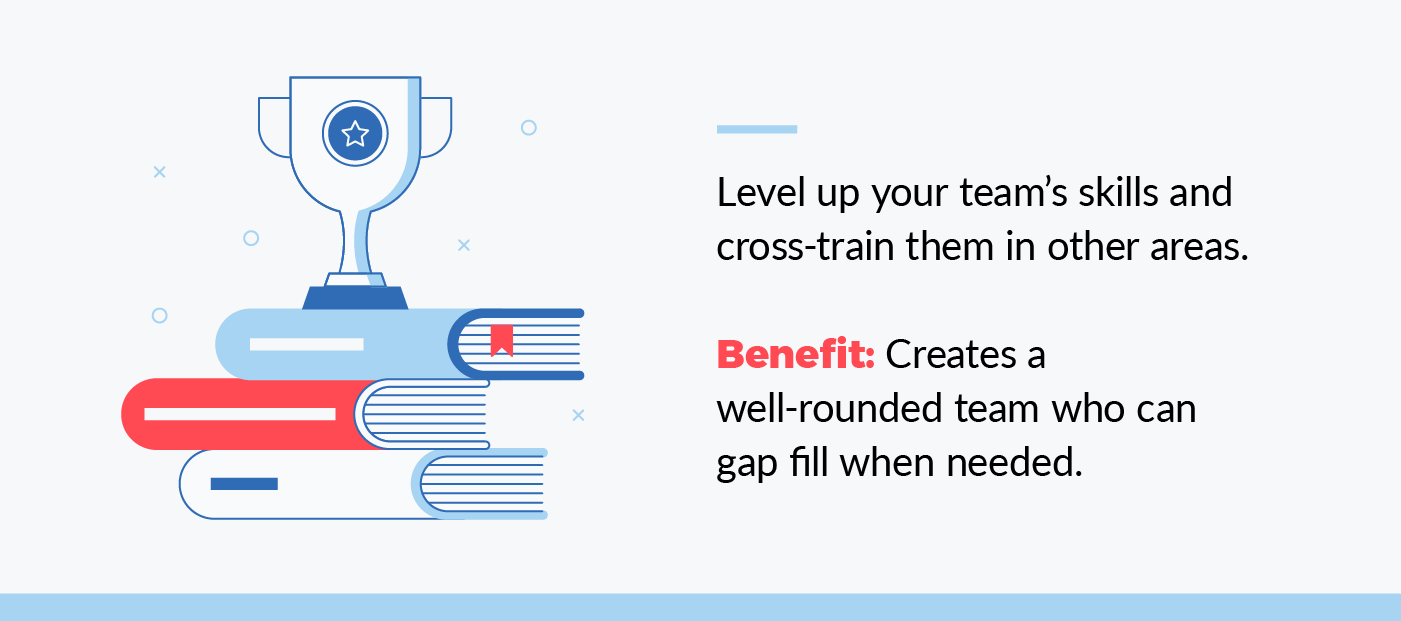 Investing in your most impactful teams can make or break your business. For example, if you need to secure and close more client leads, you should give more resources to your sales team. You can invest in improving the sales process and other ways to support your team's needs.
Team training also involves cross-training your employees. You could teach new skills that relate to their department or train them on tasks from different departments. A flexible team ensures your business can operate regardless of if a person leaves.
Business Development Consultant, Tammy Fisk, says her time coaching softball taught her a lesson in cross-training her team. She said she heavily recruited "utility players." These were team members who can play two or more positions at a highly skilled level.
"Having a player that can play more than one position allows you the flexibility to recover from an absence and still allow the team to perform at their max potential," she said. "[I] made sure I built teams with people who had multiple talents and skills and made sure to give them tasks/projects that kept their skills sharp.
" Fisk says this keeps your team well rounded, develops their skills, and helps you quickly fill in any gaps. It also makes employees marketable if you end up letting them go down the line.
10. Invest in Client Relationships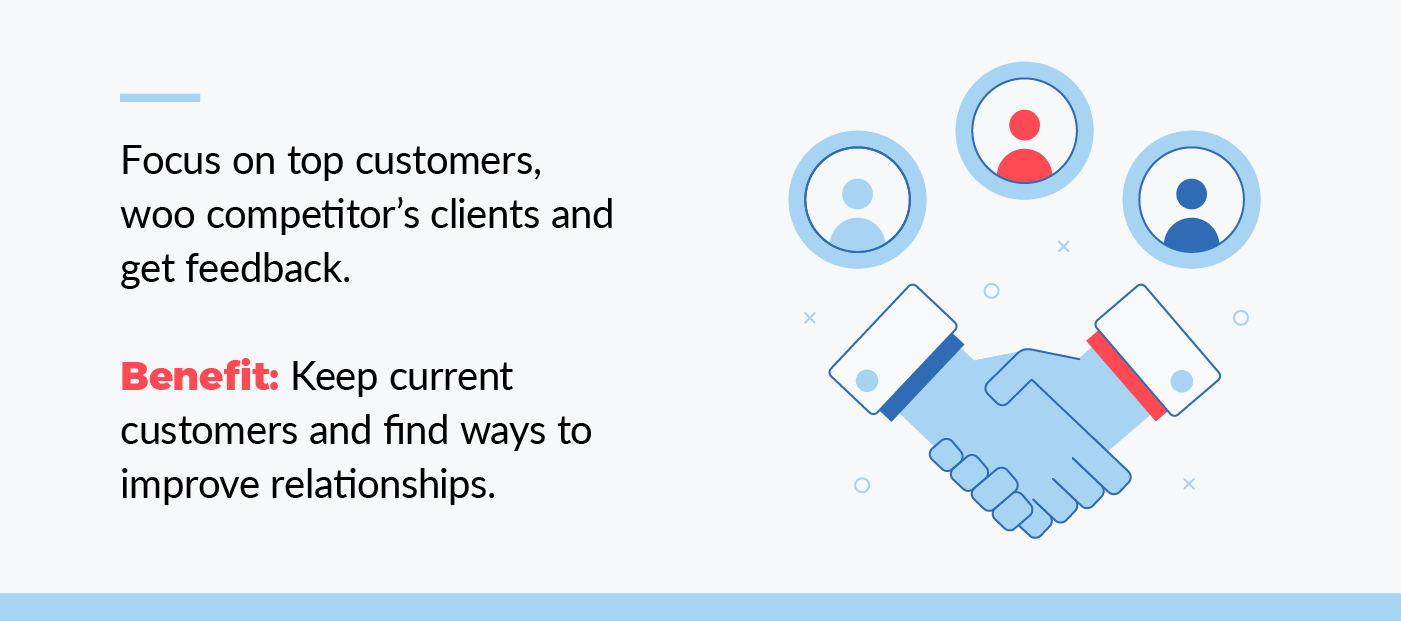 Your existing customers need extra attention during the downturn. They'll have fears that you'll need to ease and questions you'll need to answer. CEO and Co-founder of Ringblaze, Dennis Vu, says that it's also much cheaper to sell to your existing customers.
"Instead of thinking of ways to acquire new business, think of ways that you can constantly upsell your current customers. If you can find new opportunities to provide value to those who already put their trust in you, there is nothing to be afraid of in times of recession. As new customer acquisition slows down, you can still rely on your methods for upselling and getting more from your existing customer base."
Here are a few expert tips on investing in client relationships:
Look at competitor's customers: Aquinas Consulting President Tom Mercaldo says downturns are a good time to use creative selling to gain exclusive relationships with new customers.
Get feedback from customers: You can get feedback from customer surveys or more formal focus groups. You'll learn what customers like the most about your company and how you can improve.
11. Nurture Strategic Partnerships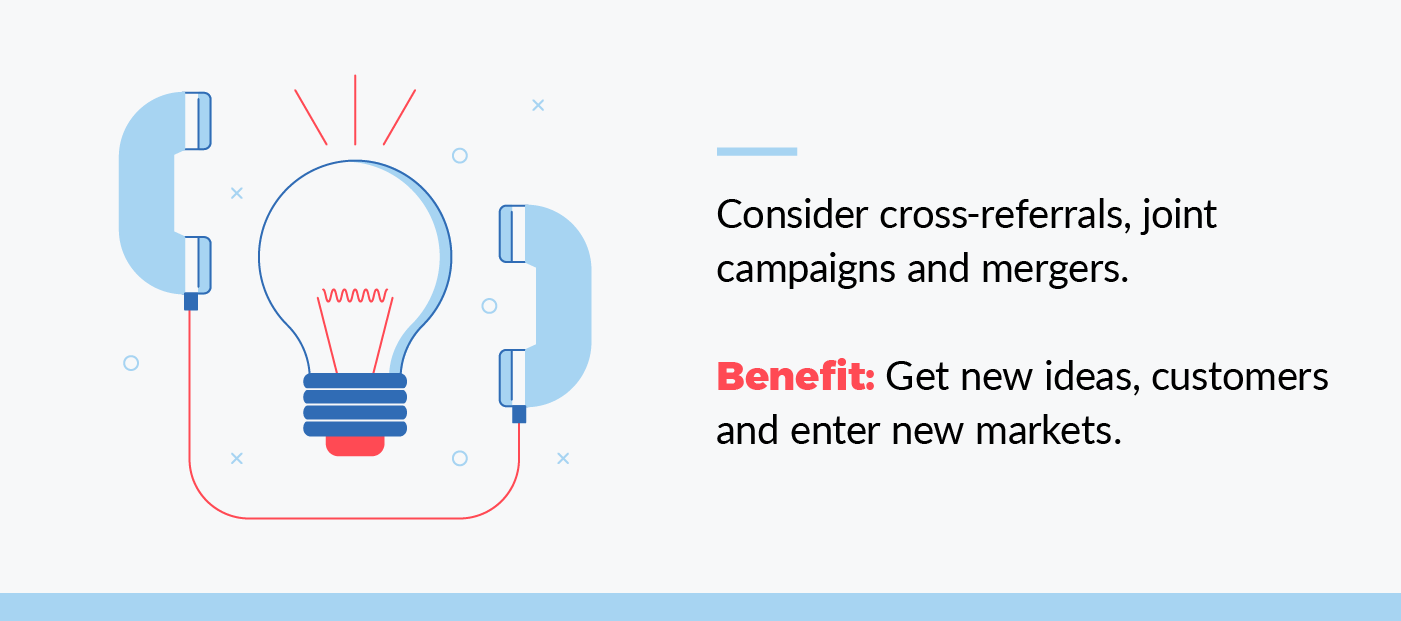 Strategic partnerships are helpful for entering new markets, getting new ideas and acquiring new customers. Partnerships can mean working with an influencer or referring customers to another business. Mergers and acquisitions are other ways to partner with other companies.
A recent survey of small businesses who survived The Great Recession found that 10 percent relied on strategic partnerships to stay afloat. An Inc. article says that finding partners with the right core values and establishing authentic relationships are key to forging these partnerships.
12. Invest in New Assets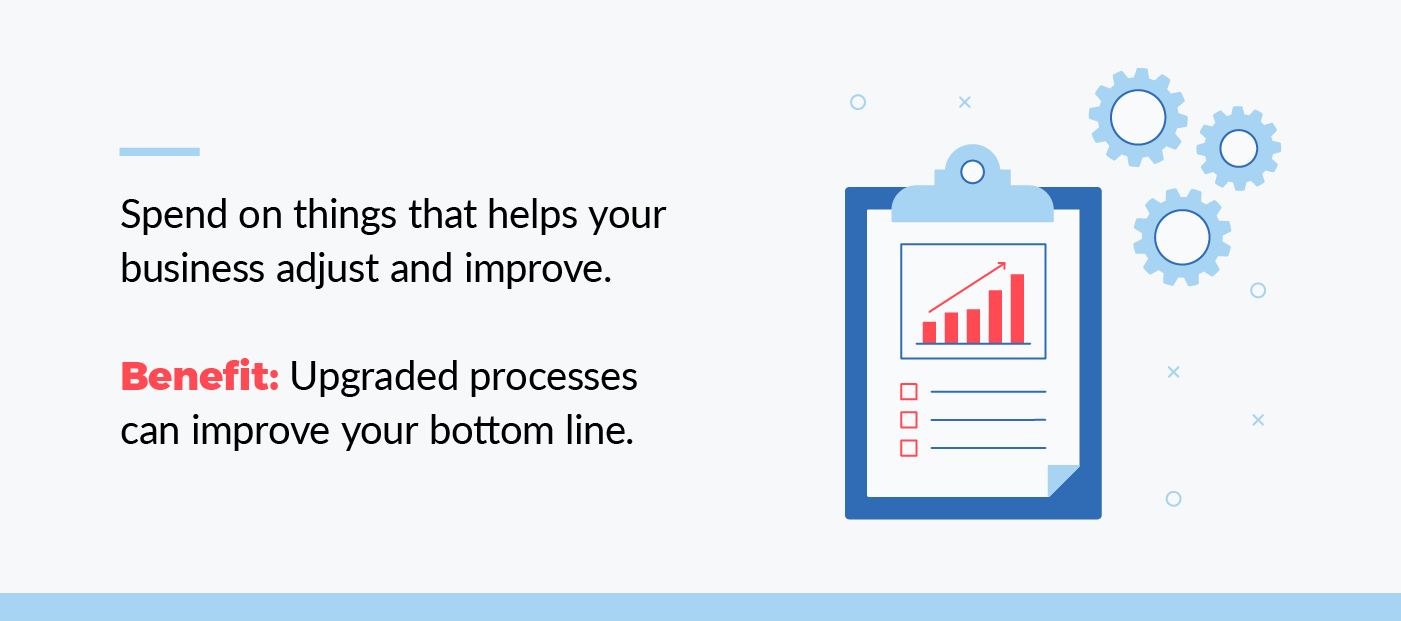 Major purchases are not the first thing business owners think of when a recession hits. A recession may be an opportunity for growth or investing in internal improvements. Most industries are in a buyers market in a recession, so pricing is in your favor to invest in different things.
Founder and Vice President of The Haney Company Brian Haney says you should re-evaluate your business and marketing plan. "Can you engage with your target audience in new/more effective ways? Are you digitally nimble? Can you find new revenue sources using technology or develop new ways of brand engagement?" Haney says.
However, Director of Internet Advisors Sean Nguyen says business owners should go with safe decisions and slowly rebuild when things start turning around.
"Don't stretch yourself too thin; that's a mistake a lot of businesses make and it takes them down. You can gradually dip your toes into investing in non-essentials again, coming up with some new campaigns and new products or services, hiring new staff if you need it, perhaps even expanding if you can afford it. But don't get ahead of yourself with a big 'comeback' because it might be the death of you," Nguyen says.
Emerging from a recession and any other financial downturn is no easy task. Advice from those who've experienced a recession can put you on the right track. Check out our infographic below for more tips on how to successfully come out of a recession.

---

---