AI-Powered Visions of the Future: Homes and Cities in the 22nd Century
Key Takeaways
40% of Americans say they would definitely live in at least one AI-designed suburban home.
Farmhouse (50%), midcentury modern (49%), and contemporary (49%) are the most popular futuristic home styles to live in.
58% of Americans believe AI portrayals of climate change in American cities are accurately depicted.
The most accurate climate change depictions are Cape Coral, FL (73%); Phoenix, AZ (71%); and Miami, FL (68%).
62% of Americans think more people will live in the suburbs than in cities by 2123.
American Suburbs 100 Years In the Future
Have you wondered what neighborhoods and homes would look like in the future? We decided to play with artificial intelligence (AI) by having Midjourney generate designs for suburban houses in the year 2123. We showed our renderings to 1,000 Americans and asked about the liveability, practicality, and realism of AI's designs.
We also had AI generate images of the effects of climate change on major cities across the country and then asked our survey participants about the accuracy of these depictions. Do Americans envision a dystopian future, or are we holding on to a utopian-like hope?
Come with us as we time hop into the future of American suburbia.
Home, Sweet, Future Home 
We asked the AI tool Midjourney to generate images of 15 different home styles as they might look 100 years in the future. How did respondents react to these designs? Let's take a look at these stunning homes and their ratings for liveability, practicality, and realism.

Overall, 40% of survey respondents said they would definitely live in at least one AI-designed home. The most popular home overall was the farmhouse design; half of our respondents were eager to live there, 56% thought it was extremely practical, and 61% believed it was extremely realistic.
The Spanish revival design received the second-best scores overall and tied for the most practical design at 56%. Midcentury modern, contemporary, and American colonial rounded out the top 5 best designs.
At the bottom of the list, the French country home was the least popular among respondents; only 33% said they would definitely live in it, and only around 20% thought it was realistic or practical. AI's ranch home design and Mediterranean revival home were also less well received.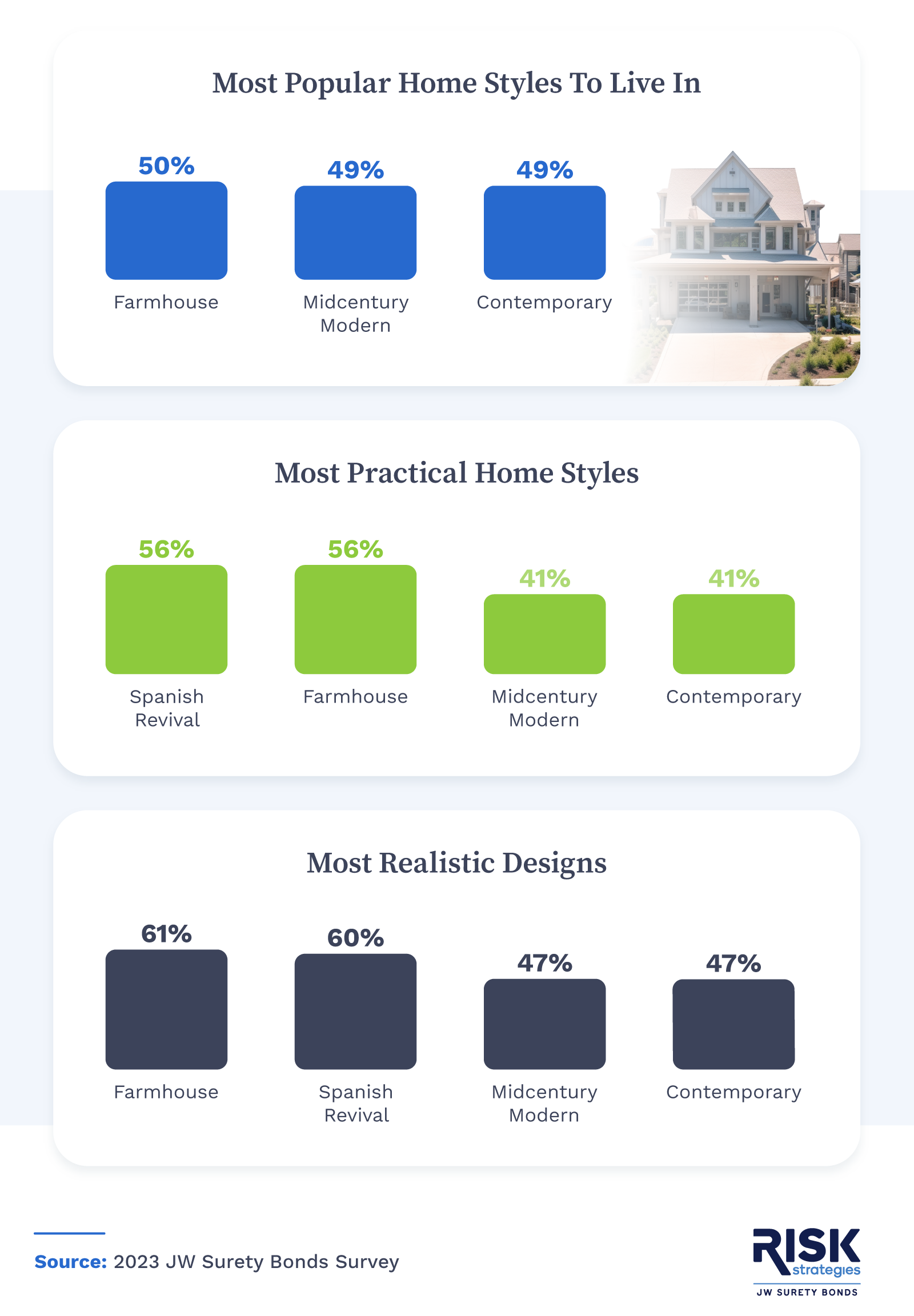 As for liveability, the farmhouse (50%) design ranked on top, but the midcentury modern and contemporary homes were just one percent behind. With their vast glass windows and multi-level structures, the midcentury modern and contemporary homes were extremely popular and tied for practicality at 41% and realistic design at 47%.
Over half of respondents (56%) felt the Spanish revival and farmhouse homes were extremely practical designs. The farmhouse design also took home the title for most realistic design at 61%, just edging out the Spanish revival home at 60%. Both designs are very similar in size and appearance to present-day homes in America, which may be why respondents reacted so positively.  
AI Envisions Climate Change
All of these futuristic homes are stunning, but they won't do anyone much good if they're underwater or in the middle of a scorched earth desert. Let's view AI's depictions of the effects of climate change on seven American cities and see how accurate respondents found them.

The future does not look dry for cities on America's coastlines, as New York City; Oakland, CA; and Florida's Cape Coral and Miami all found themselves at varying levels under the sea. Meanwhile, Los Angeles was burning, San Francisco was covered in garbage, and Phoenix was utterly parched.
Overall, 58% of Americans believed these depictions of the effects of climate change were accurate. Almost three-quarters (73%) thought Cape Coral's flooded future was spot on, 71% foresaw a dry and deserted Phoenix, and 68% believed climate change would sink Miami. 
The Suburbs, Circa 2123
For those cities that escape the flooding and fires of climate change, future suburban neighborhoods might look much different from today. Let's see how Americans envision the future of suburbia, including who will live there and at what cost.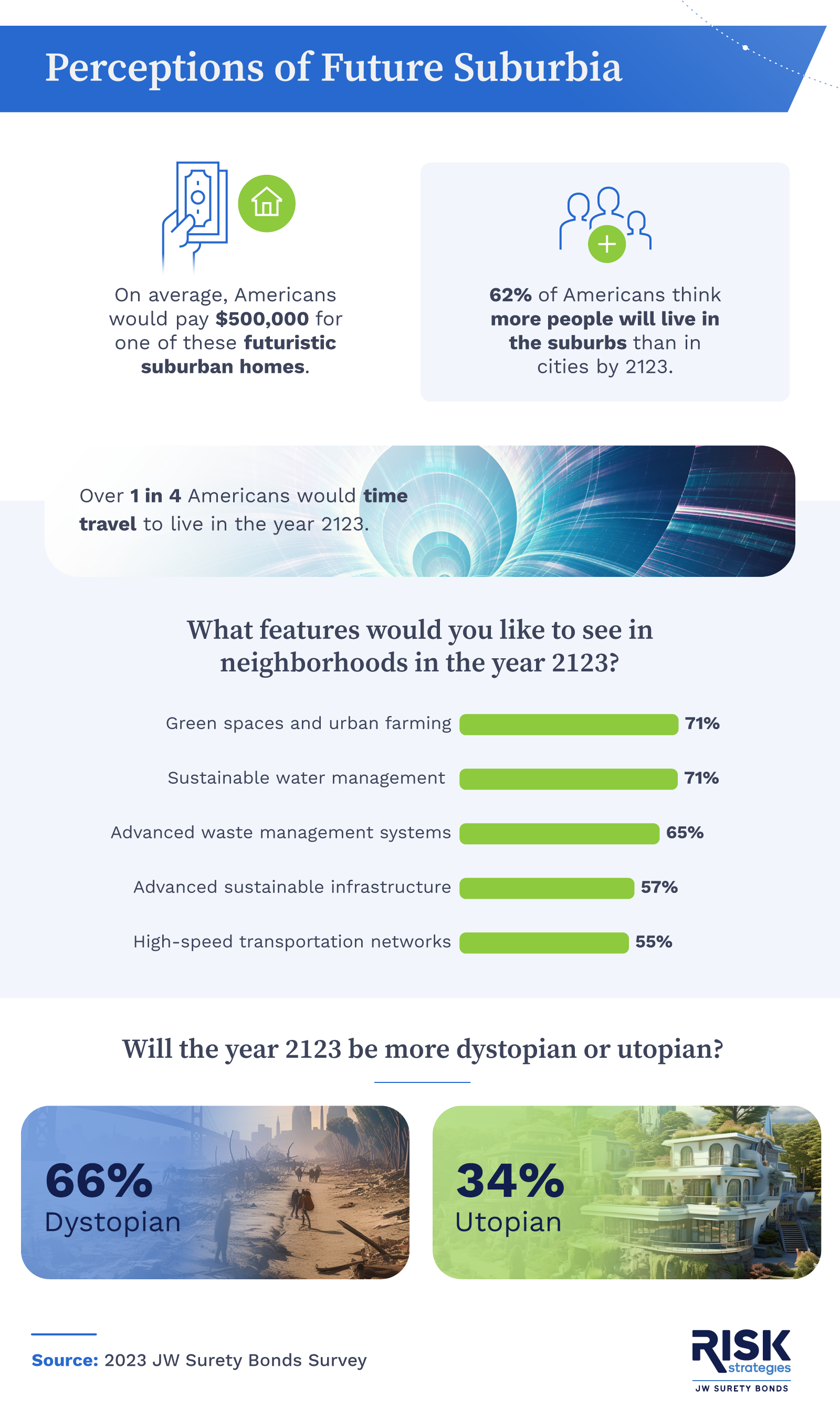 According to our survey, the future of America lies in the suburbs, as 62% of respondents thought more people would live in the suburbs than in cities by the year 2123. To be part of that number, respondents would pay an average of $500,000 to live in one of our futuristic suburban homes.
However, Americans are hoping the future suburbs will be more sustainable. Almost three-quarters of respondents hoped neighborhoods in 2123 would have green spaces, urban farming, and sustainable water management. Another 65% were looking forward to advanced waste management systems.
That said, hopes for the future weren't all that bright: 66% of Americans believed the year 2123 would be more dystopian than utopian. Still, over 25% would travel in time to live there. Perhaps a streamlined midcentury modern home and urban farming is worth a possible zombie apocalypse.
No Time Like the Present
While it's fun to envision the future, none of us is truly certain of what lies ahead. But we can prepare for the future—dystopian or otherwise—by setting aside savings, investing wisely, living sustainably, and learning new skills. Of course, it's even more important to live in the present and enjoy our personal relationships, hobbies, careers, and natural surroundings while we wait for whatever future may come.
 
Methodology
JW Surety Bonds surveyed 1,000 Americans about their perceptions of future suburbia. 50% of respondents were female, and 50% were male. 12% were baby boomers, 30% were Gen X, 50% were millennials, and 8% were Gen Z. All images were generated using the AI image generator Midjourney.
About JW Surety Bonds 
JW Surety Bonds is a top-ranked national provider of surety bonds, including mortgage broker and mortgage lender bonds. We work with dozens of sureties and insurance companies  nationwide to approve clients bonds with specialty rates and programs.
Fair Use Statement
Have a favorite future home you'd like to show off? Feel free to share this article with anyone you'd like for noncommercial purposes only; please provide a link back to this article so readers can view all of our amazing renderings and full survey results.
---

---