Key Takeaways
90% of truckers find it challenging to form and sustain relationships because of their profession.
2 in 3 truckers have ended a relationship due to the strains caused by their career.
62% of truckers use dating apps; Tinder is the most successful for meeting other singles.
Truckers spend an average of 11 days per month with their significant other.
46% of truckers with children say they always or often miss important events due to being on the road.
42% of truckers believe they'll be single forever.
Nearly 1 in 3 have considered changing professions for the sake of their love lives.
Navigating Highways of the Heart
A trucker's life is filled with open roads, miles of exploration, and peaceful independence. But life on the road can also create challenges for finding and maintaining meaningful relationships. To learn more about the love lives of truckers (or lack thereof), we surveyed 324 truckers about their romantic history. How difficult is finding a partner, and what are the biggest challenges in holding on to them? Read on to discover the hopes and heartaches of love on the road.
Truckers In Love—Or Not
For truckers, the path to love is often interrupted by roadblocks. Let's take a look at some of the biggest challenges facing truckers looking for love.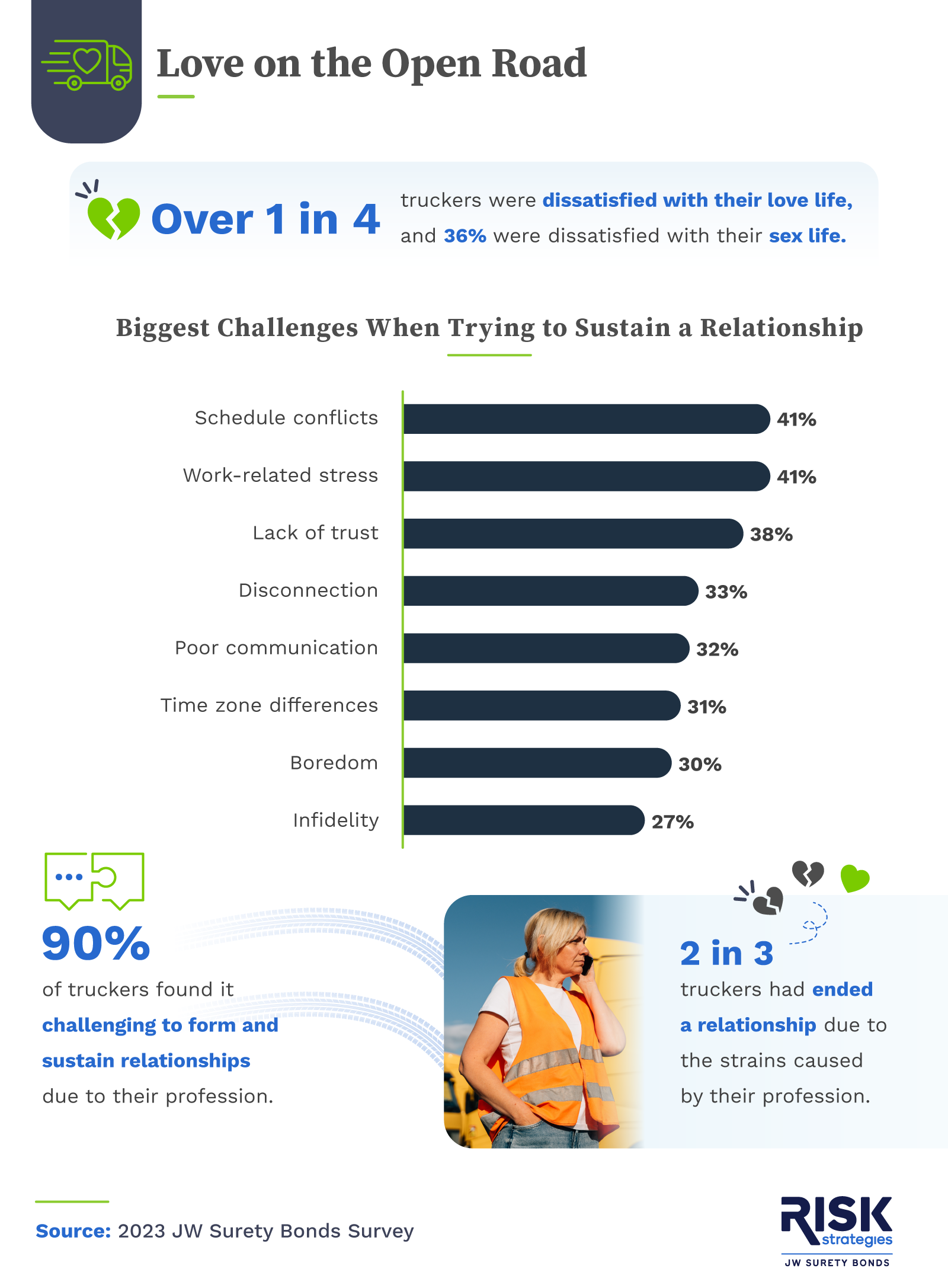 A staggering 90% of truckers found it challenging to establish and maintain relationships due to the demands of their profession. Scheduling conflicts and work-related stress were the biggest challenges, affecting 41% of truckers. Unfortunately, 2 in 3 truckers experienced the heartache of breakups due to the strain imposed by their job.
Additionally, over one-quarter of truckers described their love life as lonely and were dissatisfied with it. Another 36% were dissatisfied with their sex life. However, some romance was still in the air, as 43% of truckers described their love life as romantic and nearly 3 in 5 admitted to having sex in their trucks.
From Rest Stops to Romance
While the trucking life may come with romantic hardships, maintaining meaningful relationships on the road is far from impossible. Let's look at how truckers in committed relationships overcame the odds and found their partners.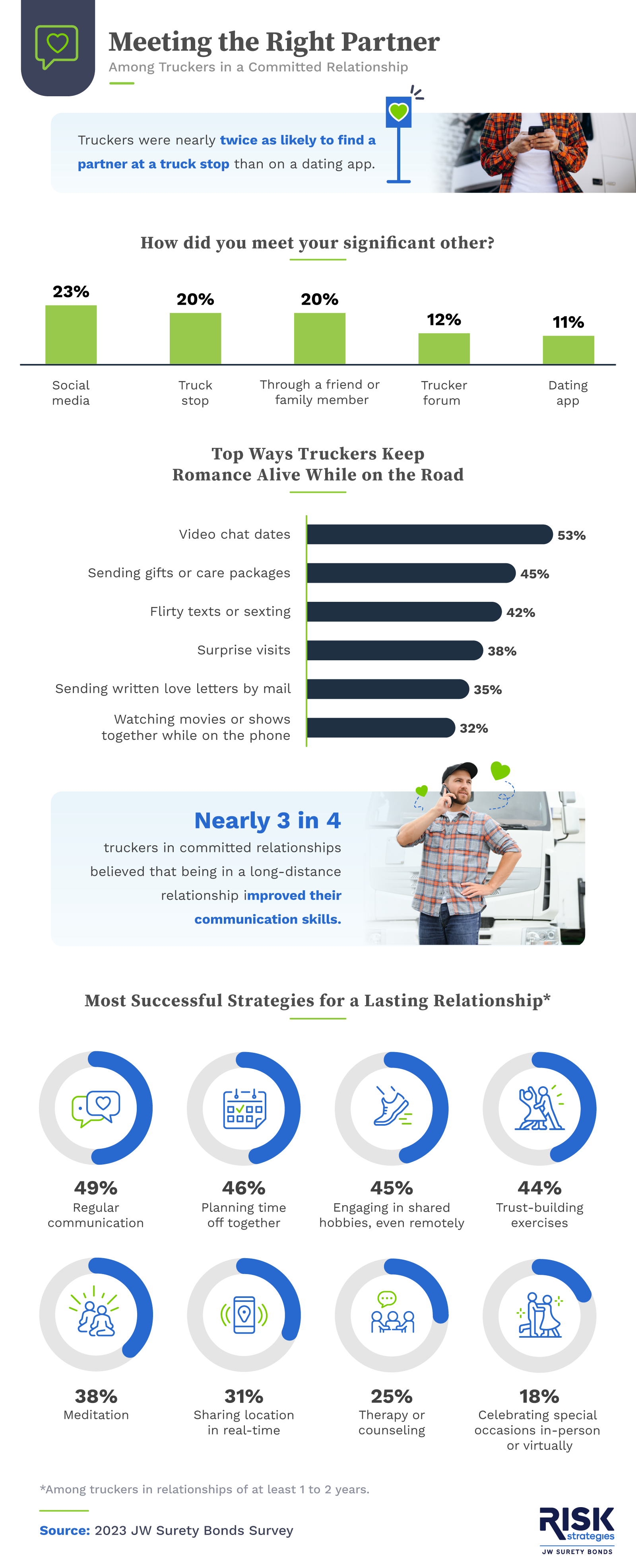 Among truckers currently in a relationship of at least one year or longer, 23% met their significant other through social media. Truck stops were another popular meeting place and proved nearly twice as successful as dating apps at making love connections.
Once the sparks flew, truckers' strategies for maintaining relationships were as diverse as their routes. Over half (53%) of truckers kept their romance alive through video chat dates, 45% sent gifts or care packages, and 42% got flirty (and sexy) over text.
In a romantic twist, 35% of truckers sent love letters by mail to their significant other. Almost 3 in 5 letter writers felt it helped them express their feelings better than other forms of communication.
To keep the love alive long-term, 49% of truckers in relationships said regular communication (love letter or otherwise) was most important. Another 46% felt planning time off together brought the most success, and 45% maintained closeness by engaging in shared hobbies in person or remotely.
Connecting Across the Miles
While communication can help lessen the feeling of distance between loved ones, spending time together in person is still vital to maintain deep connections. Let's look at how often truckers get away from the road to spend time with loved ones.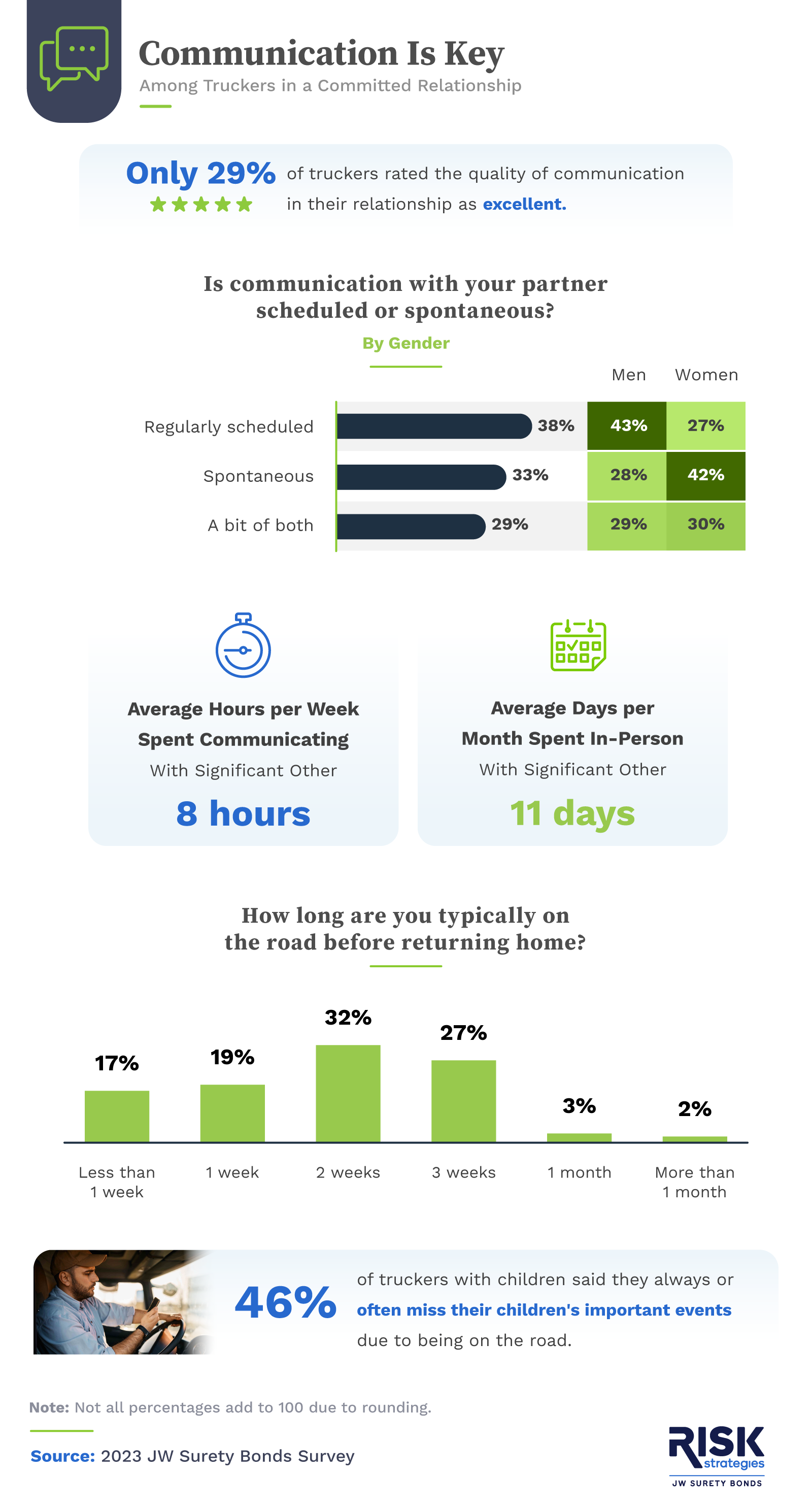 On average, truckers spent 8 hours per week communicating with significant others, but just 11 days per month connecting in person. Not only were the days spent at home relatively few, but the time away was fairly long: 59% of truckers spent two to three weeks on the road before returning home.
For those with children, the struggle to balance profession and parenting was real. On average, truckers with children spent 13 days per month with their kids, but 46% admitted to frequently missing important events due to their job.
How can truckers make up for all that time away? Let's get some expert relationship advice from seasoned truckers.
"My main advice is to keep working on the relationship by continuing to communicate, be open and honest with each other, and make sure you make the most of the time you have together." – Male millennial
"Make time to spend time with your family. Schedule call times and never miss them. Always plan ways for special events." – Male millennial
"In the end, it comes down to communication, respect, trust, and understanding. Be good to each other, support each other, and do not waste any time together. Make it all quality time. Drive safely to get back home soon!" – Female baby boomer
"If you're married, communicate daily, and keep your thoughts and eyes on the one you love." – Male baby boomer
"Communicate openly and honestly with your partner about your decision to pursue a trucking career. Discuss the challenges and benefits of the lifestyle, and be receptive to their concerns and feelings. Keeping the lines of communication open will help build trust and understanding." – Male baby boomer
In the end, if all that communication seems like too much work, you can take the advice of one male millennial who said, "Never commit to one partner or fall in love while in the trucking industry. Have fun!"
The Lonely Road
For single truckers, the pursuit of love takes its own journey. Where do truckers go to find a love connection, and how hopeful are they about their romantic future?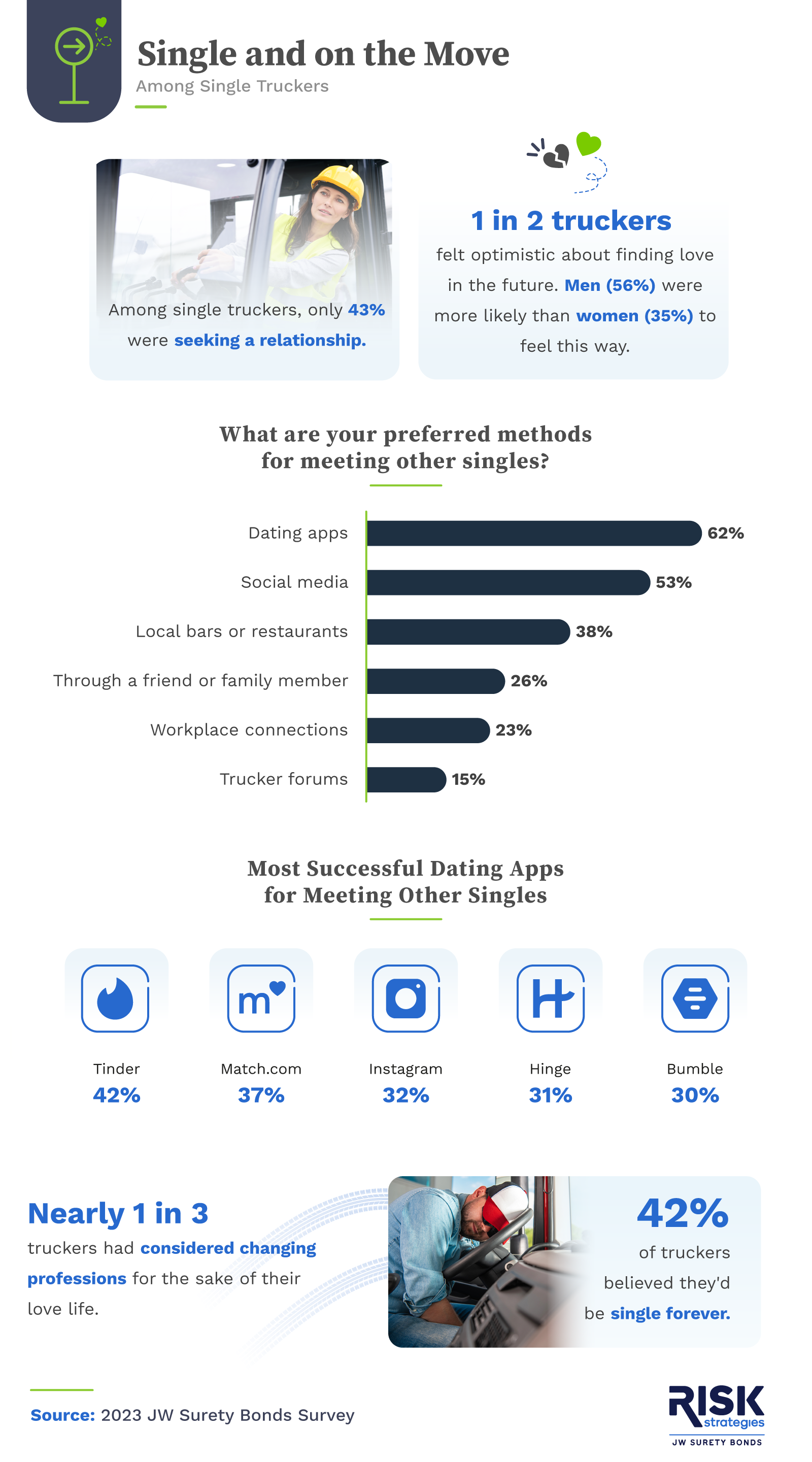 Among single truckers, only 43% were seeking a relationship. Male truckers (48%) were more likely than female truckers (30%) to be actively pursuing romance. The majority of those looking for love looked to dating apps (62%) and social media (53%) to find a partner, with Tinder being the most successful app for meeting other singles.
Looking ahead, the road to love remains uncertain for many. Somewhat tragically, 42% of truckers believed they would stay single forever. The pull between the open road and the desire for companionship forced nearly 1 in 3 truckers to contemplate a change in profession for the sake of their love life. Then again, being single has its advantages, and not everyone needs a relationship to feel fulfilled.
Amid the solitude of the long haul, truckers find innovative ways to stay connected and stave off loneliness. Over 4 in 5 truckers turned to music, audiobooks, or podcasts for companionship. Another 60% kept loneliness at bay by communicating with family and friends, while 49% embraced hobbies to nurture their passions during moments of freedom.
Balancing Love and Long Hauls
The road to love for truckers is filled with twists, turns, and roadblocks. But one fact remains clear: Pursuing meaningful connections is as essential to truckers as the miles they travel. From the difficulty of finding other singles to the struggles of sustaining unique long-distance relationships, truckers face extraordinary challenges in keeping their love lives afloat. However, as they practice consistent communication and make the most of in-person time with their partners, truckers may find that the road, despite its solitude, need not be lonely.
Methodology 
For this campaign, we surveyed 324 truckers. Among them, 71% were men, and 29% were women. In addition, 77% were in a committed relationship, and 23% were single.
About JW Surety Bonds
JW Surety Bonds is the nation's premier surety bond service. Experience the convenience of our cutting-edge online technology that provides real-time quotes within minutes.
Fair Use Statement
Do you know a trucker looking for love on the road? Feel free to share this article for noncommercial purposes only; please provide a link back to this page so readers can access all of our trucker love stats.
---

---