Every year the U.S. government awards billions of dollars in contracts to private companies. According to "USASpending.gov", between 2008 and 2018, the federal government has spent on average around $500 billion a year on contracts.
If you'd like to jump straight into our construction job bidding guide, you can click here. Otherwise, continue reading for general information regarding how bidding on public jobs can benefit you, and the requirements to do so.

What is Construction Bidding?
Simply put, construction bidding is the act of bidding on a construction job in an attempt to be rewarded as the company to fulfill the contract that's currently out to bid.
Plenty of Construction Job Bidding Opportunities Exist
State governments and municipalities also award millions of dollars in contracts to construction contractors on a yearly basis.
A significant number of these contracts is also set aside to small businesses such as women-owned small businesses (WOSB), small disadvantaged businesses (SDB), service-disabled veteran-owned small businesses (SDVOSB), and to small businesses operating in a HUBZone.
This makes the federal government the largest customer of construction services in the country, and a fairly reliable one at that. Contractors who specialize in working on federal or state construction projects have long noted that one of the greatest benefits of this type of work is that it keeps coming in even when the private sector slows down.
And for those contractors who manage to get a grip on what's required of them, and are able to follow all the strict regulations that come with working on public jobs, the payout is well worth the effort.
How Do Construction Bids Work?
Working on public projects begins with the bid (which will generally require a bid bond). For new contractors or for those who have so far worked strictly on private projects, the bid process may easily feel overwhelming.
How to Bid on Construction Jobs
First-time bidders will often end up struggling to figure out the difference between solicitation procedures and procurements methods or get lost in the complicated regulations that govern the process of working on public jobs. Take a look at an overview of the steps you'll need to take to start bidding on projects:
Register through SAM
Learn about the GSA and bidding sites
Prepare a quality proposal
Obtaining the required surety bonds: bid bond requests should be made to your surety agent as soon as possible with all required documents for review (e.g. bid specifications, special bond forms, if any, bid bond request form). It's far too often that contractors wait until a day or so before the bid to submit these crucial documents to their agent, which is far too little time. It's recommended that you submit all required documents at least 4-5 days prior to the bid so the surety agent and surety can review, approve and issue the bid bond in time for the bid itself.
Then there are the various procedures of registering to become a federal contractor, the art of writing a good bid proposal, and the construction surety bond requirement you need to cover to bid on a project.
Often, to avoid having to deal with the whole bureaucratic clutter, contractors may apply with third-party companies who will take care of this whole process. With some advice and a bit of personal research, contractors who are new to the bidding process can find their own way through over time and start actively looking for bidding opportunities.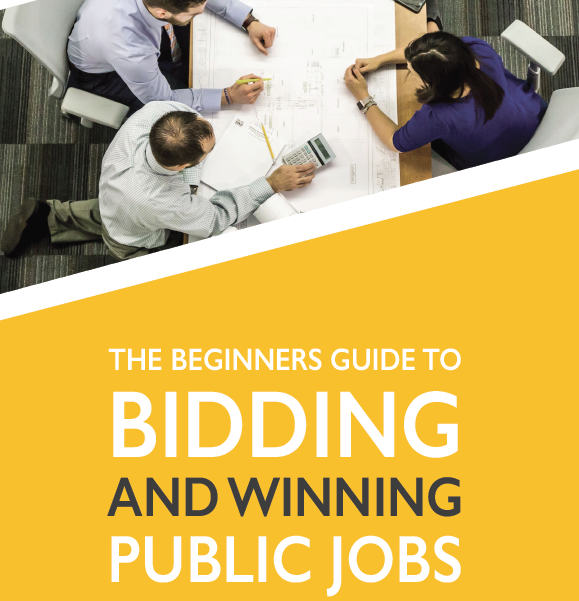 The Beginners Guide to Bidding and Winning Public Jobs
If you're new to bidding on construction jobs, finding the proper jobs to bid on and winning them can be a daunting process. That's why we created the free comprehensive "Beginners Guide to Bidding and Winning Public Jobs". The topics covered in the e-book include:
The pros and cons of bidding on public construction projects
Bid solicitation procedures
What influences the bid process
How to bid on public projects
Surety bonds for bidding and construction
Why you need to understand bond clams
This e-book is intended to guide you along that journey of bidding on and winning public jobs. It begins by defining the bid and contracting process, as well as the main concepts that are part of bidding government projects.
It then goes on to explain what influences the bid process, and what type of information you require to create a good and successful bid proposal.
Our e-book guide details also how you can get registered to bid on such projects, and what resources you can use to find bid proposals on an ongoing basis.
Finally, it provides you with some advice on how to prepare a good bid proposal and walks you through the process of obtaining your surety bond prior to bidding.