How to get your Auto Dealer License
Complete Guide for All 50 States
Quickly find out:
Which agency grants auto dealer licenses in your state
Which type of license(s) you need
Business location requirements
How to get bonded
How to submit your paperwork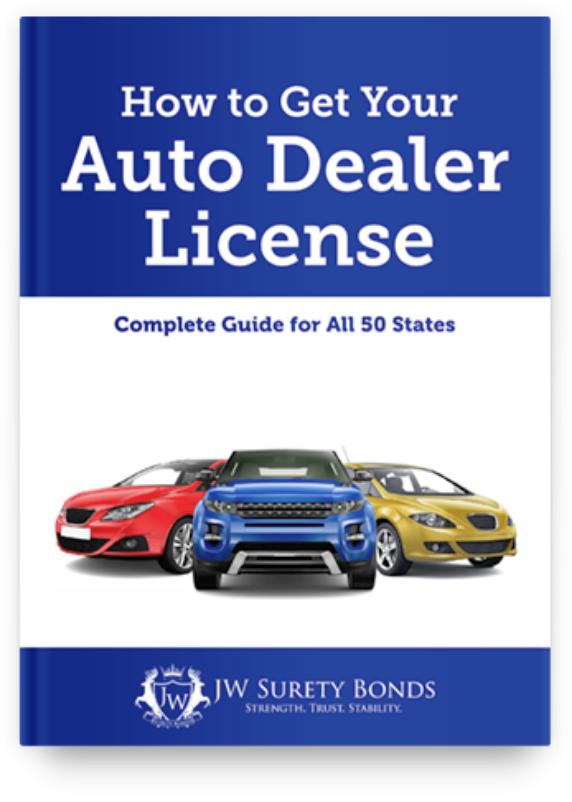 What Can This Ebook Do For You?
Licensing steps can vary widely between states. Also, looking deeper into state-specific licenses, you'll see that each state breaks down the "auto dealer" category into a set of subcategories, so don't assume that you'll need to meet the same requirements in every location. You can use this guide to determine the exact process for getting an auto dealer license in any state.
Chapter list
How to Obtain Your Auto Dealer License in Any US State
4
How to Obtain Your Auto Dealer License in Any US State 4What You Need to Know Before You Begin
5
The Basic Auto Dealer Licensing Process
6
Individual State Guides: Alabama to Wyoming (3 pages per state)
9-170
Image

About JW Surety Bonds
JW Surety Bonds is the largest volume bond producer in the United States, with a focus on providing our clients low rates, an easy process, and the best in customer service. Working with JW Surety, you get the quality personalized service of a small company and the many advantages of working with the top writer of surety bonds in the country.
JW Surety created this e-book to help potential customers enter the business of selling vehicles. This detailed guide will help you navigate every aspect of starting your dealership.