UPDATED 11/05/2013: We have received confirmation from our surety bond company that we can backdate the $75,000 freight broker bonds up to 60 days so brokers can meet the FMCSA deadline of 10/1/2013 and remain compliant.
This means any current brokers who want to obtain the bond, as opposed to posting $75,000 in collateral with a trust fund, must apply and have the bond filed with the FMCSA by 12/1/2013.  The bond can no longer be backdated after the grace period expires on 12/1, leaving brokers with only the trust fund option available.
The FMCSA stated that they will not enforce compliance on the October 1st bond requirement until 60 days later on December 1st. However, it is a standard of the surety industry not to backdate bonds more than 30 days. That means that a bond issued on November 5th cannot be made effective any earlier than October 5th, making the freight broker non-compliant. Waiting too long could make it so the bond is not an option at any cost.
To sum it up, the FMCSA may allow you to prove you have a bond until 12/1, but the ability to purchase a bond ends prior to that.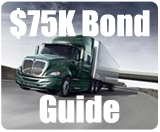 Wait and be Forced to Post $75K Collateral
If a bond is not an option because you waited too long, the FMCSA does allow freight brokers and forwarders to fund a trust. However, this option requires $75,000 to be held by the trust company. Certainly, this is not an option for most, and a less attractive option for those that can afford to part with $75,000.
New Companies Need Not Worry
The problem has to do with backdating the bond's effective date. New businesses will not have to have their bond effective until they begin operations. Whether that be October 1st or July 1st, the bond's effective date will begin at a date of their choosing, requiring no backdating.
When Should Brokers/Forwarders Be Ready?
We are recommending that all brokers and forwarders get their bond quotes immediately. There is still time to shop around a bit to ensure you have the best terms possible. However, with every freight broker and forwarder all trying to get their new bond filed in the same time frame, there will certainly be a log jam of filings, which is why the FMCSA extended the compliance requirement. Usually bonds are issued in 24-48 hours, but with the upcoming surge of requests, it may take upwards of a week to get your bond issued. With the bond making the difference of being able to stay in business or not, we are recommending everyone get everything in order now and make their purchase in October to ensure compliance. Procrastinating is not worth closing your business.
If the bond requirement is repealed, we will be refunding our clients on any bonds not issued. Apply now. Better safe than sorry.
JW Surety Bonds has an exclusive bond program for the $75,000 freight broker bond available now:
• A+ rated, Treasury-listed surety
• No collateral
• Lowest rates in the country
• Approvals regardless of credit strength
• 99.9% approval rate
Be prepared for the October 1 deadline. Apply directly on our website to get an instant approval.