On September 15th, 15 members of our staff turned out for the Travis Manion Foundation Heroes Run 5K in Doylestown, PA.  In total, 1,865 runners completed the 3+ mile course through the small town on a perfect Sunday afternoon supporting the local organization's goal to never forget the sacrifices of the heroes of 9/11 and the wars that followed.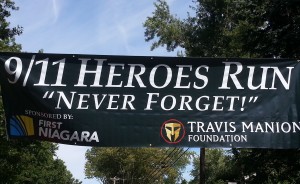 The foundation, created in memory of Marine 1st Lt. Travis Manion, was inspired by his parting words as he left for a second tour in support of Operation Iraqi Freedom, "If not me, then who…?" On April 29, 2007, Travis was fatally shot by a sniper while attempting to draw fire away from his wounded troops.  After his death, Travis' mother Janet Manion started the foundation to "honor the fallen by challenging the living", targeting issues that face our veterans, survivors and military community.
The Heroes Run 5K and 1-mile fun run events were created the next year to inspire selfless service as well as raise funds and awareness of the organization's mission.  The races take place all over the world, organized by local volunteers.  Funds received support veterans, first responders and families of fallen heroes.
Thank you to everyone who supported the 2013 Heroes Run across our country – whether it was to run or volunteer, donate or cheer – you honored true heroes.  Never forget!
For more information on the Travis Manion Foundation, please visit www.travismanion.org.