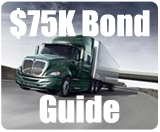 The FMCSA grace period for compliance with the $75,000 freight broker bond requirement ends on 12/1/2013. However, freight brokers who want to guarantee they will have the $75,000 bond in time only have until 11/25/2013 to submit all required information and documents to our bond agency, JW Surety Bonds.
Doesn't the Grace Period End on 12/1?
The $75,000 requirement which applies to all freight brokers does include a 60-day grace period ending 12/01/2013. However, the reason brokers must apply by 11/25/2013 is due to the conditions that exist below:
It may take several days to get all required documents and signed indemnity agreements from freight brokers to obtain the bond and file with the FMCSA
The end of the grace period is three days after Thanksgiving (11/28/2013) which could affect turnaround time
Our agency, JW Surety Bonds, can only guarantee freight broker bonds to brokers by the 12/1/2013 deadline if they apply and provide all required information by 11/25/2013. If brokers wait any longer, they may still be able to get the bond, but timing will be controlled by whether the bond can be issued and filed with the FMCSA while many businesses are closed on and around the upcoming holiday.
Don't Wait and Be Forced To Post $75,000 of Your Cash
JW Surety Bonds has an exclusive $75,000 bond program with the ability to backdate up to 60 days in order to aid the brokers who still have not obtained the bond:
• A+ rated, Treasury-listed surety
• No collateral
• Lowest rates in the country
• Approvals with good or bad credit
• 99.9% approval rate
Get compliant before it's too late. Apply directly on our website to get an instant approval.