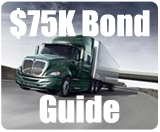 The FMCSA $75,000 bond deadline passed on October 1st, and the end of its 60 day grace period is quickly approaching on December 1st. With active freight broker filings recently hitting a 2013 high and continuing to trend upwards, it's estimated that thousands of freight brokers are still not compliant with the increased bond requirement.
FMCSA Begins to Send Final Warning to Brokers
On November 1st, 2013, the FMCSA sent out 1,034 warning of revocation notices, or notices of investigation, to non-compliant brokers all over the U.S. (thanks again to My Carrier Resources, LLC for the statistics). There's a little less than four weeks before the FMCSA's compliance window closes on December 1st, 2013. Many predict thousands more investigation notices will be sent out within that time frame.
How to Avoid Authority Revocation
JW Surety Bonds has an exclusive $75,000 bond program with the ability to backdate up to 60 days in order to aid the brokers who still have not obtained the bond:
• A+ rated, Treasury-listed surety
• No collateral
• Lowest rates in the country
• Approvals regardless of credit strength
• 99.9% approval rate
Get compliant before it's too late. Apply directly on our website to get an instant approval.