As the FMCSA has broadened their authority over the freight broker industry, efforts to supervise compliance with MAP-21 will be a high priority. From monitoring training standards to verifying the $75,000 freight broker (BMC-84) bonds are in place, there is no question this federal agency is going to do everything it deems necessary to ensure all are compliant.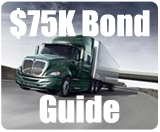 Visit our $75K bond guide to learn vital information on the $75K requirement.
FMCSA Ramps up Compliance Hiring
The FMCSA has increased its compliance staff to more effectively monitor compliance.  Moving forward, freight brokers and freight forwarders will be supervised as separate groups and as such all regulatory compliance will be closely monitored.
Based on recent reports from the FMCSA, the increase in financial security for freight broker bonds stands at $75,000 which must be in place by October 1st.  After this date, any broker or forwarder found to be non-compliant will quickly receive notice from the FMCSA outlining action to be taken if the bond is not secured.  Because proof of bonding is a pre-requisite to licensing, those who are out of compliance will be unable to retain their licenses.
How to Stay Compliant
MAP-21 provides options to meet the financial security requirement. The best available option for most brokers and forwarders to remain compliant is the freight broker bond. However, bonds cannot be backdated.  If you don't secure your bond on time, you will have no choice but to obtain a trust fund agreement, where you are required to post 100% collateral, or deposit thousands in a surety trust pool.  It remains to be seen if the latter will be adequately funded or accepted by the FMCSA.  Learn more about the options available to stay compliant.
Get the $75K Bond Now
JW Surety Bonds has the only viable answer to your $75,000 freight broker bond needs.  Our exclusive program is with an A+ rated, Treasury-listed surety for small or large brokers alike:
No collateral ever
No financials required
Best rates in the country
Approvals with good or bad credit
5 minute approvals
While the required filing date with the FMCSA is not until October 1st, we continue to process a significant number of the $75,000 bonds. As with all bonds issued at JW Surety Bonds, applications will be handled in the order they are submitted.  Don't delay – apply online today!