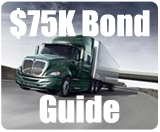 There has been confusion as to whether freight brokers need their bond by 10/1 or 12/1.  What is clear is that many carriers working with brokers are requiring them to have their $75,000 bond to be in place by October 1st if they wish to do business.
JW Surety Bonds Keeping Brokers Compliant
JW Surety Bonds has been keeping its clients compliant for October 1st.  Unfortunately, there are still a large amount of freight brokers and forwarders that are waiting until the 11th hour on the requirement that may be shut down by carriers before the FMCSA compliance team gets to them.
Avoid Filing Delays
We are the largest provider of the $75K bond in the country and are anticipating massive volume in the coming weeks.  Most agencies that offer this bond are writing it through our exclusive program. We are still keeping to a 24 hour turnaround time, but that may change as we get closer to October 1st. We recommend everyone get their bonds now to avoid possible filing delays. We will be providing full refunds if the bond is repealed and never issued.
Get A Bond Quote In Minutes
JW Surety Bonds has an exclusive bond program for the $75,000 freight broker bond available now:
• A+ rated, Treasury-listed surety
• No collateral
• Lowest rates in the country
• Approvals regardless of credit strength
• 99.9% approval rate
Be prepared for the October 1 deadline. Apply directly on our website to get an instant approval.