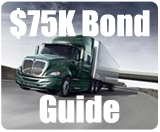 James Lamb, President of the Association of Independent Property Brokers & Agents (AIPBA) recently expressed his belief that the JW Surety Bonds $75K freight broker bond offer is simply too good to be true.
While we agree that our offer is the most competitive in the marketplace, it is not "too good to be true".
Update: Mr. Lamb contacted us with concerns that this post would be interpreted as an endorsement from the AIPBA. We believe it is clearly not an endorsement. He also has stated that his words were taken out of context. Here is the full context with Mr. Lamb's assessment highlighted.
What Makes Our Program So Controversial?
No business financial statements – Most bond markets require freight brokers to provide business financial statements for underwriting purposes.  We do not need them.
No collateral, ever – Many bond markets are requiring freight brokers to post large amounts of collateral in order to secure their bond.  We never require collateral on our $75K broker bonds.
Lowest pricing – Prior to the introduction of our program, the most competitively priced product in the market was the "group bond" (aka surety trust pool) at $3,500 per year.  On average, our program is 47% less expensive than that.  The group bond has since been declared unacceptable by the FMCSA.  However, we did not raise our pricing.
99.9% approval rate – Many bond markets decline nearly as many applicants as they approve.  One might think that our program is limited to mega brokers.  However, our program is for brokers big or small.  We have quoted thousands of freight brokers in the past month and have declined only a small handful.  Whether you have bad credit or are new in business, we can help!
Strongest Backing – With an offer this attractive, one might presume the bonding company backing it would have a very weak financial backing.  The reality is that the carrier backing the program is the strongest in the market with an 'A' rating from A.M. Best and a "Positive" outlook going forward.
Will The Rates Go Up Next Year?
While Mr. Lamb appears to be certain that rates will go up next year, the fact is that no one knows for sure.  The surety bond industry is still operating in a capitalist marketplace.  There is no monopoly and surety markets behave similar to other markets in that when one company lowers their pricing, others may be encouraged to do likewise.  The difference when it comes to surety is that the bonding companies are essentially making "bets" on risk.  If the payout on claims makes a segment unprofitable for a bonding company, it is no secret that they will either increase premiums or get out of the market.
If we were interested in price gouging, we would have increased our pricing when the FMCSA declared the "group bond" unacceptable.  We did not.
Will The Rates Go Down Next Year?
Our philosophy has been to reduce the rates on renewals whenever possible.  This helps to increase our retention of clients (keep in mind, no monopoly here and we want your business) and can actually help make our program more profitable.  This all may sound backwards, but keep in mind, our goal is to retain clients that are "good bets", meaning no claims.  Each year a client is with us we see a lower chance of claim activity.   Think of it as weeding out the bad apples.  It's difficult to underwrite character, but a broker with a proven record of no claims always speaks for itself.
What You Can Be Certain Of
If you have a quote from us that is thousands less than the competition, we can guarantee we will save you thousands.  Sounds like a ridiculous redundant statement right?  Unfortunately, that's what we're trying to help brokers throughout the country realize.  No one can say with 100% certainty what next year's rates will be for any product and surety is no different.
Get A Bond Quote In Minutes
JW Surety Bonds has an exclusive bond program for the $75,000 freight broker bond available now:
• A rated, Treasury-listed surety
• No collateral
• Lowest rates in the country
• Approvals regardless of credit strength
• 99.9% approval rate
Be prepared for the October 1 deadline. Apply directly on our website to get an instant approval.