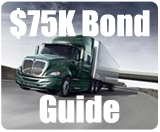 Earlier this week, we reported on the increase seen in freight brokers listed in the FMCSA database.  As many within the freight industry know, this is a mixed bag, as some of the increase can be attributed to carriers registering as freight brokers.
A big thanks to Michael Curry of My Carrier Resources, LLC.   He provided the data we've been working with as well as expert guidance on how to interpret it.
Growth Is Led By New Brokers Not Carriers
From the first week of 2013 to the second week in September, the total number of brokers listed within the FMCSA database grew by 2,746.  In that same time period there were 2,098 new brokerages created and 696 carriers registering as brokers.  In other words, carriers now being listed as brokers only make up 25.3% of the increase seen.  The majority of the growth is from new broker registrations.
What Will Happen After October 1st?
What happens after the $75,000 bond goes into effect is anyone's guess.  However, the bond market softened in the past 30 days and the hurdles of obtaining a bond no longer being an issue.  Any broker in the country can obtain a $75K bond with lower rates than the $10K bond and without posting collateral.  Brokers that wanted to start their own business, but couldn't, may begin to do so in the months to come.  We will be sure to post follow-ups on Michael Curry's data throughout the year.
Get A Bond Quote In Minutes
JW Surety Bonds has an exclusive bond program for the $75,000 freight broker bond available now:
• A+ rated, Treasury-listed surety
• No collateral
• Lowest rates in the country
• Approvals regardless of credit strength
• 99.9% approval rate
Be prepared for the October 1 deadline. Apply directly on our website to get an instant approval.