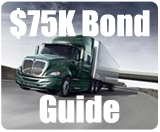 As of this morning (10/1/13), the FMCSA is accepting electronic filings on the new $75,000 freight broker bond requirement. The FMCSA previously stated that electronic filings could be processed by 10/1 and they did not let the Federal shutdown get in their way. Thousands of freight brokers throughout the country are currently being filed by various bond providers.
Do Brokers Need A Bond 10/1 or 12/1?
The FMCSA has been consistent in stating that "Beginning October 1, 2013, a broker will need to obtain and file with FMCSA a surety bond or trust fund agreement in the amount of $75,000".
What About the 60 Day Compliance Window?
Many have been confused, as the FMCSA also created a 60 day compliance window. However, it's not quite that simple. Many bonding companies sent out cancellation notices on the old $10,000 bonds months ago to ensure the $10K bonds are not active as of 10/1. This means that depending on the bonding company that issued the bond, brokers that previously had a $10K bond may no longer have anything in place as of today if they did not find a $75K bond solution.
What If You Have Not Purchased A $75K Bond Yet?
1. Stop brokering loads until you are compliant
Brokers need to be sure not to broker a single load until they confirm they are compliant. The 60 day window allows brokers to continue to do business, even with a $10K bond in place, but as stated above many no longer have anything in place as of today. We strongly advise brokers to be certain they have at least $10K in security in place before brokering any more loads.
The bond market softened in the past 2 months. Nearly everyone qualifies for this bond without collateral and low premiums. However, not all bond programs are equally competitive and you can only access the best program in the market through our agency.
3. Don't Wait Until The Last Minute
Even if you are compliant with a $10K bond in place, you need to plan what solution is best for you. Many find the shopping process complex due to hidden costs and how trusts can affect your ability to obtain a loan. Waiting too long can close doors on options and result in paying substantially more and negatively affect your credit capacity.
Get A Bond Quote In Minutes
JW Surety Bonds has an exclusive bond program for the $75,000 freight broker bond available now:
• A rated, Treasury-listed surety
• No collateral
• Lowest rates in the country
• Approvals regardless of credit strength
• 99.9% approval rate
Be prepared for the October 1 deadline. Apply directly on our website to get an instant approval.