Thousands of freight brokers have felt the effects of MAP-21 (Moving Ahead for Progress in the 21st Century Act) since it went into effect on October 1st, 2013; whether they had to adjust to new requirements or leave the freight broker business altogether. However, if you've ever considered starting a freight brokerage, this could be a great time to gear up and start your own business due to three reasons.
Reason #1: Decreased Competition
If you choose to start a freight brokerage in 2014, you'll be competing with a much smaller number of brokers in the industry. When you compare the active licensed freight brokers in the FMCSA database for this year and last, that number is down from about 21,000 in 2013 to approximately 13,700 in 2014; that's a huge 34.8% decrease. The major cause for the surge of freight brokers leaving the industry are the increased requirements they must meet in order to operate legally.
Reason #2: Improving Economy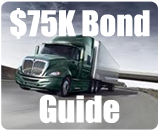 Although there is still room for improvement, the U.S. economy has recently shown slow and steady growth. Economic growth  is a great sign for anyone considering taking on the challenge of starting a small business, and may be just the incentive they need. It will be easier to get your business established in the current freight broker industry and economic conditions if you decide to start a freight brokerage in the near future.
Reason #3: Affordable $75K Surety Bond
Even though thousands of freight brokers had trouble finding a $75,000 surety bond with reasonable premiums and terms, programs do exist. There are affordable surety bond programs available to many current and aspiring freight brokers that don't require huge premiums, thousands of dollars in collateral or require business financials which can cost thousands to have prepared. Whether you're interested in starting a freight brokerage, or you're a current broker who desperately wants to keep their license and stay in business, there are bond agencies that offer freight broker bonds at reasonable costs:
• A+ rated, Treasury-listed surety
• No collateral
• Lowest rates in the country
• Approvals with good or bad credit
• 99.9% approval rate
Apply for a freight broker bond directly on our website to get an instant approval.